In conversation with: Harry Styles
While touring the world over with hundreds of thousands of fans bouncing along to "As It Was", British music superstar Harry Styles has also spent the last six months celebrating picking up the top award at the Grammy Awards in Los Angeles earlier this year. The former One Direction star won Album of the Year for his third album, 'Harry's House'; an intimate acoustic EP made all in Harry's house, literally. He also received the Pop Vocal Album award, with a kiss onstage from Jennifer Lopez nonetheless, before saying, 'This album from start to finish, has been the greatest experience of my life.' Backstage, alongside his co-writers Kid Harpoon and Tyler Johnson who he calls 'two of his best friends', Styles talks here about his reaction to winning two grammys and the joy he has expressing himself while performing to his legions of fans…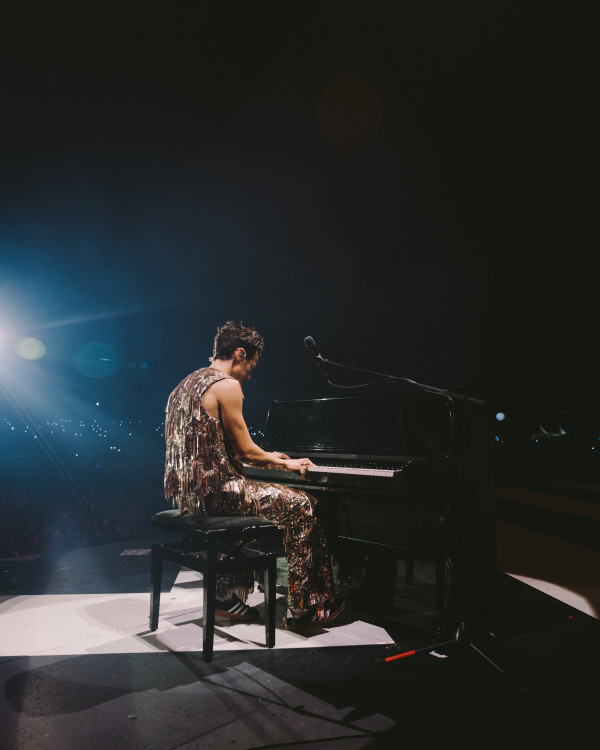 Congratulations on winning Best Album at the Grammys this year Harry. This must feel like the cherry on the top of a really successful year touring all over the world?

I think, probably more overwhelmed… I definitely wasn't expecting it. I think being nominated for stuff like this kind of really feels like the winning part, being recognised by your peers and stuff. And it's obviously incredibly nice to receive it. I don't think it's the reason that any of us in the room do it. I'm so so grateful that they thought our album was worthy of it. And, you know, I think more than anything it just kind of feels like validation that you're on the right path. When we get in the studio, and begin a record, we just make the music that we want to make. And I think it feels really nice to feel like, 'Oh, that is the right thing to do.' And yeah, it's crazy. I'm really, really proud of these two guys [to Kid Harpoon and Tyler Johnson]. And everyone that made the album with me and I just will continue to say, you know, this one was for my friends, I couldn't have done it without the support of my friends and people in my life who made me feel like I could make whatever I wanted. And yeah, I'm very, very grateful.

So much of this album has been not just the album, but how you've performed it live. Can you talk a little bit about how the songs transformed and your feelings about the songs transformed as you've been playing this tour?

Yeah, I think the beauty of music is obviously you live with an album for so long as you're making it and I've always loved performing so much, it's always been my favourite part of working in music. And I've been able to really fall in love with the album making process to which, you know, now that's kind of one love of my life and then playing it is the other one. And it's amazing to kind of see the way the songs that mean so much to me, you get to kind of see what it means to other people while you're playing it for them. And I'd say in terms of that just I'm so grateful to my fans who have created an environment for me where I feel like I can make just what I want to make. And yeah, I just feel so free when performing. And that's a real gift. And I love it. So that's what I'd say, I think. I think that was an answer to the question. Just words. Lots of words.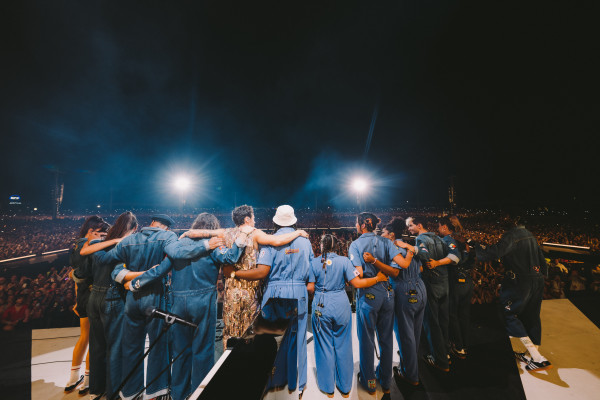 "I've been able to really fall in love with the album-making process to which, you know, now that's kind of one love of my life, and then playing it is the other one" - Harry Styles


It's probably safe to say that there are so many people out there who have been listening to you for years and they have gone to so many of your shows and they finally feel seen and less alone thanks to the art that you have created throughout the years. Knowing that you've made maybe one person out there feel a little less alone and seen thanks to your win - how does that make you feel?

I think, you know, the kind of atmosphere that is created in live music and the kind of experiencing of that is something that, you know, when there's someone on stage, it feels like, 'Oh, that's what that person is doing.' And, in reality, I very much feel like the fans create that atmosphere for me. And it's kind of the room is this energy that almost feels like too magical for me to kind of take any responsibility for. I think it's probably the thing I'm proudest of in my life, is this feeling that is in the room that I get to experience every night when I go onstage. And yeah, it's probably, like the greatest, I mean, playing for an amazing group of people every night is my favourite, favourite thing to do. So thank you.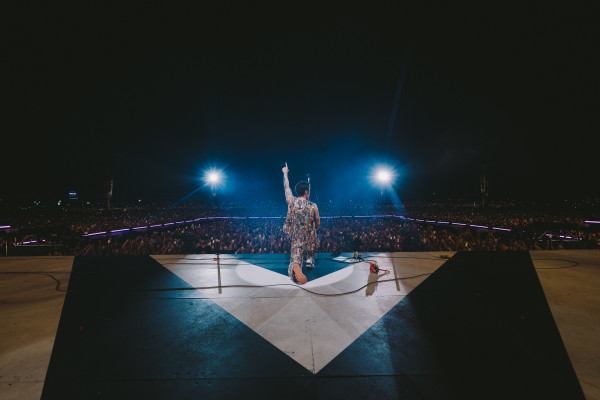 Many people thought Beyonce would win Album of the Year this year – Were you expecting that as well?

Yeah, I mean, you never know with this stuff! I don't think you can look at any of the nominees and not feel like they're deserving. I feel like when I look at this category, it's all people who have inspired me at different times. So you would understand anyone winning. And yeah, I'm really grateful that they chose us.

You've been touring all over the world like crazy. But have you had time to write or think about what the next era of Harry Styles will be?

We've always tried to not really stop writing, because it feels like you have this big stop and then you come back to it and it can feel like you're either trying to prove something or trying to follow something up. So we're kind of just always writing and like to attempt to have the same intention behind what we're making.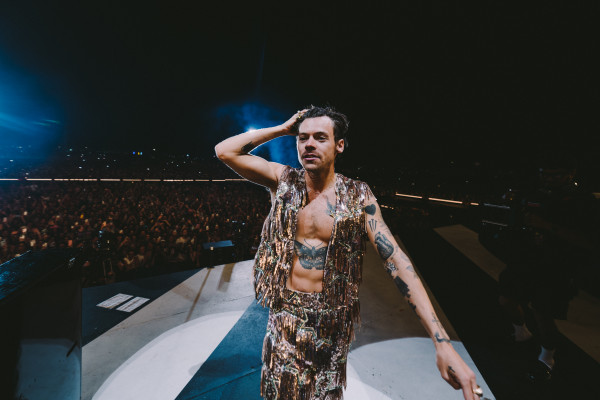 Fun Fact:
Did you know the much-loved tear-jerking seventh track on Harry's House, 'Matilda,' was apparently inspired by Roald Dahl's famous character, Matilda Wormwood? And while in an interview with NPR, Harry Styles also revealed that he wrote "Music for a Sushi Restaurant" after literally hearing one of his old songs in a sushi restaurant. "I was in a sushi restaurant in Los Angeles with my producer, and one of our songs came on from [Fine Line], and I thought this is really strange music for a sushi restaurant," Styles said. "And then I was like, 'Oh, that would be a really fun album title, and then as the songs started being made, I kind of just said, 'Music for a Sushi Restaurant.'"

Images: Lloyd Wakefield @lloyddddddddddddddddd