Anti Alert: The 411 of Rihanna's most highly anticipated album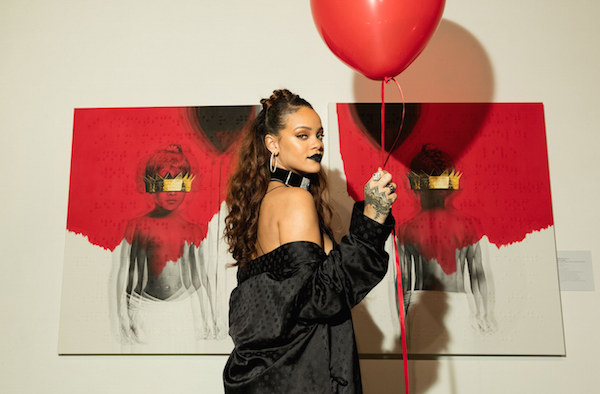 Timelines are so efficient - you'll be totally up-to-date on all things Rihanna, AKA all things
ANTI,
after this one; May28, 2014: Rihanna tweets a whole lot of random song lyrics. September 26, 2014: Rihanna is spotted outside the studio with 'Rude Boy', 'What's My Name' and 'Where have you been' singer/songwriter Ester Dean – very promising. October 4, 2014: Charli XCX drops the rumor on her
Billboard cover story
that she's writing for Rihanna. October 25, 2014: Rumored #R8tracklist hits the internet sending fans into RiRi-Navy mode. November 11, 2014: Neyo finally breaks the silence about the tracks and sound direction of #R8; everyone goes wild because their dreams are finally going to be coming true. November 25, 2014: Rihanna releases a snippet of a possible new song, except it's a looping track of her singing 'Ain't none of this shit promised/ Ain't none of this shit promised' – everyone took it as a promise. December 9, 2015: A second snippet emerges, it doesn't nearly get as much publicity. December 19, 2015: Rihanna meets up with fans in Paris for a #R8 experience, but no one really knows what it's for. January 24, 2015: 'FourFiveSeconds' drops and gets everyone's hopes up again. February 9, 2015: Kanye West reveals himself as #R8's executive producer, and the crowd goes wild. February 21, 2015: At this point Rihanna has been modeling for everyone, and on the cover of almost every huge magazine. And debuts her striking, editorial-worthy, #R8 promo photo. March 5, 2015: Another teaser, the 'Higher' snippet is the best preview so far. March 26, 2015: 'Bitch Better Have My Money' drops, everyone gets prepared for what will ensue. April 21, 2015: Yet another snippet off the new album drops, 'James Joint', but still no album release date?! July 10, 2015: After continuing with her new modeling career, performing, and dropping music videos, Rihanna finally turns to Timberland to help with her music. Arriving at 2 a.m at his studio. September 17, 2015: Rihanna covers NME, and tells them, 'To me it's never done until it's done. Until the final moment,' 'No matter what I post online, within three comments there's somebody saying, 'Where is 'R8'?' I could post anything. Nothing else matters. They don't care about anything but that. But it makes me excited, because I can't wait to give them something great October 7, 2015: The big day finally comes as Rihanna unveils artwork, and official title for the album. Introducing
ANTI
. November 13,2015: Rumours rise about the release date of
ANTI
. The long overdue album will now be dropping on November the 27
th
, followed by a full release on December 4
th.
November 23, 2015: Rihanna officially announces her 2016
ANTI
world tour dates. December 28, 2015: Rihanna's songwriter blames Travis Scott for delaying the release of
ANTI
– good news, and bad news. At least there definitely is an album coming, but too bad Travvy Scott happens to be the reason for its delay. January 26, 2016: Over the silly season Rihanna was super quiet, but took to Instagram with those Dior headphones to announce that she is listening to the final album. Can we get a pair too? January 27, 2016: Drake and Rihanna's collaboration 'Work' is her official album single. Rumours about album releasing this week got us all loco. January 28, 2015: FINALLY!! Rihanna's 8
th
studio album is released on Tidal for your listening pleasure. She's so damn dreamy. Listen
here
.
Words by Georgina Bidois.