Inside a $1 billion wedding: The dress, the cake & the stars who performed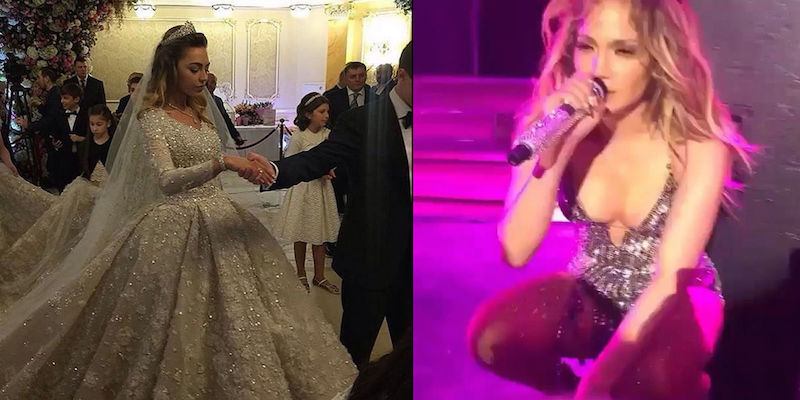 Entertainment by Jennifer Lopez, Enrique Iglesias and Sting, as well as a $40,000 designer wedding dress is beyond the reach of most brides, but when the groom's father is worth billions you can afford to splash out.
Billionaire's son Said Gutseriev, 28, married 20-year-old student Khadija Uzhakhova in Moscow this weekend in a jaw-droppingly lavish affair, rumoured to have cost up to $1 billion.
Held at the luxury Moscow restaurant and banqueting venue Safisa, which was decked out in wall-to-wall fresh flowers, the wedding set a new bar for extravagance.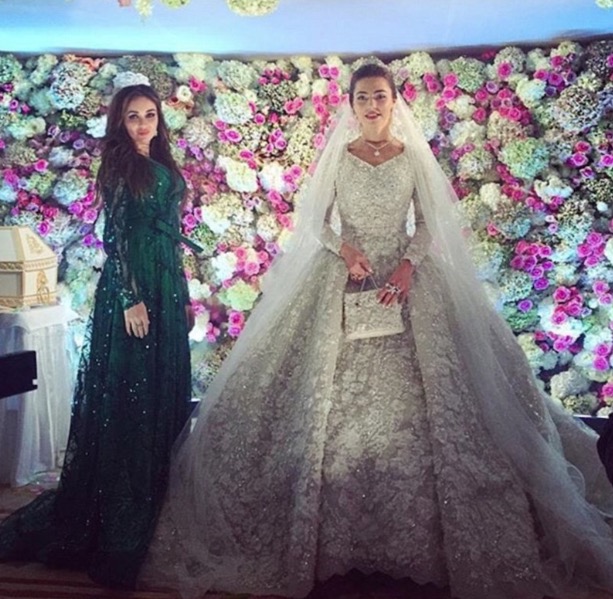 The young bride arrived in a beaded Elie Saab gown, which was imported from Paris and reportedly weighed 25lb (almost two stone). Because of the huge train and heavy embellishment, the bride needed the assistance of several people to carry her train and help her walk upstairs
Meanwhile, guests travelled to the grand nuptials in a fleet of luxury cars including Rolls Royces which were seen lined up outside the venue ahead of the ceremony.
The entertainment also did not come cheap, with Jennifer Lopez - who was reported to have been paid $1million for singing for Gurbanguly Berdimuhamedov, the president of Turkemenistan in 2013 - jetting in to give the moneyed crowd in an energetic performance in a series of skimpy outfits.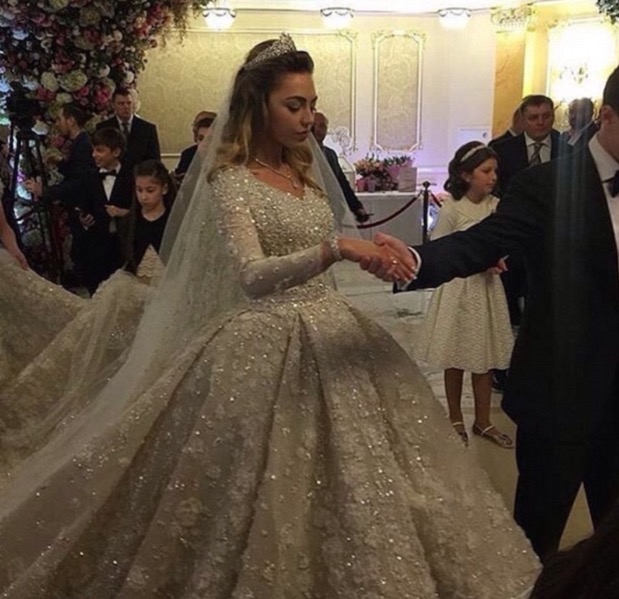 But providing an unforgettable show was the least of J Lo's worries as the singer apparently told guests that pronouncing the newlyweds' names was 'the hardest thing I had to do today'.
The singer, who performed her hits 'If You Had My Love', 'Dance Again' and 'Get Right' went through several outfit changes including a black tailored suit and a silver spangled leotard.
Enrique Iglesias took to the stage to perform 'Bailando', casually dressed in jeans, a T shirt and baseball cap.
Sting also performed and was joined by a group of young girls and women for his song 'Desert Rose'.
Beyonce and Elton John also sang at the wedding according to Russian media reports, however this has yet to be confirmed and no photos have emerged.
The couple's 600 guests dined on European cuisine and sushi and the wedding cake was a lavish eight tier creation, decorated with elaborate white icing and layers of pink floral garlands and topped with a star and crescent as a show of the couple's Muslim faith.
- Via Daily Mail.