Discover the magnetic new men's fragrance inspired by the bold contrast between natural forces
Following the explosive launch of Issey Miyake Fusion D'Issey last year—an instantly iconic hit—comes the newest iteration, Extrême. As the name hints, it's an intense Eau de Toilette, built around a mineral solar accord like the original, but with an extreme masculine spin.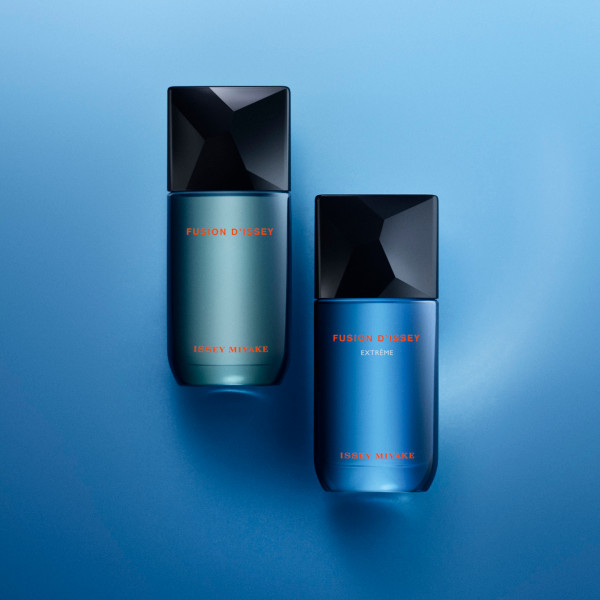 New to shelves in line with a fresh season, Fusion d'Issey Extrême is inspired by its predecessor vision of volcanic fire and ethereal ice. Pushing the extremes by contrasting strength and freshness, it entices us to discover an entirely unexpected nature.
While perfume descriptions typically lean towards drama, for Nathalie Lorson, the prolific perfumer behind the original, it was important the scent accurately expressed its vision – and that it does. By adding a new spicy facet to this solar fougère fragrance, Lorson played with the intense freshness of deep currents and the heat of magma, plunging the wearer into "an underwater volcanic world".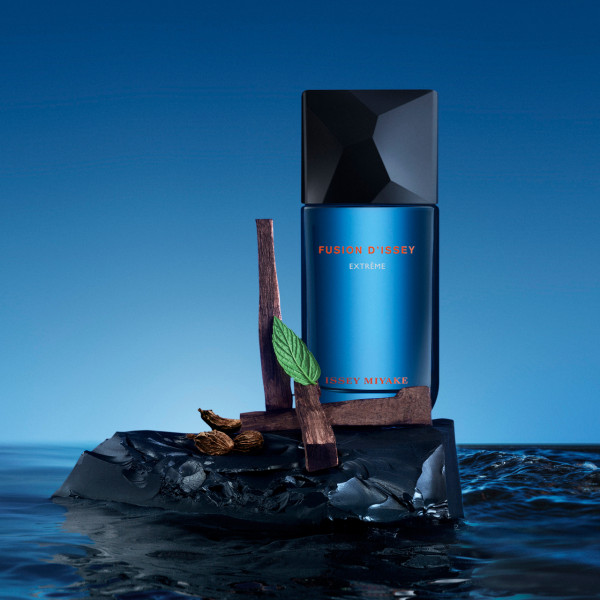 The fresh aspect comes from spicy notes of cardamom combined with the zesty scent of bergamot. Between strength and balance, the aroma of peppermint mingles with the verticality of the profound mineral solar accord that is the signature of Fusion d'Issey. Underlying this, the unique union of sandalwood and patchouli essences. The unexpected intersection of notes mirrors the dramatic contrasts in nature. "That's what I wanted to convey in scent—that quick shock, as if magma was flowing into very cold water," explains Lorson.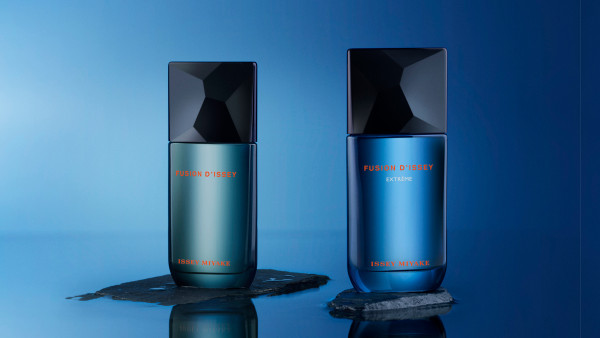 As for the equally bold vessel, the volcanic fragrance is housed in an elegant vertical bottle playing with contrasts between polished deep blue glass and radiant light. The iconic black cap is sharply faceted, echoing the shape of an obsidian stone. The same colour scheme – blue and black – is reflected in the case. To highlight this, the name Fusion d'Issey appears in graphic orange letters, evoking the incandescent hue of lava.
Appealing equally to brand loyalists and the unacquainted, the "graphic fragrance", as described by Lorson, is a quintessential Issey Miyake creation in line with the brand's DNA – but with a more distinctive intensity.
While more than deserving of a place in your spring olfactory wardrobe, what sets this scent apart is its versatility. The cooler notes combined with heat, make it the perfect trans-seasonal scent, suited as much to warmer weather as cooler climates.
For the man looking to stimulate the senses with a dynamic fragrance that exudes strength, this is it. Surging forth from the depths of the sea is the incandescence of a new fragrance taken to Extrême.
Available now at selected Farmers, pharmacies, and department stores.