Get to know celebrity hair stylist Orlando Pita and recreate his Lily Aldridge cover hair look with the ghd Unplugged
He's styled some of the world's most high profile women from Madonna, Gigi Hadid, Gisele Bundchen, and Cindy Crawford to his most recent job with Remix magazine for spring cover star Lily Aldridge. Orlando Pita is an absolute weapon in the mane scene. The celebrity hair stylist has been in the industry for 37 years so he knows a thing or two about shaping loveable locks.
On set of the Lily Aldridge x Remix shoot in New York, Orlando worked with the new ghd unplugged styler to create the final cover look that now sits on store shelves around the country. We asked him to reveal exactly how he created the look and to tell us a little bit more about his lifelong career in hair.
Interview by Monique Oyagawa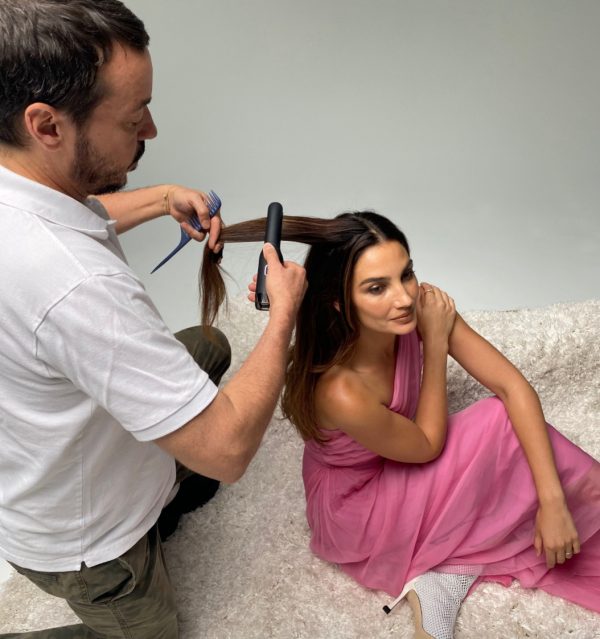 How did you create the cover look on Lily?
To start, I blow dried a little mousse into her hair (Great Inflate from my line) with a big round brush. I used both a curling iron and the ghd unplugged styler to achieve the final look. Before the curling iron, I sprayed this product from my line called Body Breakthrough which is also a volume product which holds your set. And then while on set with Lily in place and posing, I was using the amazing unplugged styler from ghd, before finishing it off with hairspray.
I must say the ghd unplugged styler was incredible for the cover shoot. It's a styler that you charge up, and then you can use it wherever you like, totally chord-free! It charges up very quickly. And for me personally, it was great on the shoot as it was very humid that day and we were shooting in this huge studio but the setup was right by this huge window with daylight, like three feet away. So it was very hot in there! And sometimes Lily's hair would get a little frizzy on top. So I was able to quickly smooth it out on set with the ghd.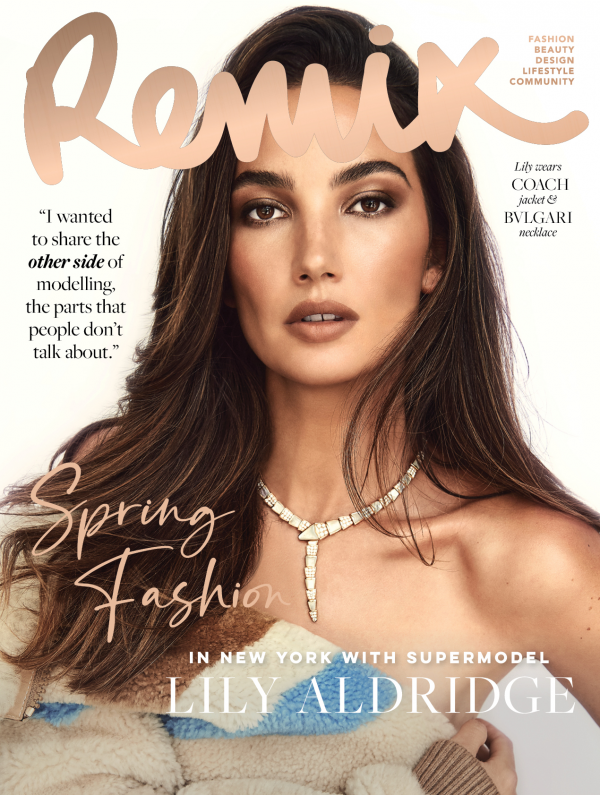 What hair tools and products can't you live without?
The ghd unplugged styler is amazing to be honest. I was thinking when I was using it on set, 'My God, this is a great tool for someone anywhere on-the-go'. It comes in a really great heat-resistant case with a zipper and I just think that it can be easily stored in your purse, and then you can change your hair throughout the day or even just for upkeep!
I think for me, the future is about having the right tools and having these unplugged tools. I think it is a great way to go forward! They're perfect for being on set or on location. But it's also great for when you're styling your hair and you have that annoying piece of wire or cord hanging somewhere that you have to place carefully. And the ghd unplugged is not big either. It's a really great sized tool!
As all of us here in New Zealand are currently in lockdown, do you have any lockdown hair tips?
It's hard to give a hair tip that's good for everybody. And so what I'm going to say is probably not right for everyone. But I mean, it's a good time to put moisture back into your hair and really do deep mass conditioning.
I have seen my clients that have come back to the salon after lockdown, that have conditioned their hair and really nourished it, and not put heat to it. And my God, it makes a huge difference in people's hair! A lot of people's hair looks so much better now. So I would say a special treatment to your hair is a good thing to do in lockdown.
Where did it all begin for you, how did you end up a hair stylist to the stars?
Well, that was never my goal. But, it began with the way I hated all my haircuts as a kid, and so did my brother. So, I convinced my brother to let me cut his hair and I would let him cut mine, and it would be better than what the barber did. I cut my brother's hair and it was disastrous but I was 14 at that time. My father had to take us to the barber to get it fixed, and I tried to realise what I had done wrong, and then I convinced my grandmother to give me a second shot. I convinced anybody I could to give me a shot at cutting their hair. I enjoyed it. I don't know. It was something that became something fascinating to me.
Then at 21, I wasn't working and had no direction, and my brother was a fashion photographer's assistant at the time in 1984. One day, the hairdresser cancelled at the last minute, they called me in and I came in and did the job because they couldn't get a replacement for somebody who had experience. Then the photographer's agent called me about a week later and said she had seen the work that I had done, and she thought that I had something, and she wanted to talk to me!
She started representing me and during the next six months I was testing a lot for the photographer who was preparing a book for Paris. And so, his agent in Paris said to him that if I wanted to come over then she'd represent me. So, I went over there. And she represented Peter Lindbergh and Paulo Roversi, really big names who were starting names at the time. And that's how it kind of all started. One thing led to another, and maybe 10 years later was when I ended up working with Madonna for the first time.
I'd already worked with celebrities but not of course with that calibre because nobody was of that calibre back then. Anyway, I guess that's how I ended up being a hairstylist to the stars! I'm more of a fashion hairdresser. But yes, I've gotten to work with a lot of celebrities and a lot of great people that aren't just fashion models.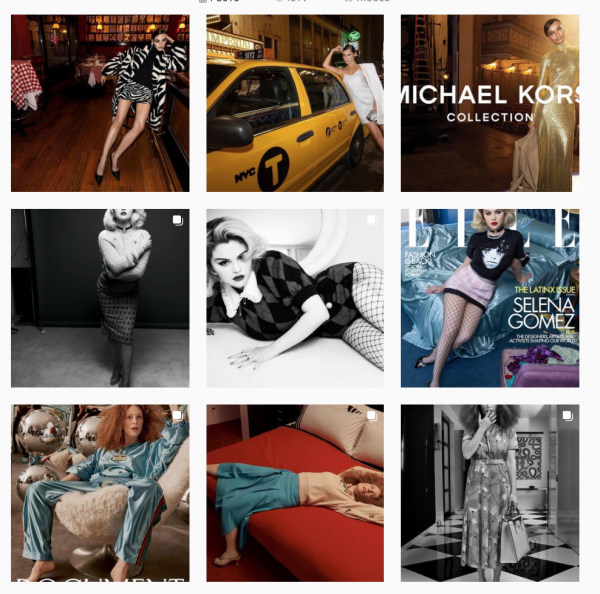 What's been your most memorable job?
My god, there's such different things to remember. I want to remember them all. Madonna was a great experience because it was nine years of working with her and that was amazing because we became friends. That's why I was able to do such great things with her because we would speak about things before as we were friends. I think that's why that collaboration worked so well. We did a lot of original stuff that wasn't really referenced to anything from the past which I like to do.
What and who inspires you?
I mean, anybody inspires me. Or anything really. I live in Soho, so I can walk down the street and get inspiration here a lot. I was just in the country, and you know, certain colours were inspiring me. For hair. And so, I mean, I just think about hair all the time. It's what I breathe. And think about it all the time. So inspiration is, is everywhere, for me realIy. I know it may be a corny answer. I get inspired by things by shapes and stuff. So it's not only just being around people. Nature inspires me, and architecture, and painting, and I guess all those different things.
Which of your clients has the best hair?
I've been working for 37 years. So there's just people that have really great hair. Gisele Bundchen is one of those. And Gigi Hadid is one of those. They just show up with their hair in its natural state, and there's not that many people that have that. Cindy Crawford has that. I wouldn't call them my clients. They're people that I work with. And I've worked with a lot. But I wouldn't call them my clients. Already in a way they're freaks of nature, right? You don't have many women that are gifted that way. But within that, very few of them have really amazing grade A hair. Usually we have to use extensions on models, well we had to at a certain point, now it's not cool anymore, thankfully. Because it turns your hair out! It's good as a clip in to have for a night or something like that, but to have them put in all the time is really, a little damaging.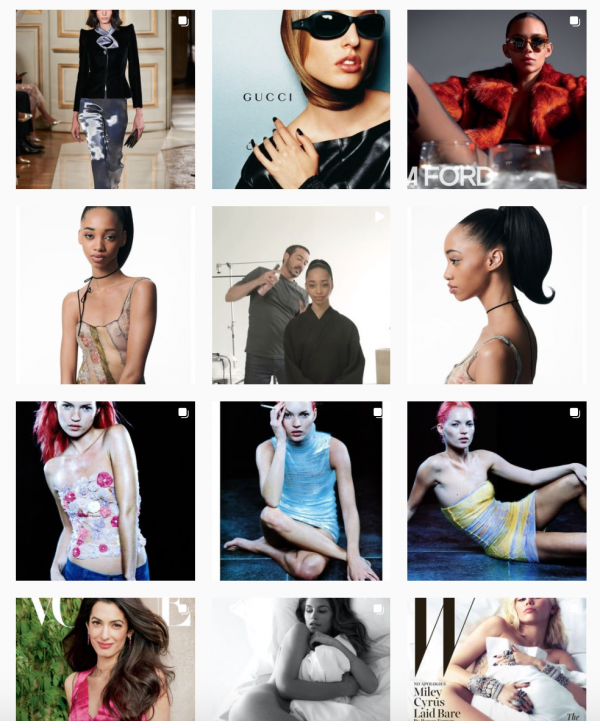 They say a haircut is as good as a holiday, how do you think hair can impact people's lives?
Your hair is your biggest accessory. You wear it every day. If you have a bad haircut, you're gonna hate your hair every day. So you have to figure out how to style that haircut. I don't know why, but sometimes people get a bad haircut and they go back to the same hairdresser to get it fixed. It's a thing they do because maybe it's cheaper. Or, you figure like maybe they can fix it and don't have to pay for another haircut. But in the end, you know, I see many times, you go back to the person and your hair gets even worse. So I think it's really important to have a great haircut because you wear it every day. And so for me, it's everything. It's your biggest success story, like I said, but still, you have to do something to make it look good because when your hair doesn't look good, you don't feel pretty. It just makes you feel not great.
At Remix, we're huge Sex in the City buffs and read that you styled SJP's hair for her runway debut in the 'Honey, you're a model!' episode. Can you tell us about that shoot and what inspired that look?
So Sarah Jessica Parker was watching the runway shows that season in Milan, she was looking at a lot of shows. And as I was doing the hair for Versace, someone came up to me backstage and said, Sarah Jessica Parker is going to be here at the show. She'd like for you to stay on after the show because she wants to come backstage and talk to you. And I'm like 'Okay, sure!'
So she came backstage, and she said, "We're filming the show. And you know, I've been looking at all the shows, and I love the hair that you did today," and Donatella had already sent me a picture of it. So I knew what it was going to look like. "And I want you to come and do this show, we're filming right after the Paris shows." And I'm thinking, Oh, God, you know, I don't know if I'm available. Somehow I didn't think she would follow through with it. But that's how it came about. And so I did the hair that I did that season at Versace. And then what I ended up having to do, was bring on a team to do everybody else including Heidi Klum, and the others in the fashion show. And then be on camera too! I mean, that was something that happened last minute. It was great. I was so exhausted. After she left, I thought, what am I thinking? Why am I going to take on three days of filming right after four cities of shows. I was doing loads of shows. I was at the beginning of the height of my career. But I said yes and I'm glad I did!
What was your biggest learning moment?
My biggest learning moment was when I was in a job for Vogue with Carlyne Cerf and she wanted me to use hot rollers. And I didn't have any, because I didn't know how to use them. I told her that they were old fashioned and boring. I didn't want to do that kind of hair. And the photographer was like, "Oh, don't worry, I have a set of hot rollers here in the studio." I did the hair. It was so bad. I burned all my fingers. It wasn't right. The shoot was called off at 1pm. And I went to the hair supply store, I got a set of hot rollers. I bandaged up my fingers, and by midnight I knew how to do hot rollers. And that was the biggest thing I had to learn in a really quick time. I had been banned from Vogue, though. But then as life has it, the editor in chief gets fired. And Anna Wintour comes in! And she fires Carlyne Cerg! And so I'm no longer banned in that way. So I got a second chance. But wow, that was my biggest learning moment.
What's your next big goal?
I have a YouTube channel that I started earlier this year that hasn't been so successful. So my next big goal, I think, is to make that really successful. I'm taking a break at the moment because I have a splint on my finger and hurt my hand. I tore my ligament on top, so my fingers bent. You have this on for three months, so I have to take a break from that. But yeah, it's figuring that all out and connecting to the YouTube world. And because I'm a little bit older, I do have a lot to say. It's basically going back to old hairstyles and showing how I did them and, and how I translate them into now. And so yeah, that's my next big project.
What's a little-known fact about you?
A little known fact about me is that when I'm done working, I go home and have a completely different life than what people think I would have. I don't have a fabulous life, like people think somebody might have in this position. I have a very, very simple, nice life.
Discover more about the ghd Unplugged device here