The Remix survival guide to Coachella

There are literally just weeks to go, and the saying 'be prepared' is not just for Boy Scouts. This will be your new motto as you attempt to navigate the Insta-snapping, sun-infused, denim-clad millennial horde that is Coachella 2019. Aside from fainting in the heat and missing Childish Gambino, there are a lot of potential disasters waiting at the dusty festival grounds that can be avoided with a little preparation.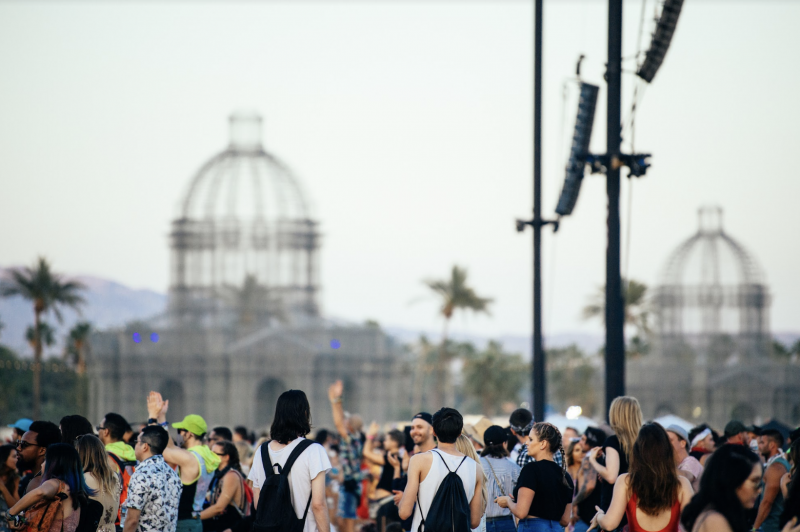 Here are some tips to help you survive this iconic weekend.
Tip #1: Be Sun-Smart
Three words: water, sunglasses, and sunscreen. This is your core survival kit. The desert sun is not your friend. Rookies, do not become one of the many who claim, "I don't burn". Bring a broad-spectrum sunscreen and fake tan will do the rest.
Tip #2: Soccer Mum Essentials
Channel your best inner soccer mum and comprise a small kit of life-saving necessities. Even with Ariana blessing the crowds with her angelic vocal chords, a festival is no fun with a banging headache, blisters, and PTSD-inducing bathrooms. In the midst of desert festival frenzy, toilet paper becomes as sparse as clouds in the sky. Coachella veterans recommend packing tissues, wet wipes, your own roll of two-ply - whatever it takes to get the job done. Other soccer mum essentials include hand sanitiser, plasters, and painkillers.
Tip #3: Be a Hot Mess – But a Glamorous One
Think and pack smart. This is not a luxury trip to Paris: you are here to have the time of your life, not faff around looking Insta-ready 24/7. This means sometimes sacrificing fashion for functionality. Bandanas, for one, are an absolute staple in case a sandstorm wages war. Dry shampoo, deodorant wipes – think Billy the Kid, but the Prada version.
Hack: Coachella merchandise sells out quickly, so to score yourself a Coachella bandana or souvenir, get in line at the beginning of day one.
Tip #4: Be Smartphone Savvy
Reception becomes a precious resource at Coachella, with the Indio cell towers overloaded by thousands of millennials documenting their OOTDs. Save yourself the struggle, and the battery and keep off social media as much as possible. Close any background apps, turn off Bluetooth, and even use flight mode if you can. Your phone needs to be kept alive for the likelihood of getting lost.
Texting tip: Substitute "where are you?" for "meet me outside the Beer Garden ASAP". Pre-plan meeting points with your group in case of emergencies. Along with your survival kit, a portable phone charger is an absolute must. It's not worth spending your day hanging out at a charging station.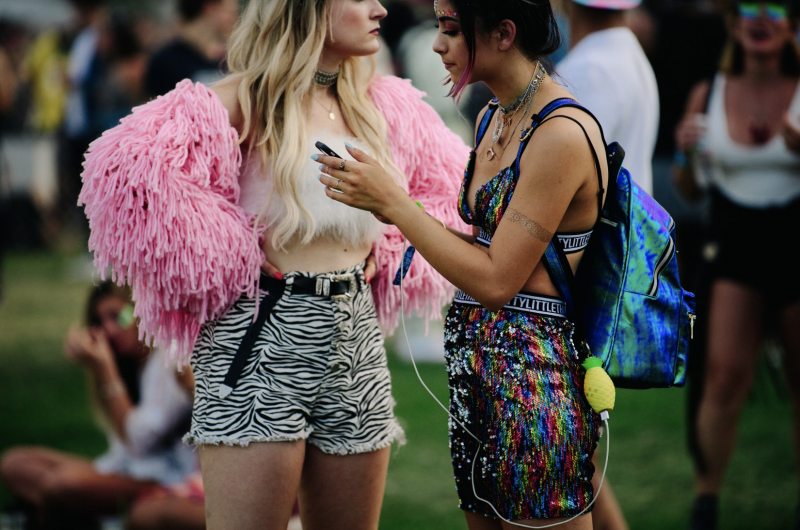 Tip #5: Set Your Face
It's all well and good binge-watching every festival makeup tutorial on YouTube, but graphic liner is no match for the elements. To ensure your blinding highlight doesn't become a glistening sweaty dew, load up on setting spray beforehand. Instead of lugging products around for touch-ups, save space (and shoulder pain) by investing in one good travel-sized spray that will keep your makeup looking fresh throughout the day. Bonus tip: pick a hydrating mist for cooling relief from the desert sun.
Tip #6: Stay on top of your spending
You will be buying countless bottles of water, mouthwatering foodie bites, and many other festival treats each day. Taking a BNZ Flexi Debit Visa means you can use your card at Coachella, just like you would at home – at food trucks, merch stalls and at ATMs – It's also perfect for festivals as you can load your BNZ Flexi Debit Visa card into Apple Pay™ and Google Pay™ mobile wallets.
Plus, the BNZ Mobile Banking app lets you track your spending, pay with your phone and even temporarily block or unblock your card if you think you've lost it in the crowds jumping to The 1975. Terms, eligibility criteria, and international fees apply. Mobile coverage and data required to access the BNZ Mobile Banking App. Check out the range of BNZ cards to see what's best for you here.
From one reader to the next… Remix Readers Greta & Ben are heading to Coachella, here's what they had say about the last-minute survival tips that have been passed down by pre-millennials before them...
Tip #7: Getting from A to B
"When it comes to the weekend itself sort out your transport each day to and from the venue well in advance if you're not camping on site. Organise your own shuttles or get shuttle passes if not already included in your pack!" - Ben
Tip #8: Schedule in chill time
"Have breaks to chill out in between acts it's three days long – you don't want to exhaust yourself." - Greta
Tip #9: Morning prep
"Make sure you get your morning essentials, drink lots of water and electrolytes, and have a big Breakfast. You'll need to feel fresh and energised to do each day all over again." - Ben
Tip #10: Make the most of the Coachella app
"Download the Coachella app, you can sync your wrist bands, set notifications on your favourite acts schedules and use location services to map out where you are and where the other stages and landmarks are. This will be lifesaving and help structure your game plan each day so you don't miss a beat." - Greta