The latest at Allpress Studio: A conversation with Michael Allpress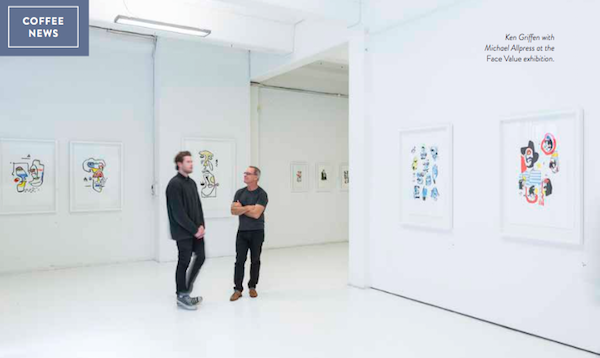 Drake Street in central Auckland has been home to Allpress since 2000, but recently the space has become known for much more than a spot for a brew and a bite. For the past two years the Allpress Gallery, now renamed Allpress Studio, has been a hub for designers, artists and storytellers, established or emerging, to share their talent with the community. Michael Allpress tells us about the space and latest exhibition.
How did the Allpress brand get started?
Allpress first got started 25 years ago in Victoria Park Market. I was travelling around America and ended up in Seattle. There was a whole dimension of specialty coffee happening there and an espresso cart on the street caught my eye. I saw a couple more develop and decided to bring the concept home. We started off as espresso carts, then moved into wholesale distribution and now have 230 employees globally.
How did the transition to the gallery come about?
We've had the space above the gallery for 15 years and we've grown into it - it's quite a different building now than when we first moved in. It's a great space and just lends itself to art exhibitions and performances, parties, talks and dinners. We have Nicola Fox who has been curating that for the past two years now.
What are the main focuses of the space?
The concept was to introduce different people to Allpress and a way of us connecting to different people. It's got great community benefits – we don't charge anyone for rental down there, it's not-for-profit, and created for established and emerging artists. We've had Lisa Reihana down there and she showed four works that had never been shown in New Zealand before, which was great. We've got Max Patté, a British born Wellington-based artist who was Head of Sculpture at Weta Workshop, here during ARTWEEK Auckland.
Why the name change from Allpress Gallery to Allpress Studio?
We just think it's a bit more relaxed and more open for alternative stuff, rather than just pieces on the wall. We have a studio in Melbourne that's had a number of different shows on – we had one with big vintage motorbikes. We've also got a space opening up in London too.
Who have you had exhibit recently?
We've just had the photographer Richard Hodder exhibit, which was really popular. He went to the four corners of New Zealand, and grew a massive following through it. We had Ken Griffin, he's an illustrator and the creative director for Huffer as well. He sold out and had a really strong show downstairs. We've also had some ceramics and pottery too. Our first quite large scale lecture was with Michael Seresin, who is a cinematographer that has worked on Planet of the Apes, Harry Potter, Midnight Express and is currently working on the Jungle Book over in London. We have events such as a sneaker swap and we've also had a record swap, which is cool. All kinds of different gatherings. Head
here
for more.