Simple gourmet homemade pizza recipes
Mmm, pizza…Rustic tradition and a contemporary approach meet in these freshly baked slices of heaven. There is no meal more simple, and satisfying, than the humble pizza, in this compilation of Remix's favourites, you'll find the classics right up to the more obscure, but all using a list of few, and uncomplicated, ingredients.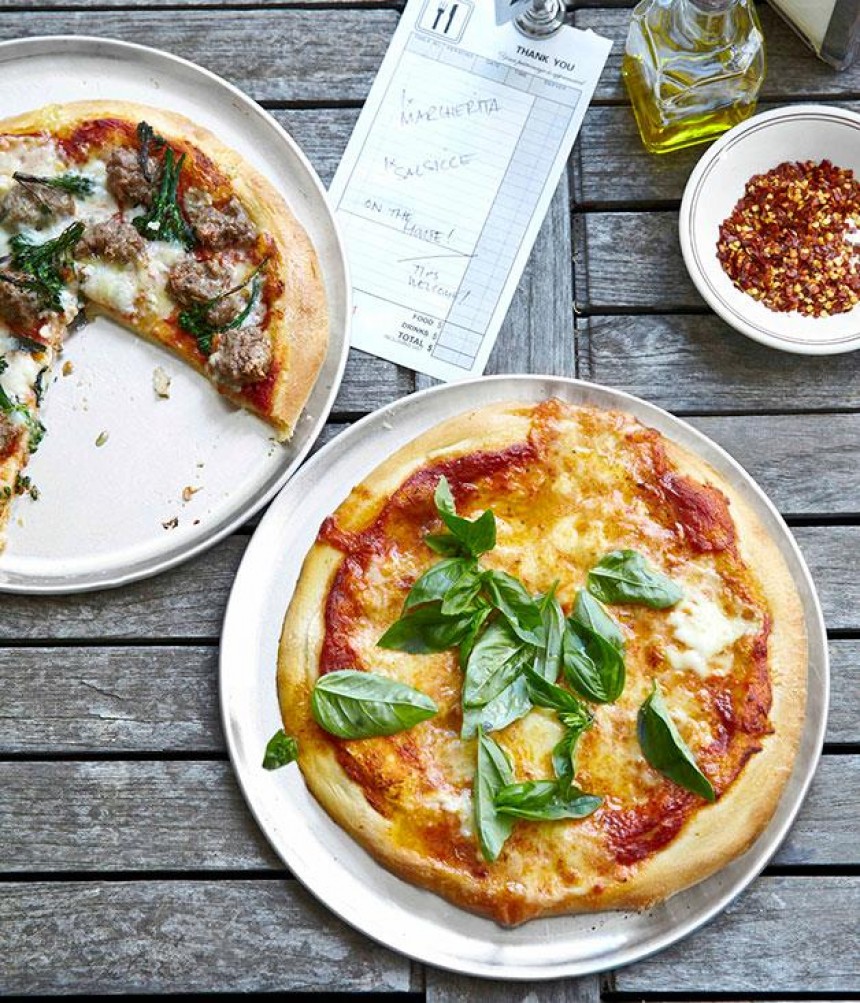 Ingredients
5 gm dried yeast (1¾ tsp)

700 gm "00" flour

15 gm sea salt (1½ tbsp)

60 ml extra-virgin olive oil (¼ cup)
Instructions
Combine yeast and 100ml lukewarm water in a bowl, stir to dissolve and set aside until foamy (5 minutes).

Combine flour, salt and olive oil in an electric mixer fitted with a dough hook.

Add yeast mixture and 320ml water and knead until well combined.

Stand at room temperature, covered with a damp tea towel, until doubled in size (1 hour). Or refrigerate overnight to prove.

Turn onto a bench and knockback, dusting lightly with flour, and bring mixture just together to form a smooth soft dough. Do not overwork.

Divide into 6 balls, then place on a lightly floured surface and cover with a lightly floured tea towel until doubled in size (20 minutes). Meanwhile, preheat oven to the highest setting, placing a pizza stone on the top shelf to heat.

Working with a ball of dough at a time, place onto a flour-dusted 22cm-diameter pizza tray and press outwards from the centre to flatten, making the edges slightly thicker than the centre.

Spread with pizza sauce (see note), then transfer base to hot pizza stone with a metal fish slice. Add toppings (see recipes at right), then bake until edges are puffed and golden and the base is crisp (12-18 minutes). Repeat with remaining dough balls and serve hot.



Pizza With Zucchini, Feta, Lemon, and Garlic Recipe from Serious Eats
Ingredients
1 large zucchini (about 12 ounces), thinly sliced and cut into 1/4-inch-thick matchsticks

8 medium cloves garlic (2 minced, 6 thinly sliced), divided

1 teaspoon kosher salt, plus more for sprinkling

1 pound fresh mozzarella, torn into rough chunks and drained

1 lemon, very thinly sliced, seeds removed

8 ounces goat or sheep's milk feta cheese, roughly crumbled into 1/2-inch pieces

4 tablespoons extra-virgin olive oil, for drizzling, divided

1/2 cup thinly sliced scallions, white and light green parts only
Instructions
Divide dough into four equal parts and place each in a covered quart-sized deli container or in a zipper-lock freezer bag. Allow to rest at room temperature for at least 2 hours before baking.

Combine zucchini and minced garlic in a medium bowl. Add 1 teaspoon kosher salt and toss to coat. Transfer to a strainer and set over the bowl. Let rest for 30 minutes. Squeeze zucchini with your hands to remove all excess moisture. Transfer zucchini to a paper towel-lined plate and set aside until ready to use.

Adjust oven rack to 6 inches under broiler and place stone or steel on rack. Preheat oven to highest possible temperature (500 or 550°F) for at least 45 minutes. Alternatively, use a

KettlePizza and Baking Steel grill insert

.

When ready to bake, turn one dough ball out onto a lightly floured surface. Gently press out dough into a rough 8-inch circle, leaving the outer 1 inch higher than the centre. Gently stretch dough into a 10- to 12-inch circle, about 1/4 inch thick, by draping over knuckles and gently stretching. Transfer to floured wooden pizza peel.

Preheat broiler to high. Spread 1/4 of mozzarella over pizza, followed by a few lemon rings, 1/4 of zucchini, 1/4 of feta, and 1/4 of thinly sliced garlic. Sprinkle lightly with salt and drizzle with 1 tablespoon olive oil.

Transfer pizza to hot stone or steel and broil, rotating regularly for even cooking, until edges are puffed and lightly charred and bottom is crisp, 3 to 6 minutes total. Retrieve pizza with a metal peel and transfer to a cutting board. Allow to rest 1 minute. Meanwhile, switch oven back to 550°F to reheat stone for remaining pizzas.

Sprinkle with scallions, slice, and serve immediately.

Repeat steps 4 through 7 for remaining pizzas.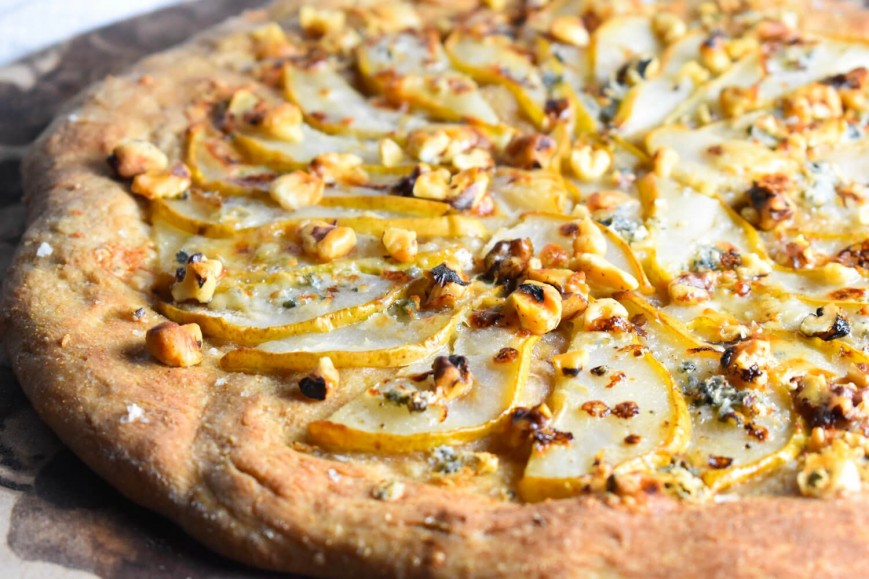 Caramelised Pear and Gorgonzola Pizza from Fifteen Spatulas
Ingredients
1/2 batch pizza dough

prebaked for 10 minutes

170.1 g gruyere cheese shredded

113.4 g gorgonzola cheese

2 d'anjou green pears cored and thinly sliced

1 tbsp butter divided

0.5 a large red onion thinly sliced

0.5 tsp fresh thyme leaves

2 tsp honey

1.5 tsp olive oil

1 tsp rice vinegar

salt and pepper

30 g hazelnuts chopped (I use walnuts)
Instructions
Heat up a nonstick skillet over medium heat and add 1/2 tbsp of butter. Add the pears to the pan and caramelize for a couple of minutes, until they soften up a little. Be careful not to cook them to mush. Remove from the pan.

Add the other 1/2 tbsp of butter to the pan, and add the sliced onion. Season with a pinch of salt, and cook for 10 minutes until caramelized.

Whisk to combine the fresh thyme, honey, olive oil, and vinegar. Season to taste with salt and pepper. Brush this mixture onto the parbaked pizza. Distribute the caramelized onions evenly on top of the pizza, then sprinkle over the gruyere.

Layer on the caramelized pear slices, and crumble over the gorgonzola. Lastly, sprinkle on the chopped hazelnuts. Bake for 12-15 minutes, until the cheese, has melted and the edges are golden brown. Enjoy!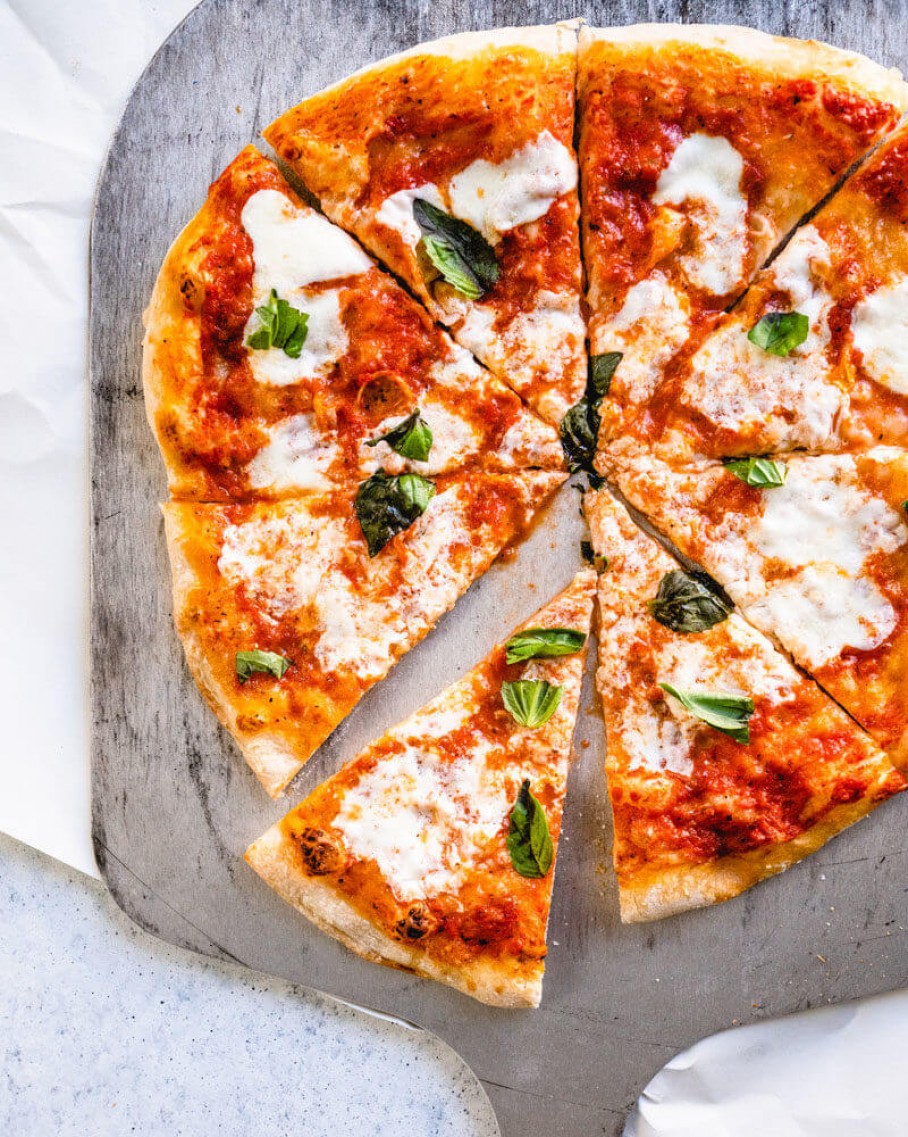 Perfect Homemade Margherita Pizza from a Couple Cooks
Ingredients
For the pizza sauce
1 small garlic clove (1/2 medium)

15 ounces crushed fire-roasted tomatoes or high quality organic canned tomatoes

1 tablespoon extra virgin olive oil

1/2 teaspoon dried oregano

Scant 1/2 teaspoon

kosher salt
For the toppings
1/4 to 1/3 cup pizza sauce

3/4 cup shredded cheese or 2 to 3 ounces fresh mozzarella cheese

Parmesan cheese

A few fresh basil leaves




Make the pizza sauce:

Cut the garlic into a few rough pieces. Place the garlic, tomatoes, olive oil, oregano and

kosher salt

in a blender. Blend until fully combined. (You'll use about 1/3 cup for the pizza; reserve the remaining sauce and refrigerate for up to 1 week.)

Prepare the cheese:

If using fresh mozzarella cheese, slice it into 1/4 inch thick pieces (see the photos of the pre-baked pizza above). If it's incredibly watery fresh mozzarella (all brands vary), you may want to let it sit on a paper towel to remove moisture for about 15 minutes then dab the mozzarella with the paper towel to remove any additional moisture.

Bake the pizza:

When the oven is ready, dust a

pizza peel

with cornmeal or semolina flour. (If you don't have a pizza peel, you can use a rimless baking sheet or the back of a rimmed baking sheet. But a pizza peel is well worth the investment!) Stretch the dough into a circle; see

How to Stretch Pizza Dough

for instructions. Then gently place the dough onto the pizza peel.

Spread a thin layer of the pizza sauce over the dough, using about 1/4 to 1/3 cup. Add the mozzarella cheese. Top with a thin layer of fresh grated Parmesan cheese and a few pinches of

kosher salt

.

Use the pizza peel to carefully transfer the pizza onto the preheated pizza stone. Bake the pizza until the cheese and crust are nicely browned, about 5 to 7 minutes in the oven (or 1 minute in a pizza oven).

Allow the pizza to cool for a minute or two before adding the basil on top (whole leaves, lightly torn, or thinly sliced). Slice into pieces and serve immediately.


Colin's prosciutto, pineapple and mozzarella pizza from Taste AU
Ingredients
16 prosciutto slices, torn

6 (110g each) fresh buffalo mozzarella, torn

Finely chopped fresh sage leaves, to serve

Finely chopped fresh rosemary leaves, to serve

Small fresh basil leaves, to serve

Extra virgin olive oil, to drizzle
Instructions
Divide dough into 2 equal portions. Roll out 1 portion on a lightly floured surface to a 35cm-wide disc. Dust stone or tray with semolina. Carefully transfer dough to prepared tray. Spread with half the passata. Top with half the pineapple. Cook for 8-10 minutes or until golden and crisp.

Top with half the prosciutto, mozzarella, sage, rosemary and basil. Drizzle with oil. Season with pepper. Repeat with remaining dough and toppings.