Remix steps inside Miss Polly's kitchen
Some people are put on this earth to serve, but Polly was put on this earth to cook. You'll likely already know of Polly Markus but just by a different name. This woman crafts easy flavoursome meals and puts it out to the gramiverse for all to use as they please.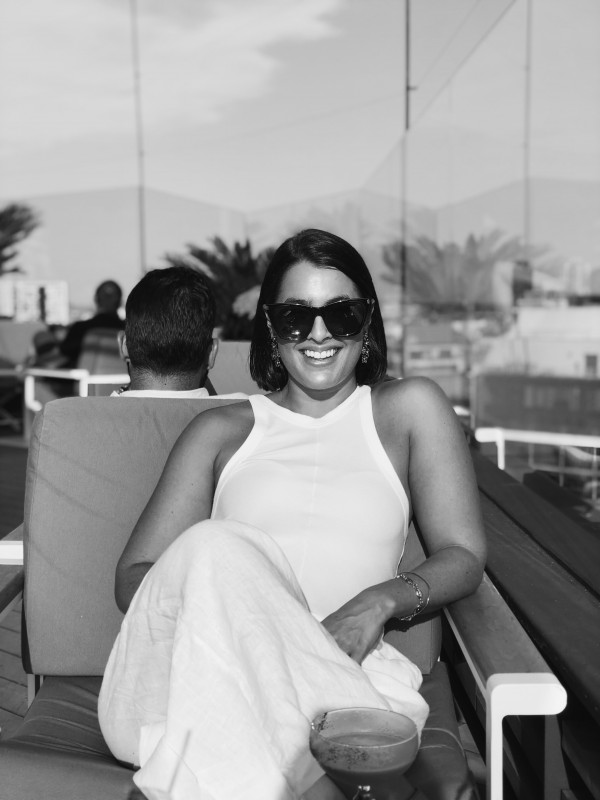 Say hello to Miss Polly's Kitchen: the foodie friend we all need. The young Aucklander is a commercial leasing agent by day, and inspirational foodie by night. She's put together five crowd-pleasing dinner recipes for Remix readers to warm up with this winter. So strap yourself to the benchtop and get ready to chop, because this kitchen queen has a big focus on t.a.s.t.e.
@misspollyskitchen

HARISSA SLOW COOKED LAMB SHOULDER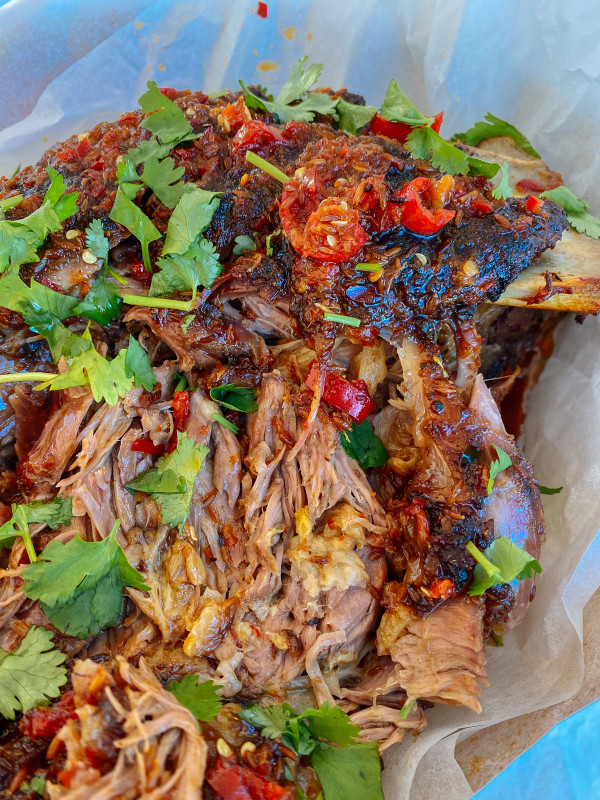 INGREDIENTS
Lamb shoulder – 2kg with bone in
4 tbsp harissa paste
5 garlic cloves – halved lengthways
800ml vege stock
Parsley or coriander to serve
Chilli orange glaze
1 large red chilli - thinly sliced
¼ cup harissa paste
½ cup fresh orange juice
¼ cup of honey
METHOD
Heat the oven to 150 fan bake.
Slice 10 small holes into the lamb and poke the garlic into the holes. Rub the lamb with salt & pepper and the harissa paste.
Put the lamb into a deep baking dish, pour the vegetable stock around the lamb (don't pour it over as you will wash off the seasoning)
Cover with a lid or two layers of tin foil and bake for 4.5 – 5 hours until the lamb is juicy and falling apart.
When there is twenty minutes to go, mix together the glaze ingredients in a small pot and simmer for 5 minutes.
Take the lamb out of the oven, turn the heat up to 200 fan bake, remove the lid/cover and gently pour 1/3 of the glaze over the top of the lamb. Place it back in the oven for 10 minutes uncovered.
Remove the lamb from the oven, cover it and let it rest for 10 mins. Once rested, carefully remove the lamb out of the baking dish and onto a platter, gently pull the meat apart, I like to pour over a bit of the stock and then finish with pouring the rest of the glaze over the lamb. Garnish with parsley or coriander.
Serves 6
SLOW COOKED INDIAN LAMB CURRY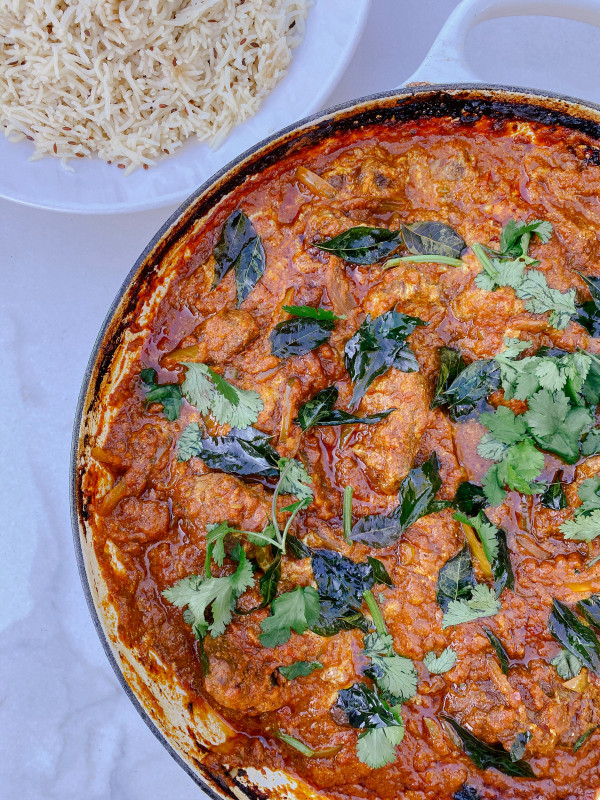 INGREDIENTS
1-1.2kg piece of lamb shoulder boneless
50g butter
1 tbsp yellow mustard seeds
1 medium brown onion – cut into thin slices.
2 sticks of cinnamon
4 cloves
2 cups of lamb stock
2 tins of crushed tomatoes
1 cup plain natural yoghurt
DIY Curry Paste
1 tsp garam marsala
2 tbsp paprika
2 tbsp ground coriander
2 tbsp ground cumin
1 tbsp turmeric powder
1/4 tsp nutmeg
1/2 tsp fennel seeds
Pinch of chilli flakes
1 large brown onion
3 cloves of garlic
2cm piece of ginger
Garnish
Three stalks of fresh curry leaves
Coriander
Serve with:
1 tbsp cumin seeds and 1.5 cups of rice.
METHOD
Heat the oven to 150 degrees fan bake.
Make the paste, throw everything in a food processor and blitz into a paste.
Remove any large visible pieces of fat off the lamb then slice it into roughly 3cm pieces.
Season the lamb and sear in a hot pan, do this in batches then set aside.
In an oven bake dish, fry the mustard seeds in oil until they start gently popping, then add the curry paste and the sliced onion. Add the butter, cinnamon & cloves and stir for around 8 minutes until the onion is nice and soft.
Now add the lamb and all the juices, the tinned tomatoes & stock, carefully mix it all around.
Put the lid on and bake for 3 hours.
When there is half an hour to go on the lamb, heat a small pot, using a knob of butter fry 1 tbsp of cumin seeds until lightly coloured, then add in the basmati rice & water and simmer gently on low until cooked.
In a medium hot pan cook the curry leaves in a good glug of oil and some salt until crispy.
Pull the lamb out of the oven and gently stir the yoghurt through, garnish with coriander and curry leaves.
Serves 4
LEMON & ZUCCHINI BAKED RISOTTO WITH CHILLI PRAWNS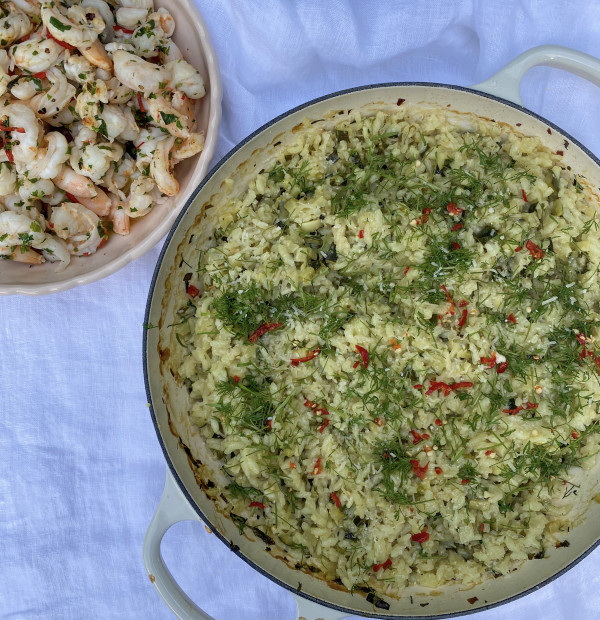 INGREDIENTS
2 cups Arborio rice
4.5 cups vegetable stock - heated
3/4 cup white wine
50g butter
3 zucchini- diced
2 medium brown onion - finely diced
6 large garlic cloves
2 large handfuls of parsley
Zest of one lemon
150g Parmesan
15g chives - thinly sliced
Handful of dill
Good pinch of chilli flakes
Olive oil for cooking
Fresh lemon to serve (I like to squeeze it all over my risotto)
Prawns (6 per person)
Big handful of parsley
One fresh chilli
Lemon zest & a squeeze of lemon juice
METHOD
Heat the oven to 200 degrees fan bake.
Prep and chop all the vegetables.
In a large oven proof deep pan, fry the onions in butter, cook these until soft - make sure not to burn. Add the zucchini & garlic and cook for around 5 minutes until soft, then mix through the parsley and lemon rind & season.
Heat the stock in a small pot.
Move the vegetables to the side of the pan. Add the rice and then the wine, simmer until the wine is absorbed. Add 4 cups of the heated stock, stir everything around and place the lid on Or two layers of foil. Bake for 24-28 minutes until cooked.
Once the rice is nearly done - chop the parsley, the chilli a squeezed lemon juice and some lemon rind and mix into the raw prawns.
Fry in a hot pan with butter or oil and serve with the risotto.
Stir through the Parmesan, the remaining 1/2 cup of stock and top with dill and a good squeeze of lemon, finally top with a good pinch of chilli if you're that way inclined.
Serves 7-8 people
ONE TRAY TOMATO OLIVE BAKE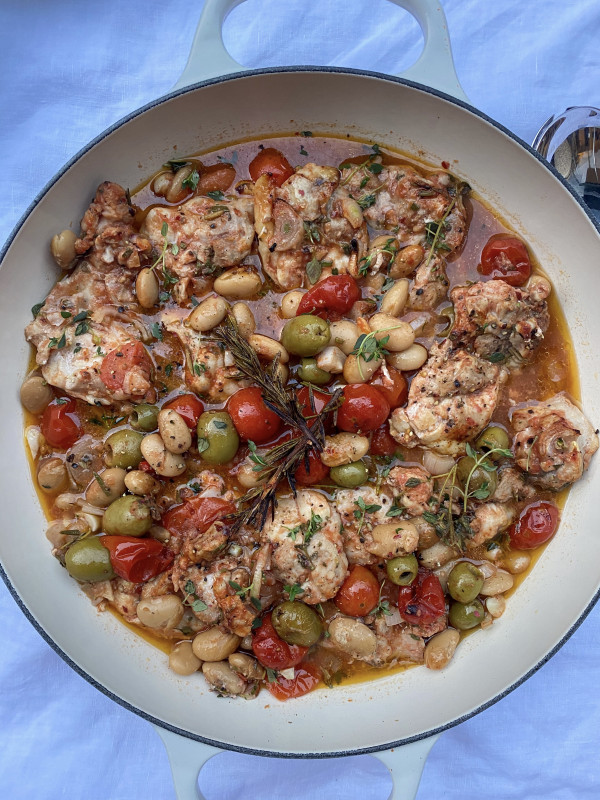 INGREDIENTS
2 small shallots - diced
6 garlic cloves - diced
1 Rosemary spring - finely chopped
7 sprigs of thyme
1 tbsp paprika
1 can butter beans - drained
1 Can cherry tomatoes
1/3 cup white wine
1/2 cup olives
Sprinkle of chilli flakes
8 bones less chicken thighs
Salt & pepper
METHOD
Mix everything together - marinade overnight if you have time. If not pre heat the oven.
Add everything to an oven proof dish, season drizzle with some olive oil and bake on 200 degrees for 25-30 mins.
Enjoy with a big salad salad and some Kumara chips!
Serves 4
MIDDLE EASTERN INSPIRED CHICKEN BAKE WITH A CAULIFLOWER PURÉE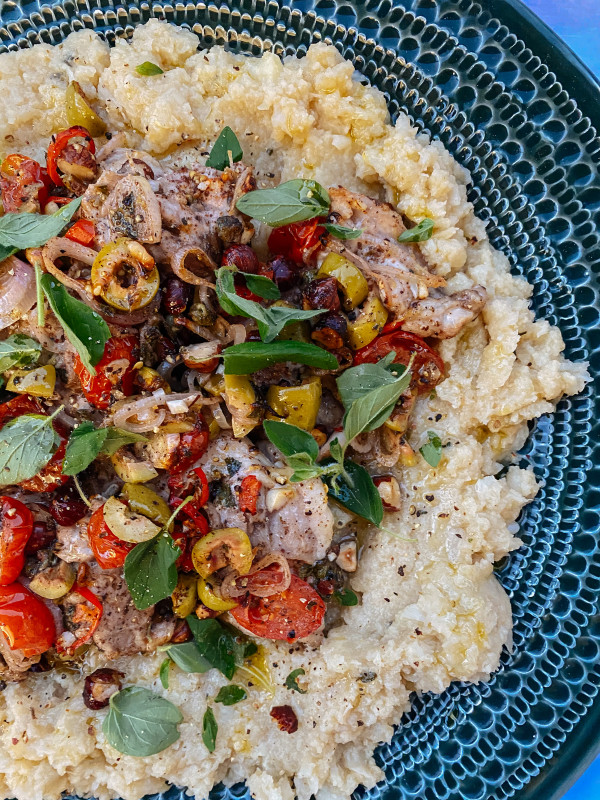 INGREDIENTS
8x chicken thighs boneless
1 cup olives - chopped
2 tbsp capers
1 tbsp sumac
1 pack of oregano - 15g (reserve some of the leaves for garnish)
3 garlic cloves - chopped
1 medium shallot - thinly sliced
Zest of 1 lemon
1/2 punnet cherry tomatoes - halved
1/3 cup hazelnuts - roughly chopped
1/2 red chilli - sliced
Good splash of EVOO
Splash of red wine vinegar
Salt & pepper
1 large cauliflower
1 cup vegie stock
4 sprigs of thyme
Big knob of butter
METHOD
Heat the oven to 200. Mix together all of the ingredients and cover it over the chicken. Let it marinade ideally overnight or for a few hours - if no time, just let it marinade whist you prep the cauliflower.
Roughly chop the cauliflower into medium sized chunks. Throw it into a large pot with 1 cup of vegetable stock & thyme. Cover and simmer for 20 mins or until the cauliflower is soft)
When the cauliflower has been cooking for 10 mins, put the chicken in the oven and bake for 17 mins (depending on the size of the thighs.)
Once the cauliflower is done, drain it and using a stick blender or food processor whizz it all up with some butter to a thickness of your liking.
Serve it smeared over a platter and top with the chicken. Garnish with the remaining oregano and some fresh thyme.
Serves 4 with a side salad