Remix Rediscovers: The urban inner city
For the past few months, we've been hibernating, avoiding the rain and low temperatures and instead choosing the heater; but times are changing!

Sure it's winter, but that doesn't mean the only activity available to you is back-to-back Netflix series in bed. To get us moving and out of the house, we teamed up with Converse to try their new Counter Climate Shield Canvas Footwear Collection. This collection was made specifically to withstand elements, so you can now wear your Chucks anywhere – we're talking rain, hail or shine! To give these new kicks a proper test, we decided to chuck some layers on and rediscover our city and all the activities so readily available to us.
Firstly, the easy options, for when you've finished work and feel like exploring but heading out of the city isn't really an option...
While it was still twilight on a drizzly Wednesday evening, we headed to the Auckland Domain to do the Domain Walk, sometimes referred to as the 'Ho Chi Minh Trail'. We both chose to try out the Converse Chuck Taylor All Star II, even daring to wear WHITE on a bush walk! This track leads right around the domain through native trees and nikau palms on well-formed tracks, and although there was mud and puddles, the water repellant canvas on our shoes made them stay perfectly dry.
Only a quick 10-minute drive from the central city - apart from the occasional peak through to Parnell - this easy walk makes you feel like you're in the middle of the Waitakere Ranges, very zen!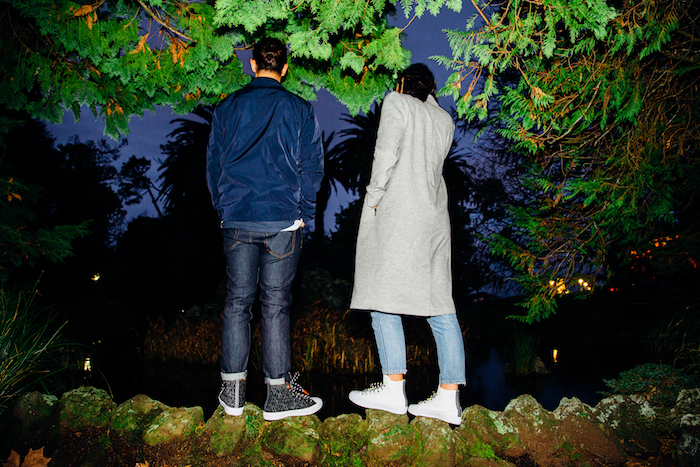 The Domain also has beautiful wintergardens that you can check out if you can get out of work before their current closing time of 4:30pm, or if you're planning a weekend activity.
After our walk, we headed up to check out the city views from the stunningly lit up Auckland Museum. From the top of the hill, on the museum steps, you can see harbour views, the city backdrop and Rangitoto Island.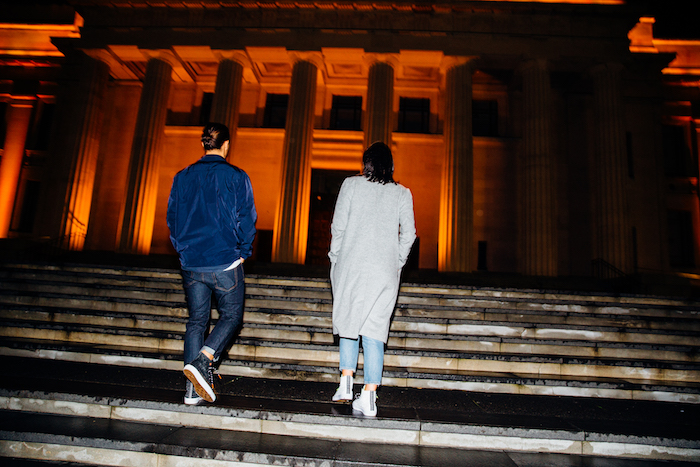 If you haven't planned dinner, Ceremony Company in Grafton is super close to the domain and they're home to the best sandwich/burgers in town. Pop by and get takeaway on your way to the next location.
As it was getting late after our bush walk and dinner, we then decided to grab hot chocolates and go check out the city from the opposite side, beneath the Harbour Bridge. After walking in the new Converse for over two hours, we can safely say they're the comfiest pairs of Converse we've ever worn!
If you're not an Auckland local (actually, even if you are!), you'd be forgiven for not knowing how to get to this North Shore location, just a 5-minute drive from the city. Get off at the Stafford Road exit and pop 2 Sulphur Beach Road into your map. You'll go down a tiny street and under the bridge and come out to an unbeatable view of the city! There's barely anyone there at night and even a wharf you can go and sit on.
By this point, Auckland had classically started to rain, but at least there was a positive in that we really got to test the water resistance of the Converse out and the results were awesome – although they look exactly like your regular pair of Chucks, the water repellant canvas and waterproof neoprene makes all the difference – just check out our last image below. It's easy to forget what a beautiful city we live in through the everyday hustle and bustle, so it was nice acting like tourists and really appreciating the view of Auckland city.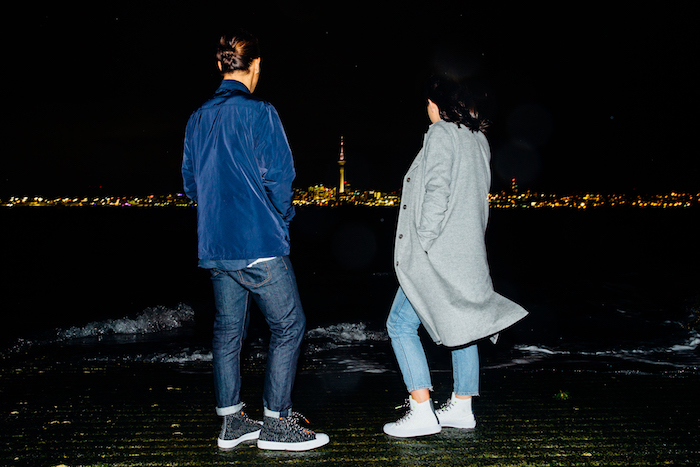 The Chuck Taylor All Star II from Converse's Counter Climate Shield Canvas Footwear Collection were the perfect shoes to wear for our evening, which is awesome, because until now when would you ever wear your sneakers to places you know are going to be muddy and wet?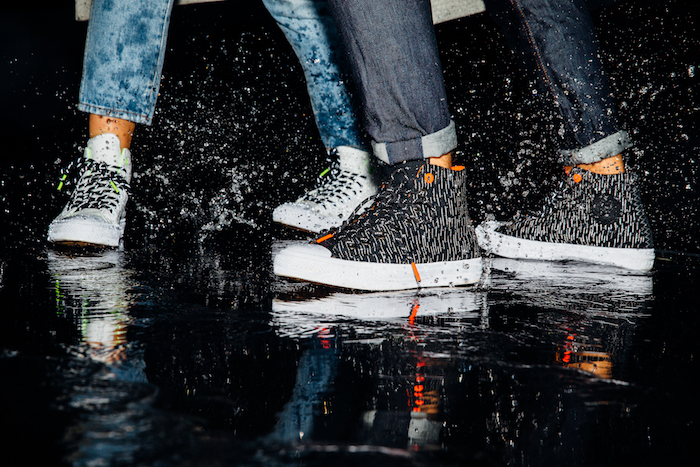 Stay tuned for our next 'Remix Rediscovers' post, where we'll head out to the rugged West Coast, and head here for more on Converse's new range.