16 haunted hotels you should be staying in this Halloween
I am chronically terrified of horror movies, yet I often find myself watching them when I'm feeling masochistic. This results in two or three nights a year of self-induced insomnia and night sweats, thanks to an overactive imagination and a wardrobe door that just won't close.
Some of you crazy lot love the adrenalin rush that comes with horror movies and 'haunted' mazes, along with the spooky pop-ups that plague town around Halloween. Well, to you folk, I propose a challenge.
I myself will not be partaking because the thought of a real-life horror movie is giving me upper-lip sweats, but in the spirit of Halloween, and for the sake of you horror-junkies, I've compiled a list of spooky digs around the world. Book a night (of romance? I don't know what you're into) in one of these hotels that by many accounts, are legitimately haunted. Shack up for the night, and prepare to hallow-wet yourself.
1. Stanley Hotel
Estes Park, Colorado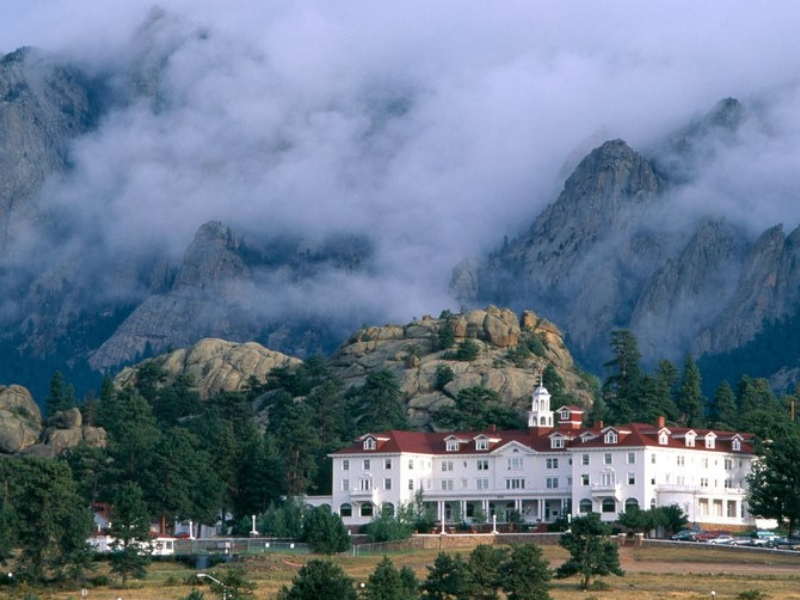 Ugh. The Shining has made me avoid Jack Nicholson movies forever, even the funny ones. The Stanley hotel was the inspiration behind the Overlook Hotel from the infamous movie, and on top of that, many ghost sightings and mysterious piano music have plagued the hotel since its 1909 opening. The hotel has played on this by offering nightly ghost tours and psychic consultations from the in-house Madame Vera.
2. The Driskill
Austin, Texas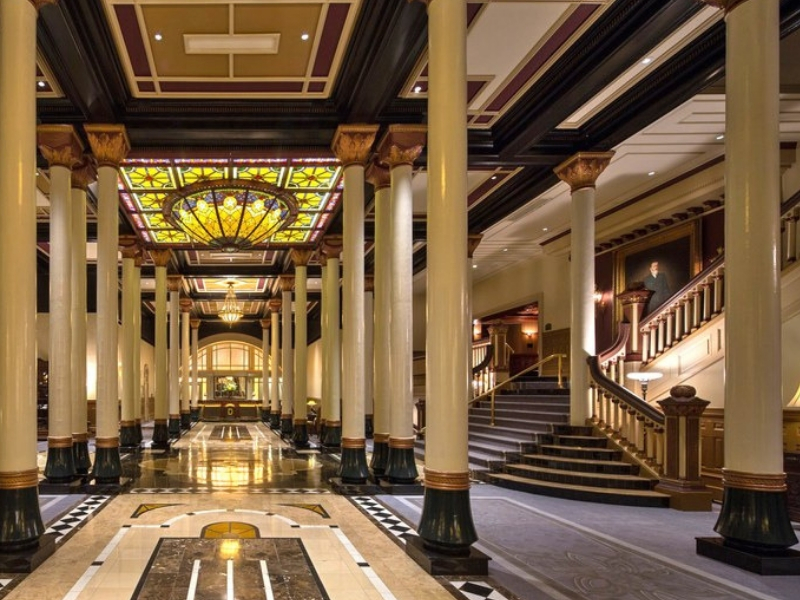 Don't let the majestic lobby or ornate suites fool you - this impressive building is a ghostly hangout, with eerie, abnormal sounds drifting through the building and many guests claim sightings of the the hotel namesake, Jesse Driskill, roaming the halls as he pleases. Apparently Driskill never recovered from the heartbreak of losing the hotel in a high-stakes poker game. Fair enough, it's a stunning spot, but jeez Driskill, no need to get all haunt-y about it.
3. The Langham Hotel
London, United Kingdom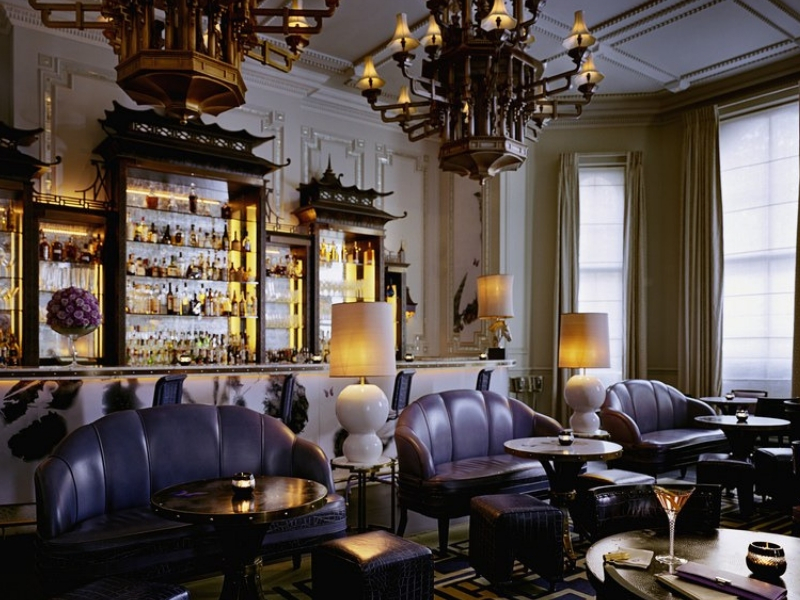 This oh-so-fancy circa 1865 hotel is notorious for actually driving out several British cricket players in 2014. The athletes left in a huge hurry, citing sudden heat and weird lights and an 'unexplained presence'. EEEK. The lavish hotel boasts spirits of the society's elite, such as former resident Emperor Louis Napoleon III and a German prince who took his life there. You know, if I encountered a ghost, I would want it to be a posh ghost.
4. Castle Leslie Estate
County Monaghan, Ireland
This secluded 16th century Irish homestead comes with all the lavish old-money trimmings: red ivy snaking up the walls, deep copper tubs, a library stocked with first-edition novels (swoon) and afternoon tea overlooking 1000 wooded and lake-spotted acres. Even the ghosts are idyllic; there have been several reported sightings of members of the Leslie family, who all passed at least 300 years ago, but they all maintain their distance and simply go about shuffling papers in the office and rearranging tea-trays.
5. Mizpah Hotel
Tonopah, Nevada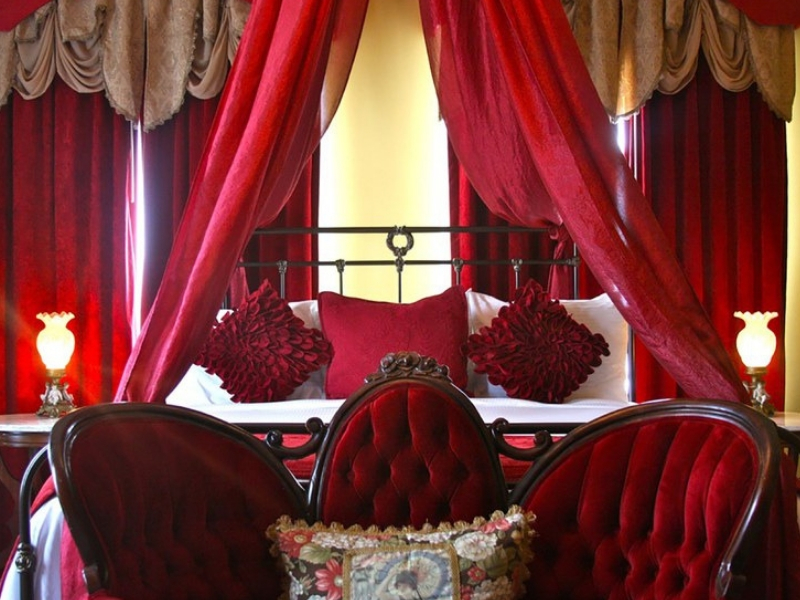 Legend has it that a woman who died of the fifth floor of the swanky Mizpah Hotel never really left the building. I can't blame her - the hotel is super luxe. HOWEVER she now reportedly makes her presence known by whispering in mens ears and leaving pearls from her broken necklace on guests' pillows. Creepy right? The Mizpah hasn't exactly encouraged her to get a move on and instead have capitalised on her reputation; visitors pay bucketloads more to stay in the Lady in Red suite, or can order the Red Lady Bloody Mary at the hotel bar.
6. Lord Milner Hotel
Matjiesfontein, South Africa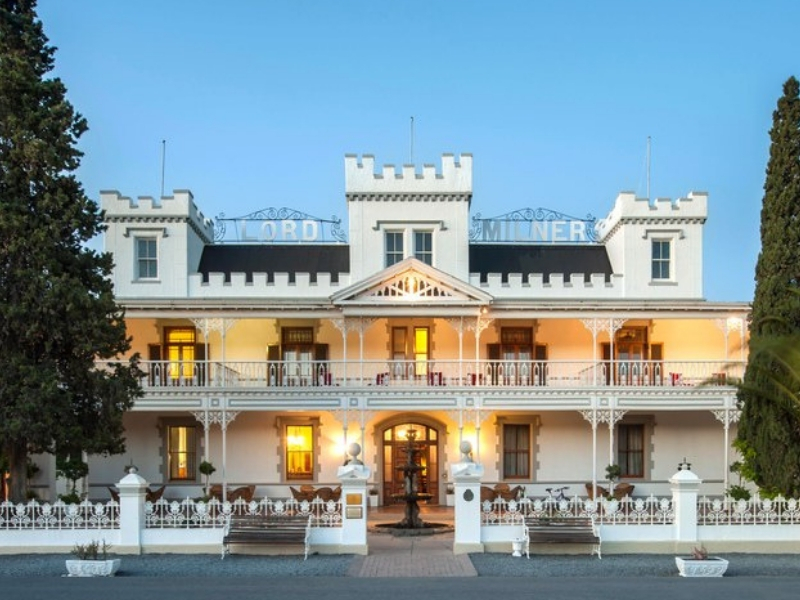 However charming the Lord Milner Hotel may look, the history of the establishment is not so. Matjiesfontein Village served as command headquarters during the South African War, and the Lord Milner was the site of subsequent (and extremely controversial) war crimes hearings. With all that bitterness lingering in the halls, it's no surprise some spurned poltergeists have manifested; 'Lucy', a negligee-wearing spectre, hides behind doors muttering about her husband who disappeared during the war, and windows in the hotel are often found inexplicably broken.
7. Chateau de Marcay
Loire Valley, France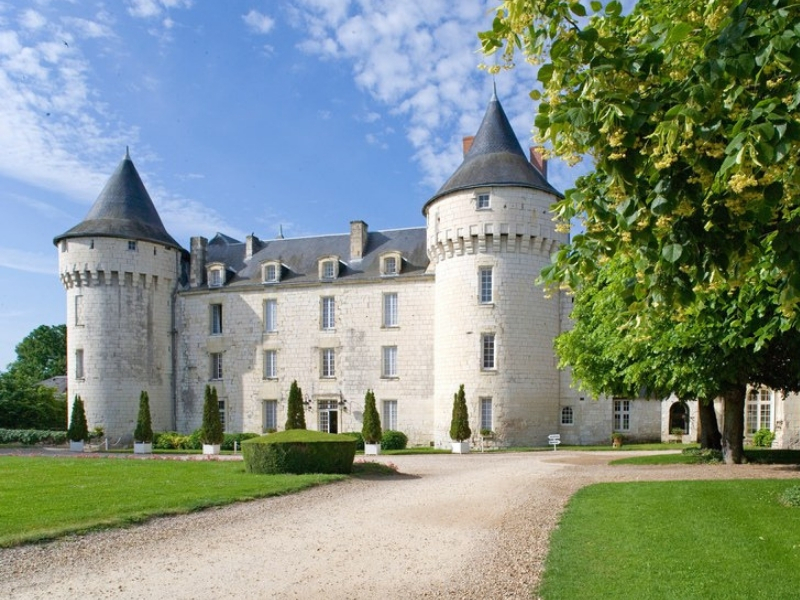 This turreted 15th-century castle was converted into a hotel in 1973. The entire estate looks like the stuff of fairytales, and as we all know, fairytales usually feature a mystical creature or two. As the legend goes, one of the ladies of the Chateau de Marcay was a werewolf, and was shot by mistake after she transformed one night. Apparently she decided to stick around; staff and guests report (harmless) encounters with a ghostly woman dressed in white, and numerous sightings of an eerie wolf figure at night in the grounds.
8. The Shelbourne
Dublin, Ireland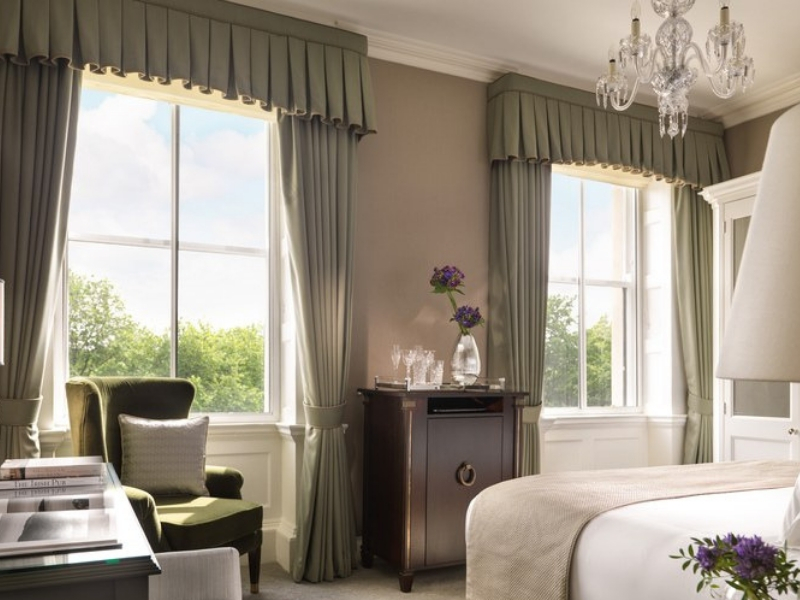 The Shelbourne is dripping in luxury and sophistication, along with a hefty dose of the paranormal. One suite in particular gets frequent reports of ghostly goings-on, such as water faucets turning on and off by themselves and a seven-year-old girl appearing out of nowhere. Dreamy looking hotel, but I'll be taking my business elsewhere, thankyou.
9. The Queen Mary Hotel
Long Beach, California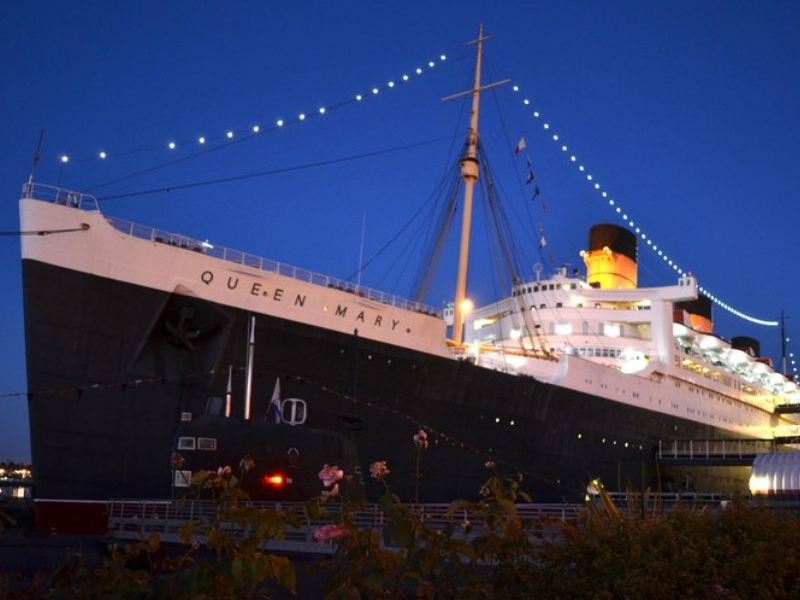 The RMS Queen Mary served as a luxury ocean liner from 1936 til 1967, and in that time was the site of several brutal murders (many in the engine room), and drownings in the pool. The city of Long Beach purchased the ship in the 60's and turned it into a hotel, where the ghosts of the deceased passengers stay for free. The engine room in particular is considered a hotbed of creepy activity, and between you and I, it's probably best to avoid the pool too.
10. Fairmont Banff Springs Hotel
Banff, Canada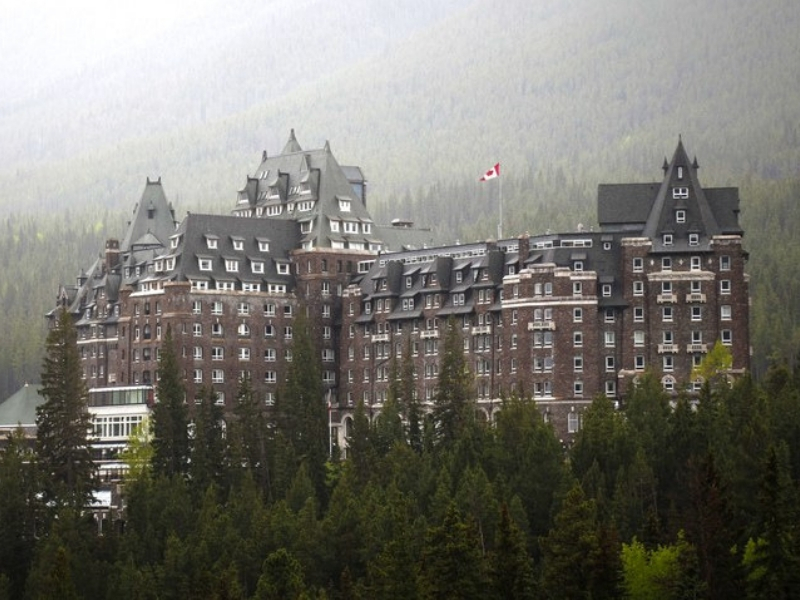 I mean, it looks haunted. This chateau doesn't exactly scream Canadian hospitality - to me it looks more like my boarding school on steroids (PTSD triggered) - but thousands of Rocky Mountains-bound tourists each year still patronise the hotel. Several ghoulish guests plague the Fairmont, including a bride who supposedly fell to her death on the stone staircase on her way to be wed, and Sam the bellman, who worked at the hotel for decades and still makes the occasional post-mortem appearance to shift bags around for the guests.
11. Queen Anne Hotel
San Francisco, California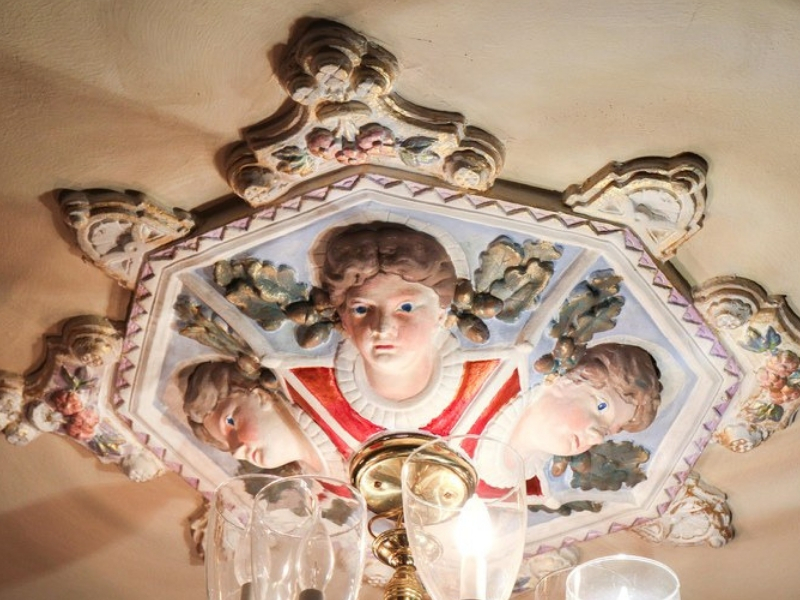 Built in 1890, this Victorian hotel was originally an etiquette school for girls. The students are long gone but the ghost of Miss Mary Lake is said to haunt the building, particularly room 410 (her former office). Guests in 410 often wake up to discover their clothes have been unpacked or the blankets nicely tucked around them in bed. Great hostess etiquette, I suppose...
12. The Don CeSar
St. Petersburg, Florida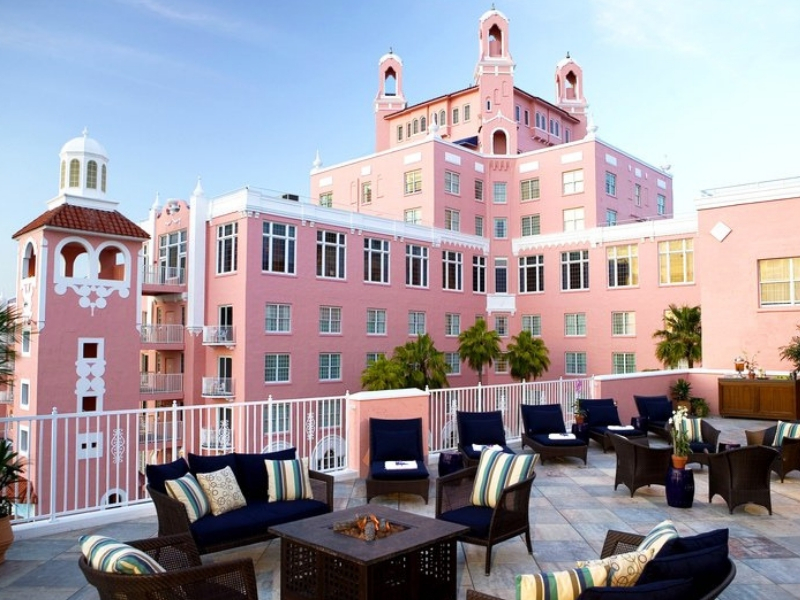 I'm upset that creepy things can happen in a hotel so pleasantly pink. However, on the paranormal activity spectrum, I suppose the goings-on are relatively pleasant. The hotel's founder, Thomas Rowe, and his true love Lucinda have long passed away, yet reports of sightings persist; the couple have often been spotted walking hand-in-hand around the sprawling grounds since the 1970's. Yep, even ghosts have a more idyllic love life than you.
13. First World Hotel
Pahang, Malaysia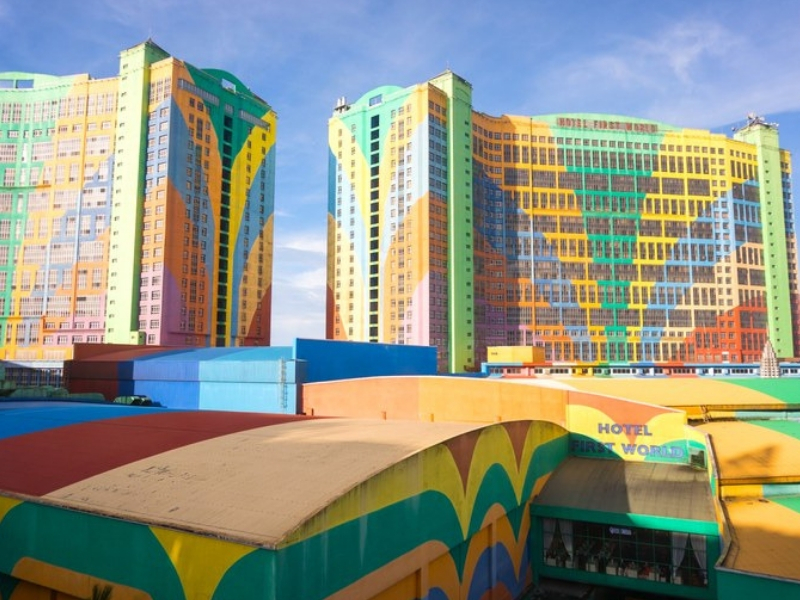 The First World Hotel is basically its own city. With 7351 rooms, the hotel has a very large guest list to cater for. There's an entire indoor theme park (!!) a tropical freakin' rainforest and like, 50 pools. The ghosts probably stick around purely because there's plenty to do. Some visitors have reported poltergeists making noise in the corridors and rooms - supposedly the ghosts of high-rolling gamblers who took their lives after losing everything at the in-house casinos.
14. Bourbon Orleans Hotel
New Orleans, Louisiana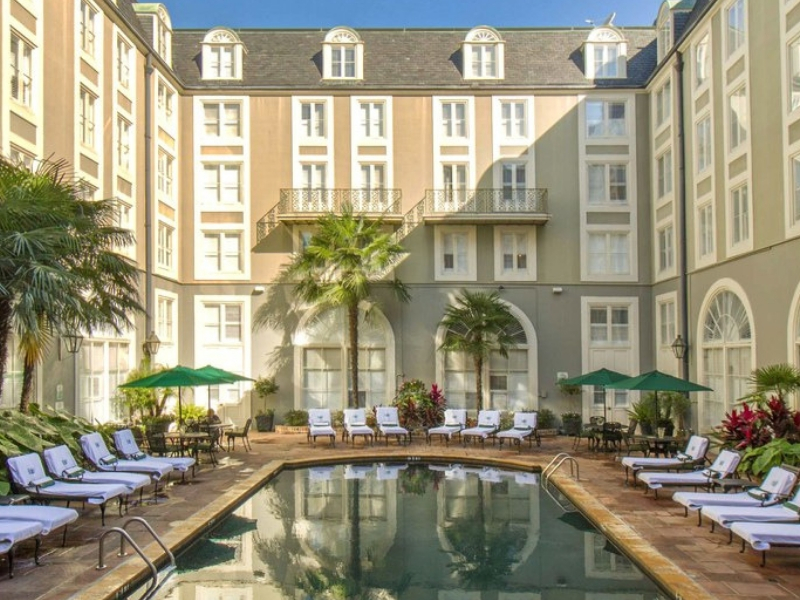 New Orleans is famous for paranormal activity, and the French Quarter's elegant Bourbon Orleans is one of the most well-known haunted spots. The building has done time as a ballroom, theatre, convent and orphanage, resulting in ghosts of all ages and walks of (past) life; the most commonly reported is a lonely dancer seen swaying under the ballroom's crystal chandelier at night.
15. Hotel Monte Vista
Flagstaff, Arizona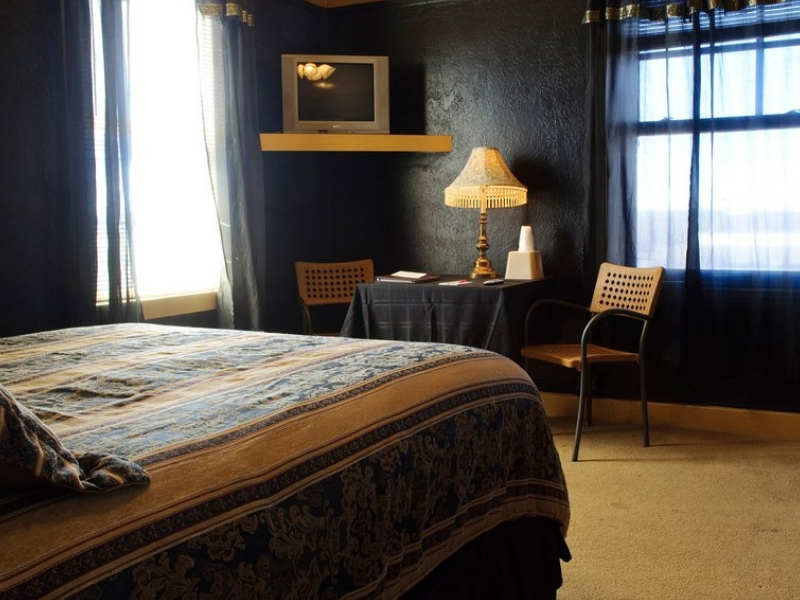 Far too many paranormal guests here have truly overstayed their welcome at the Monte Vista, including a long-term boarder who always hung raw meat from the chandelier (which still often starts swinging for no reason) in Room 210. Two women who were thrown from the third floor stuck around to asphyxiate male guests in their sleep, and the disturbing cries of a baby have sent staff and guests into frenzied searches on several occasions. This place sounds perfect for all you horror heathens, but you will under no circumstances see me there.
16. Borgvattnet Haunted Vicarage
Sweden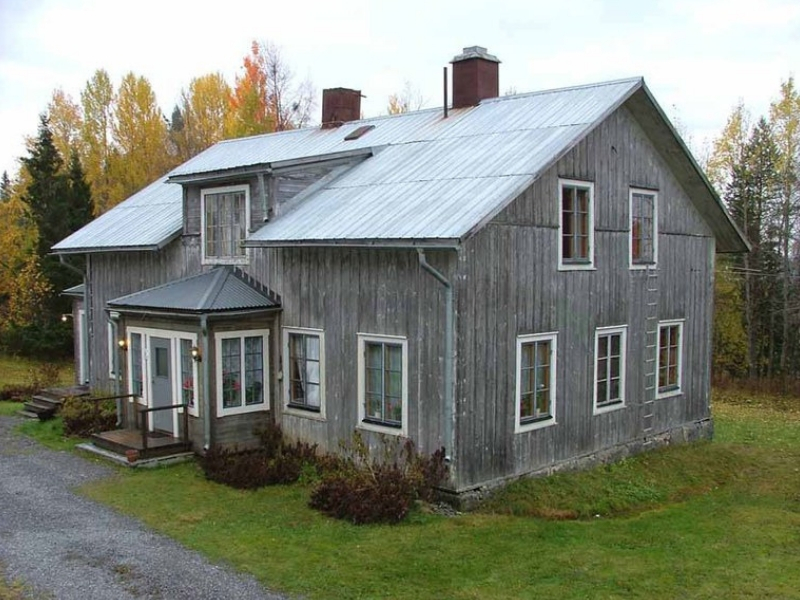 I feel like it's an absolute red flag if the staff award you with a certificate if you stay through the night at this converted bed and breakfast. Borgvattnet residents and vicarage guests frequently report hearing strange footsteps, music and the sound of three crying ladies coming from the building.
Happy Halloween, you spooky weirdos.