Glow up your home with sunny hues and golden tones
If the lockdowns have given us anything, it's our newfound appreciation for our living space. If you're looking to create a high-impact space straight out of a Pinterest board, colour is your ultimate weapon. As the weather continues to warm up, so does our palette with uplifting colours. From sunny hues and golden tones to deep earthy tones, Resene has all the inspiration we need to freshen up our sanctuary.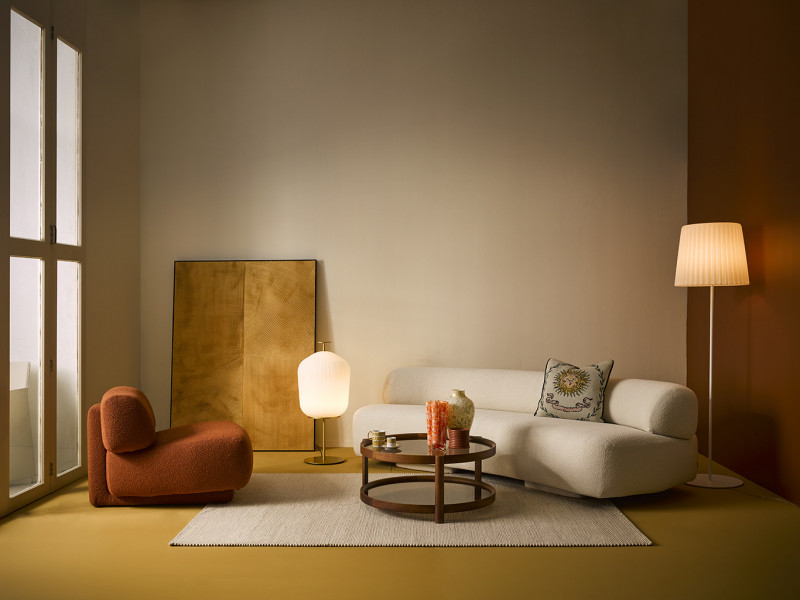 Credit: Gogan Sofa 2-Seater in milk white Orsetto fabric and Gogan armchair in rust Orsetto fabric; Plissee floor lamp with brass base, all from Matisse. Pavilion painting in gold and Muffin floor lamp (tall) both from BRADFORDS INTERIORS. Column coffee table in Walnut and Rolf rug in Natural both from CITTA. Versace mug with handle and Espresso cup and saucer, Gold Stella tea light, all from MICHAEL JOYCE. Saved NY Solar cushion; Loewe Juniper Berry candle; Stories of Italy orange bucket vase and Stories of Italy X Faradays clear cut vase; all from Faradays.
Rich hues of warm yellows, burnt oranges and rich browns do the job like no other when it comes to creating cosiness. Add a rich accent colour on one wall with Resene Cape Palliser and create a soft contrast with Resene China Ivory. Boost the design of your living area even further with a pop of colour on the floor. Resene Teak is a vibrant, warm brown that can give the illusion of a larger space while also drawing in natural sunlight.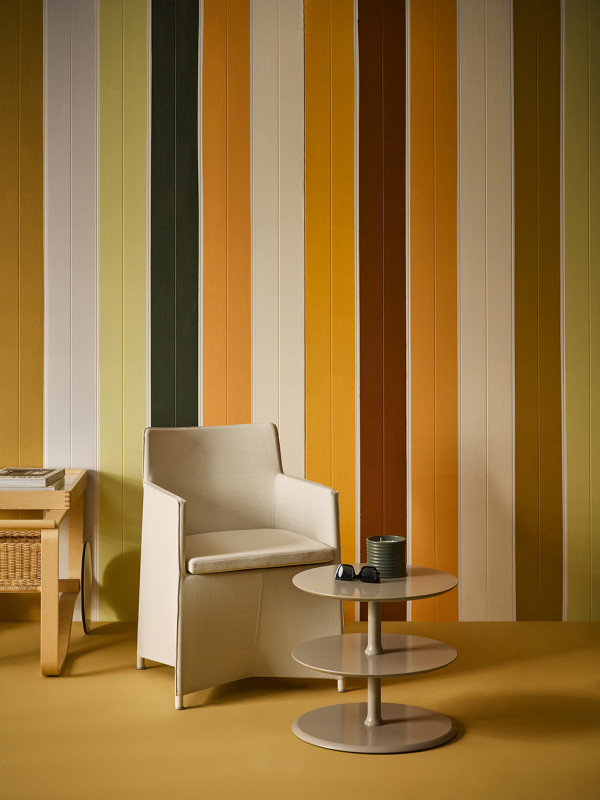 Credit: Tea Trolley 900 from MATISSE. Cane-Line Tex chair and XXXX side table from DOMO. Loewe scented candle from FARADAYS. Anine Bing Indio sunglasses from FABRIC.
Why settle on one colour when you can create this stunning striped wall? Combining different colours together can create an instant wow-factor that elevates your space to a whole new level. The key to choosing the perfect palette is choosing a range of different tones that complement each other. Here, the combination of earthy tones like Resene Teak, Resene Seaweed and Resene Cape Palliser match perfectly with rich warms like Resene Lemon Twist, Resene Tulip Tree and Resene Porsche. Make sure to add in subtle neutrals like Resene Mercury and Resene China Ivory to tie the whole design together.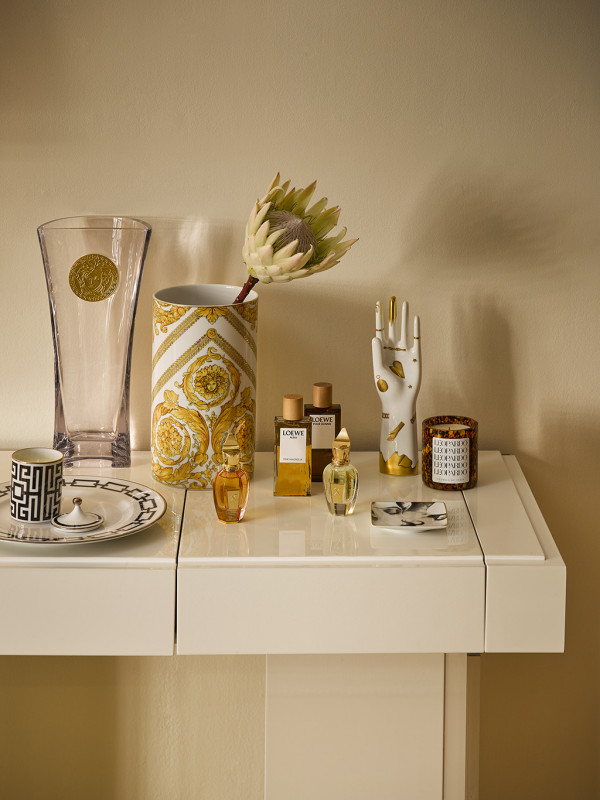 Credit: Artemide Vanity from BRADFORDS INTERIORS. Rosenthal Versace Medusa Madness clear vase, Versace Medusa Rhapsody vase; tattoo jewellery plate all from MICHAEL JOYCE. Ginori 1735 Catene round platter; candle with cover; Xerjoff La Capitale; Loewe Aura in Pink Magnolia, Loewe Pour Homme; Xerjoff Kobe Parfum; Ponti Mano Trionfo Italiano in Gold (hand); Stories of Italy Macchia Su Macchia Leopardo candle; all from Faradays.
A beautiful interior is not complete without accent decor. Opt for sophisticated pieces with elegant patterns and textures that are similar in tone. Here, the wall in Resene China Ivory is accentuated with luxurious vases from Versace and opulent candles from Stories of Italy.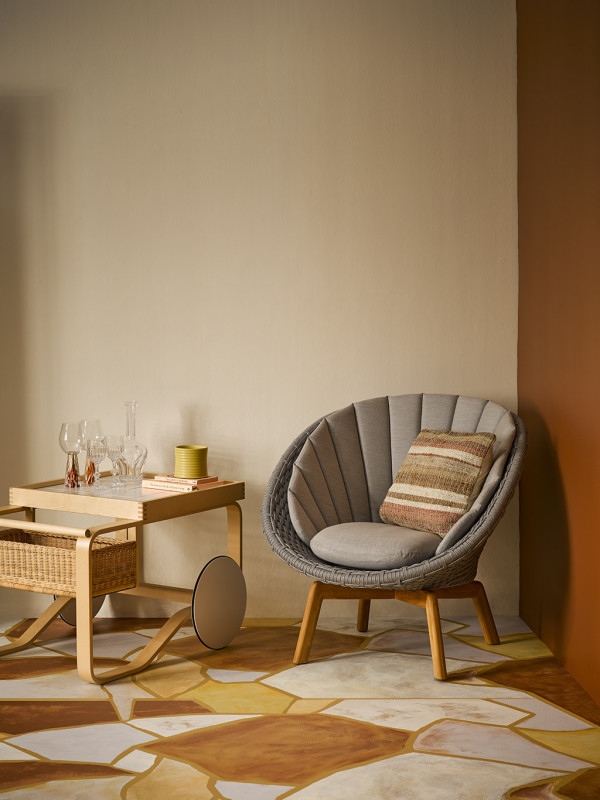 Credit: Cane-Line Peacock Lounge chair, from DOMO. Haast Handwoven cushion from CITTA. Tea Trolley 900 from MATISSE. Stories of Italy Tempo Ivory and Karkade Goblets; Ginori 1735 Granduca Cut Crystal Goblet in Crystal; Ginori 1735 Granduca Cut Crystal Decanter in Crystal; all from FARADAYS. Books stylists own.
Show your floors some love with a fun floor design. This unique paving floor has been splashed with golden hues and rich browns like Resene Teak, Resene Cape Palliser, Resene Lemon Twist and Resene Porsche, alongside neutrals like Resene Mercury.
The floors should be the main focal point so keep it simple on the walls. Opt of a rich statement colour on one wall with Resene Teak and a neutral tone on another with Resene China Ivory.