Eat Your Way Around LA: #NotATourist
Los Angeles is a different city to what it was a few years ago and it's changing constantly. One of the main cultural gentrifications has been LA's culinary revolution and a wave of exquisite new eateries throughout the city. Avoid the tourist traps of diners and junk food restaurants. The best way to experience Los Angeles is to try the diverse cuisine it has on offer, which is representative of the cultural melting pot this city has become. We have shared our top picks below to inspire you to get out and experience some of this world class cuisine as a traveler and #notatourist
EP / LP - N La Cienega Blvd, West Hollywood
My favorite eatery in LA was opened last by my friend Grant Smillie, who is a well known Aussie DJ, and part of electro pop group TV Rock. This is the perfect upstairs and downstairs venue. There is the 5,500-square foot rooftop level (L.P.), featuring a 21-foot-long bar, fire pit with communal seating and lush topiary accents, while Frankie's Bar includes a 15-foot-long bar accented by lounge daybed seating and outdoor heating at night. Bring your Visa card, you'll stay for a few rounds! You can dine al fresco while enjoying views of the fabulous Los Angeles cityscape. The menu is Asian Fusion by Award Wining Aussie Chef Louis Tikram. Ask for the Soft Shell Crab Bun or Sweet & Sour Wingdings.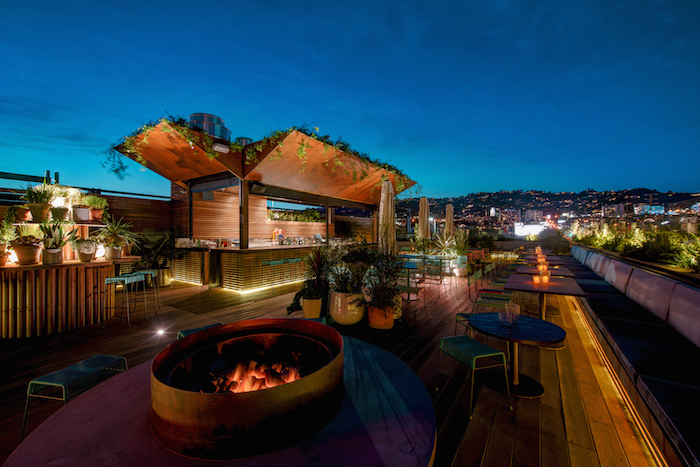 Hyde – 8117 Sunset Blvd, Los Angeles
Most known for its nightlife and as the place to be seen, Hyde also provides the most divine food. On
Sundays
, join Chef Chris Crary for brunch from 11am-4pm that features delicious treats for everyone from the health conscious, the Sunday funday enthusiast to the hangover brunch addict. With brunch items such as
Avocado Toast
,
Fried Chicken sliders
,
Ricotta Blueberry Pancakes
, the brunch options are endless. #notatourist tip - If they are offering the Bottomless Mimosa, then be warned they keep filling it until you leave!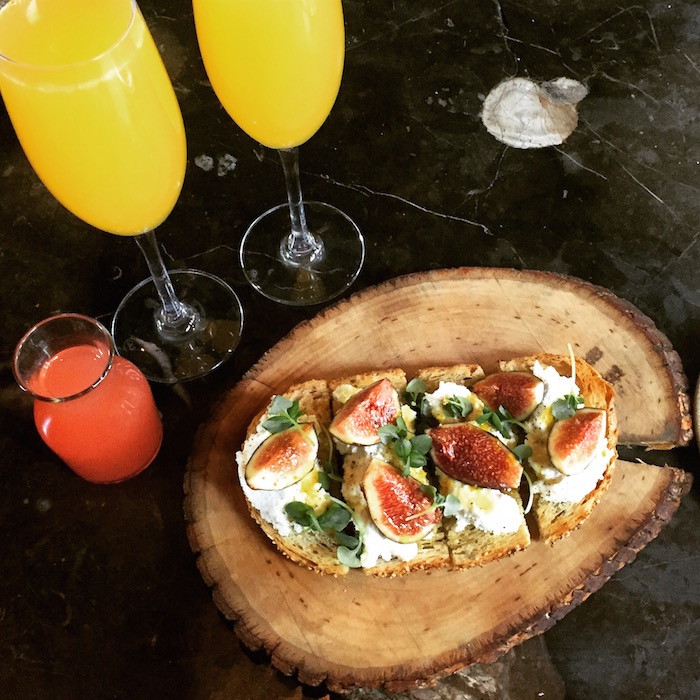 Cleo - The Redbury, 1717 Vine St, Los Angeles
Started five years ago this has proven to be a favourite for those that live it LA. The cuisine is Mediterranean and Greek with a modern twist of fabulous Hollywood from Chef Danny Elmaleh. All plates are shared which just increases the intimacy and energy. Part of the SBE group – they do no wrong. Cleo is the signature restaurant in the Redbury, a Hollywood boutique hotel, which 'provides an engaging hospitality experience, appealing to a community that is passionately connected to the arts, music, fashion, and entertainment.' The streets of Hollywood are a little bit of a dive, but Cleo is the sanctuary with a bit of class in the area. The vibe of so many people close knit dining is pretty unique. Enjoy the bohemian counter-culture of the cocktails too.
STK Los Angeles - West Beverly Hills, 930 Hilgard Ave, Los Angeles
STK LA has become the staple steakhouse in Los Angeles due to its commitment to creating a unique fine dining experience coupled with innovative and decadent dishes. You can expect the same signature menu items such as their savory steaks, lobster mac & cheese and jalapeno cheddar grits plus dishes like the seared foie gras with spiced rum and crispy lobster tails. After its five year stay on La Cienega Boulevard in West Hollywood, STK now resides in Westwood on Hilgard Avenue. The new location preserves the concept and unique STK experience in a sleek, refreshed space, providing a hospitality experience that is truly one-of-a-kind. Meat, meat, meat!!!
Joan's on Third - 8350 W 3rd St, Los Angeles
Located on Third Street, Joan's is my favourite LA spot during the day. It reminds me a lot of Europe. The food is super fresh and the cold press juices are amazing. The décor is clean and white, with different stations featuring baristas, fresh salads and deli meats. The salmon bagel is off the charts delicious. Joan's is always bustling, so pick your time of day carefully, but there are sharing tables, so you can always find a seat. The table turnover is quite fast, as well. The best part is that you can order something off the menu, a friend might make a salad bowl, while someone else could pick up takeout meat. It has a bit of everything and it's all so tasty! Oh and keep and eye out for Katie Holmes and Victoria Beckham… they love it too. Click
here
to visit Visa online for more information on the benefits of travelling with Visa. For more #notatourist inspiration visit
www.travelwithvisa.co.nz
(link the URL)