BurgerFuel & Al Brown have created a limited-edition burger
I remember a time when the countries best burgers could be found at your local fish and chippy, with an extraneous slice of beetroot and a hefty side of potato fritters. Actually, come to think of it, those are still pretty delicious.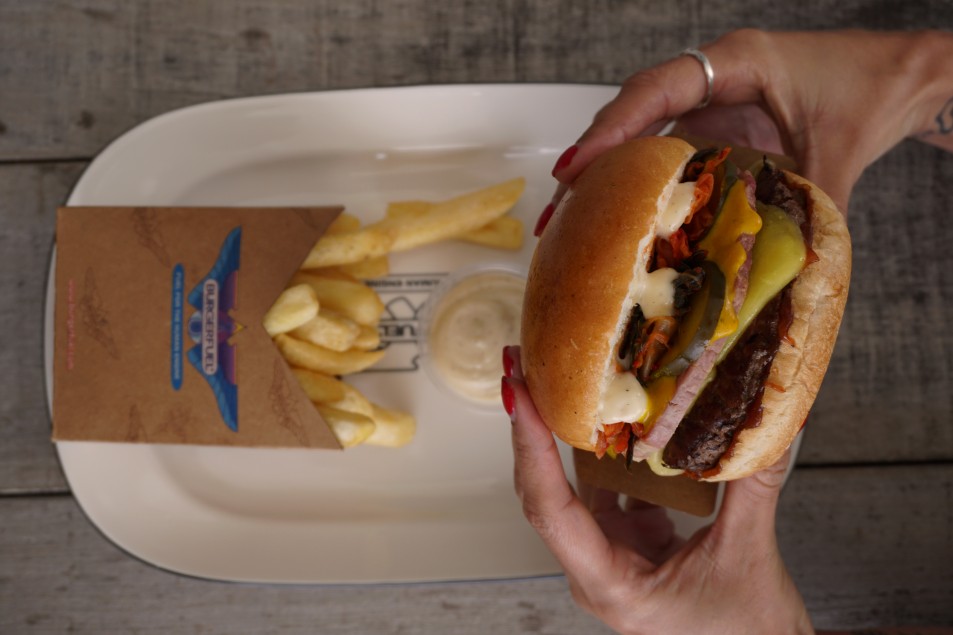 But burgers have evolved over the past decade or so, Kiwi's have embraced the food type into their fickle hearts, and no matter where you are, an exceptional burger is never far away. That's largely due to the fact that, with 57 stores nationwide, a BurgerFuel is never far away.
The evolution of the burg' however, has never seen something quite like this, a collaboration between two culinary masterminds; the team at BurgerFuel and award-winning NZ chef and all-round good bloke, Al Brown.
Unsubstantiated legend has it that the classic delicatessen sandwich, the Reuben, and the humble cheeseburger have long battled it out for the best beef and cheese union in the minds of meat lovers across the world.
Upon hearing about this cheesy conflict, they put their heads together to create the Mustang Deli, the burger 'meats' sandwich collab of your dreams.
For the ultimate double beef hit, they've stacked their 100% pure grass-fed NZ beef patty with a generous cut of Al Brown & Co. Corned Beef, sliced sandwich pickles and melted cheddar, all complemented by punchy Old Yella Habanero Mustard. Add a BurgerFuel twist of tangy kimchi and put it all together in a fluffy pretzel bun for a mouth-watering gourmet deli experience you won't forget.


It's a far cry from your corner store fish and chips, but this is a burger that transcends the trends, putting ingredients together that just make a lot of sense, and, well, it's pretty iconic really.
These won't last long, so ride on down to your nearest BurgerFuel and be a part of history in the making between two of the countries most revered culinary icons.