BLUNT unveils its latest limited-edition collection in collaboration with Blacklist Studio
It takes a true visionary to make the seemingly ordinary, extraordinary. Kiwi Greg Brebner did just that when he founded BLUNT in 2004. Anything but boring, he managed to create arguably the world's most covetable umbrellas. Renowned for their limited-edition collections, BLUNT maintains its relevance in a competitive landscape by consistently partnering with like-minded creatives. Enter the latest collaboration with Sydney artist Nathan Johnson of Blacklist Studio.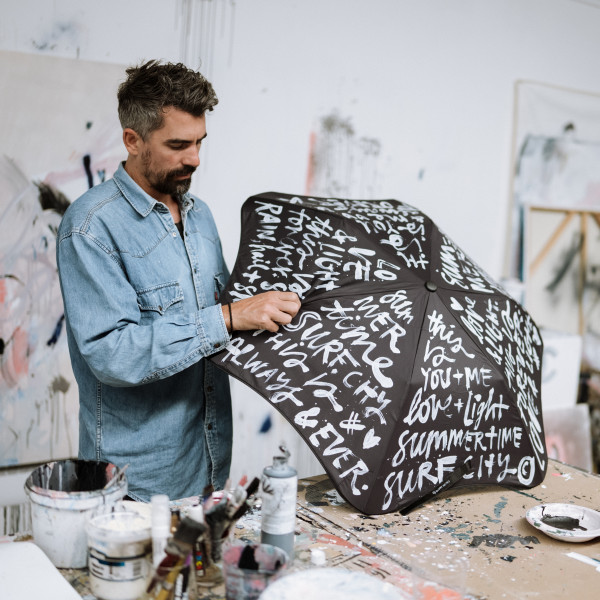 Best known for his original and unique hand drawn typographic style, Nathan has joined forces with BLUNT to create its latest umbrella design inspired by the sea and coastal landscape. Referencing nature, sun, sea, clouds and our ever-evolving attachment to the environment, it's set to be this season's unlikely sought-after accessory, once again.
Remix caught up with Nathan Johnson for the lowdown on his collaboration with BLUNT.
Remix: Tell us a bit about your background and what drew you to design?
Nathan: I started in graphic design back in 2000 working for fashion and surfing magazines. I was always drawn to working with images and typography and seeing how they could work together. I love using my hands and making things, so when I realised you could create art and design for a job, I knew exactly what I wanted to spend my time doing.
Remix: How would you describe your signature style of work in three words?
Nathan: Mess, Words and Love.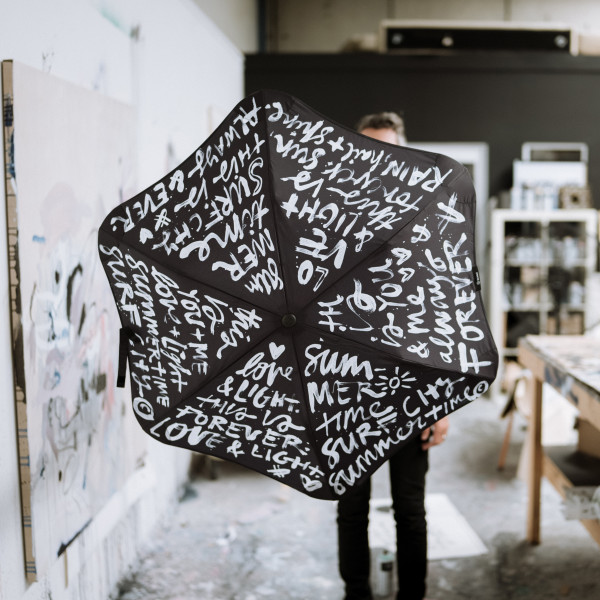 Remix: Where did Blacklist Design Studio's journey begin?
Nathan: I started Blacklist back in 2008 after working for 10 years as an art director on various magazines. Venturing out on my own with no clients, I embraced anything and every opportunity for collaboration with like-minded creatives. I loved that I could steer Blacklist wherever I wanted to take it, and although I've worked on a range of different projects over the years, one constant remains true: my love for art and design.
Remix: What's been one of your biggest highlights of your artistic career to date?
Nathan: I always wanted to transition from being a "studio" to becoming a known artist. Over the past few years, I've had much more opportunities to develop my paintings and original artworks, so that feels like a shift and achievement.
Remix: What do you love most about being an artist?
Nathan: The freedom to create is what keeps me going. I love making things, whether that's on the computer or by hand, the fact that I get to sit down and create each day still feels new to me.
Remix: Can you give us a little insight into your creative process? Where do you look for inspiration?
Nathan: Creating an art piece for me is as much about what I've learnt in the past, as it is about what direction I'm taking in the future. At the same time, I'm trying to evolve. I'm also using what I've learnt in the past to draw on. I tap into my gut instinct with my work, often creating out of a natural response rather than anything too thought out or planned. I find the best result comes from a natural reaction rather than sitting down and planning every detail.
Remix: How do you approach the creation of a collaboration?
Nathan: For this piece, it was important to understand how the artwork would be applied to the umbrella and how it would all work as an end product. So, I definitely tailored each piece to the desired outcome. I wanted to create an artwork that was made up of words, but at the same time the words go together to create a kind of graphic element rather than a bunch of words you felt like you needed to read every line. It's fun and not too serious.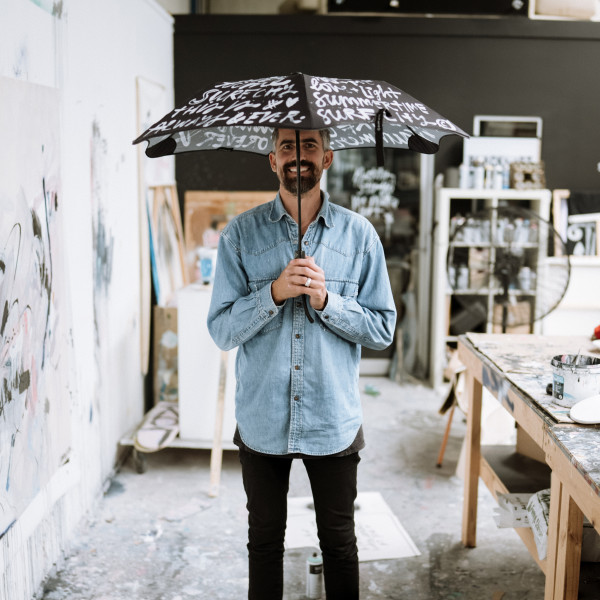 Remix: What's next in the pipeline for Blacklist?
Nathan: We are always trying new things (often failing) and putting one foot in front of the other. We have a new collection of "Objects" we are releasing online, as well as some new paintings which is exciting.
Remix: What's the past year been like for you?
Nathan: It's been great overall. Like everyone, I think this time in our lives has forced us to look at what we are spending our time on. For me, that's appreciating the extra time I have with family. We have three kids and the time we've spent home-schooling them during lockdown is priceless. We'll look back in a few years and realise just how special it was having this extra time all together. I hope we carry some of these things into 'normal' life and routine when we return.
Remix: How do you find creative inspiration in times of uncertainty?
Nathan: I think when you create, you can use pretty much anything to drive you. For me, in this season, I have been even more driven to make what I do work and to just keep creating like I would at any other time.
Remix: What inspired the design for your collaboration with BLUNT?
Nathan: A lot of my work in monochromatic, so creating an umbrella felt most natural for me if it was toned back and not too bright. I wanted to make something that was timeless and also felt like it was a representation of what we believe in.


WIN
To celebrate the launch of the new limited-edition BLUNT + Blacklist collection, we're giving away a prize pack, valued at $450. ⁠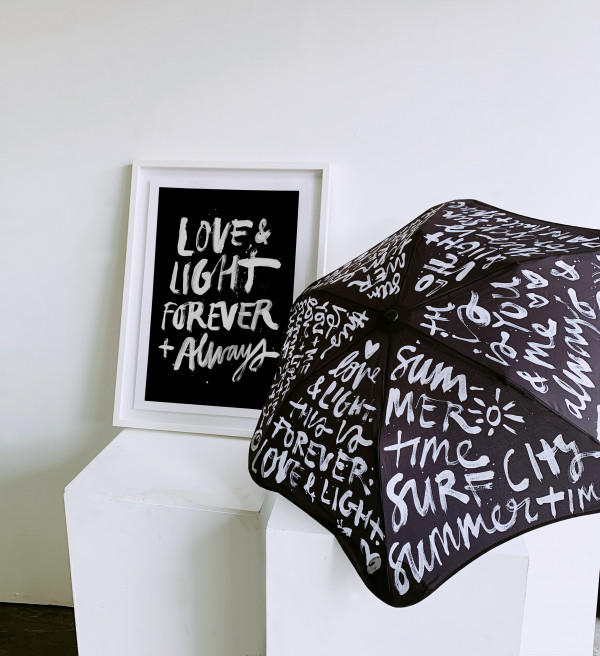 The winner will receive the new BLUNT Classic Umbrella and a Blacklist Studio medium (48x67cm) print. Head over to our Instagram from tonight to enter. Entries close 21/10/21. Note: print will be unframed.

The limited-edition BLUNT X Blacklist collection is available from today at bluntumbrellas.co.nz.