With the festive season just around the corner, consider your quest for the perfect Christmas present (to give or receive!) officially over as our friends at Superette have teamed up with five of their fave designers to present five exclusive Superette co-labs. The Bassike, I Love Ugly, Converse, Charlie Horse and Mr Simple collaborations with Superette will be officially launched in stores on Wednesday December 5th but they will be available online for pre order until then. Right through until Saturday this week, Superette is releasing a different designer colab each day at 1pm on their
blog
. From there, you'll be able to read about the individual designer colab, the inspiration behind the designs and all the finer details about the product, and of course purchase! Since their inception, the Studded converse have become somewhat synonymous with the Superette brand. What began as a DIY project late one night before heading off to shoot the very first Superette editorial campaign has gone on to become one of their best-selling and most iconic products. So when the time came to dream up a new collaboration for our summer series, Superette decided to tweak the beloved chucks slightly and rework them a two limited edition colours - Red & Navy.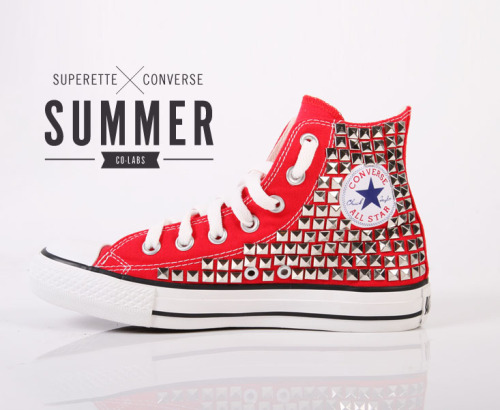 Day Two: Superette x I Love Ugly
Following of from the success of I Love Ugly's first foray into the world of watch design with their understated Black 1.0 timepiece, Superette enlisted the I Love Ugly design team to rework the sellout piece with a twist. Designed exclusively for Superette, the watch strengthens the minimalistic and clean design features of the original in a completely 'black-on-black' colourway with I Love Ugly's signature cross detail subtly printed on the watch face and a sturdy, slick rubber black strap. Inspired by the Japenese design world, the strictly limited edition timepiece comes packaged in a custom-made made black painted laser etched wooden tag and box.