Our Whitney Kaye Interview: Beaches, Bikinis, and a Love for Travel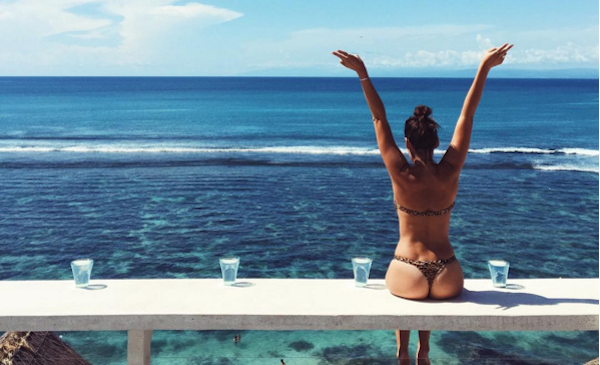 Words by Fiona Connor
If you check out Whitney Kaye's Instagram, you might find yourself with a serious case of wanderlust for the tropics. Her account is full of sun-kissed beaches, ocean views, a wicked bikini bod, and an apparent love for travel. Whitney is a travel blogger and has just over 56k followers and counting! She's good mates with Natasha Oakley & Devin Brugman from @bikiniaday and shares their passion for sharing her life online, granting her followers a front row seat to her own #travellife. We spoke to the native Kiwi girl who opened up about how she got her start in the world of blogging, the highs and lows that come with it, plus some tips for a head start in the 'gram game.
When did you first discover travel blogging and why was the lifestyle so appealing to you?
I had really only ever been aware of fashion blogging - one of my best friends is a fashion blogger so I became familiar with the concept through her. The fashion industry is a heavily saturated one, whether you're a designer, model, photographer, or writer, so you really have to stand out to make it. Traveling and writing about my travels came pretty naturally to me. My boyfriend and I were already doing it, we just didn't have a platform for sharing it. When we decided to create
Exdreamist
it was on a whim, and it wasn't conceived with the idea of turning it into a business, but that's what it has grown into.
Was there much of a process of identifying yourself as a blogger or did you sort of pick up your passport, phone, and go for it?
I never anticipated making a business out of traveling, but these days, with blogging being a legitimate career, it's totally possible. I guess there was a point when I started to get more of a response from what I was writing and I realised that even though the term 'Blogger' was being thrown around like confetti, essentially that's what I was. It was weird.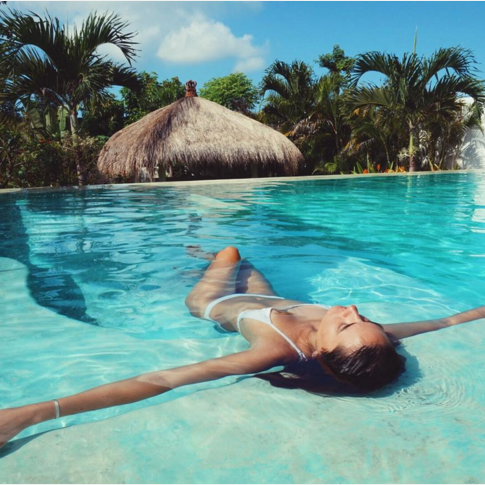 I see you have travelled to our land of the long white cloud a couple of times at least - what brings you here and compared to the rest of your travels, what do you think NZ has to offer that other countries might not?
Aotearoa. Something that most people don't know about me is that both of my parents are Kiwi's, and I'm actually a New Zealand citizen! My Dad is part Tahitian and part Rarotongan, but grew up in NZ, and my Mum was born and raised there. New Zealand is too often overlooked as a travel destination - I don't think people realise how vast it is. For a small place, there is a lot to see and as the old saying goes, you can experience four seasons in one day. I'd been trying to get my boyfriend to visit for years and it was only earlier this year that he finally understood why. We took two weeks to drive around the North Island, chasing the swell, and he surfed until his little heart was content. In one day we literally went from laying in the sun and swimming at the beach in New Plymouth, to driving up Mt. Egmont and playing in the snow! We hiked to waterfalls, explored underground caves, relaxed in natural hot springs, ate at amazing restaurants, free camped along the coast (which you can't do in Australia), visited vineyards, met amazing people, and pretty much just sat back and enjoyed the view. There is so much variety and so many options when it comes to the type of holiday you want. New Zealand seriously has it all.
What other places do you love to visit and what do you think makes a good holiday?
I like to joke that I was made for the Islands, so anywhere that is of a sufficient land mass, surrounded by clear water, and where the sun shines hot and bright throughout the day is pretty much my ideal destination. However it's not all about the #beachlife, I do love a bit of city if it's a city with soul. San Cristóbal in Mexico is a place that really tugs on my heart strings. It has an amazing energy - walking through the town late at night, seeing everything lit up and people dancing in the streets to live music is pretty unforgettable. However, if I'm completely honest, for a quick getaway, heading north from Sydney is an awesome drive with some of the most beautiful beaches in the world. Kato and I love to camp so we do it a lot and it's good to be able to take advantage of the beautiful destinations we have at home, too.
You, along with your good friends Natasha Oakley and Devin Brugman from @abikiniaday, all promote such positive body images for girls. Is this something that is important to you and why?
It's definitely important. People are quick to criticise and it's horrible to be on the receiving end of mean comments (trust me, we know!) especially when you might otherwise be feeling okay within yourself. There is a lot of focus on perfection when it comes to Instagram and social media, which is why it's important for people to have some meaning in what they do, and Tash and Devin do a really amazing job as influencers in that way. At the end of the day, it's personal preference. What you think is beautiful might seem like a completely warped view to the person sitting next to you and if we're being real, there's always going to be that one person with something negative to say. I don't have time for people like that.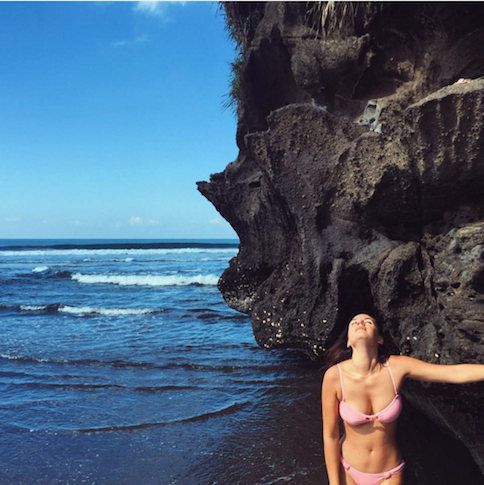 Do you think there is still a pressure for girls to abide to the super skinny, model look and do you think that with the promotion of 'healthy lifestyles' we can see a change for the better?
I think it's a vicious cycle. Some people try to live up to the standards of the modelling industry, the modelling industry is chasing the dollar, and the dollar is chasing the people trying to look like what they see in the magazines. There are always going to be new ideas of what beauty is and it will almost always be unobtainable. I mean, I've never in my whole life been so self-conscious of not having a booty as I am these days (laughs). Recently, though, there has been a positive movement promoted on social media, which emphasises the importance of managing your health and fitness in a way that is unique to you. Hopefully, being exposed to educated and realistic advice on social media will help people distinguish what is good for them, how they can obtain it in a healthy way, or if it even is obtainable at all.
Summer's here – what are some tips you have for finding the best bikini and what do you love about swimwear?
BIKINIS BIKINIS BIKINIS! Haha - yes, my love for bikinis goes back a long way. When I was a kid at school, I was so desperate to start working that I was applying for jobs before I was legally old enough to be hired! When I finally got a job and after about a month of working there, I had saved enough money to buy my first bikini. It was $460 and it was a Hallican Boodie leopard print two piece with Brazilian-cut bottoms. My mum was in shock, and so am I when I think back! There are a lot of do's and don't's when it comes to swimwear and that kind of attitude really takes the fun out of summer. I think, as long as you feel comfortable, wear whatever you want! One piece of advice I do have, though, is to know your body shape. There might be a style or cut that is more flattering on you than others and maybe you just haven't discovered it yet.
Do you have any goals within the content you communicate to your followers or messages you hope your fans take away?
What you see is what you get with me. If I'm writing about the top 10 places to visit in Bali, trust me, you want to check them out. I write for my own satisfaction and I genuinely want you guys to have as much fun as you can when you're traveling. If there is one important message I want to convey, it's that life doesn't always pan out the way you'd expected and we should embrace that. For a really long time I was at a loss when it came to what I wanted to do with my life career-wise. It was like trying to choose only ONE bikini when I wanted them all! That's why I love traveling so much. It inspires me to do more and be more in order to see more. When life gives you lemons, pack a bag and go somewhere with more exotic fruit.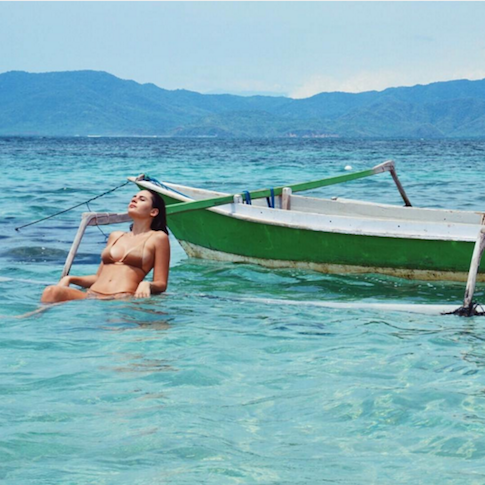 What about personally long term, do you have any aspirations for where it might take you and do you hope to make blogging a long term career?
Blogging is a fantastic outlet, and an amazing source of opportunity but I don't know if it's up for a long term relationship. Right now I'm making the most of it by traveling as much as I can and doing what I love. I definitely want to build from what I've got and you can expect to see Exdreamist branch out into a few other fields in the near future - other than that, I guess we'll just have to wait and see.
For those of us reading this and dreaming of a tropical escape or getting paid to post, do you have any tips for anyone who thinks that maybe they would like to be a travel blogger like you? What makes a good travel blogger?
Seeing as I just got home from quite a rainy Auckland trip I can completely relate and let me tell you, the struggle is real. Two things essential for having a travel blog are a positive attitude and the ability to work with what you've got. If the weather is barely enviable, blog about the awesome cafes and restaurants you guys have down there. If the smell of sulfur is in the air, talk about its benefits and how you get them by lazing around in a natural hot spring. Perception is your reality. Show people what there is to love about where you are!
All images from @whitneykaye_