Mod watch: We talk to Kiwi model Tommy Spence back from New York & ahead of iD Fashion Week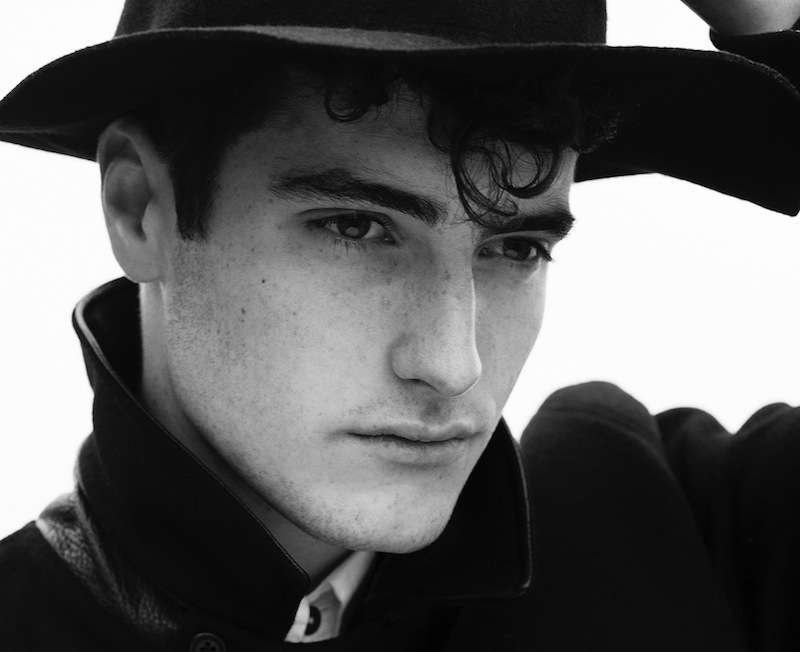 Be careful what you wish for, because you just might get it. That certainly rings true for New Zealand model
Tommy Spence
, who found himself strutting the runways in New York, Milan and Los Angeles, only two weeks after signing with modelling agency Ali McD. The zoology student has returned down under to complete his degree and to walk in
iD Dunedin Fashion Week
next week. We caught up with him about his whirlwind adventure, his favourite things about Dunedin and what makes iD special. Have a read below and visit iD Dunedin Fashion Week
online
for more information on next week's event.
If you weren't modelling what would you be doing?
I left for America last year with Aliana, the Director of Ali McD Agency, in August with the intention of returning to university two weeks later and then working as a guide on the Milford track over summer. Somehow I accidentally fell onto the books of a New York, LA and Milan agency and the proposition of staying on in New York and walking in New York Fashion Week were too great to turn down. The final exams were pushed to the side while gallivanted throughout New York and Europe instead. I'm back in Dunedin now to finish the study I missed out on so I guess the answer is finishing my zoology degree!
Where has your modelling career taken you?
I don't want to sound like an egotistical twat and talk about the important people I have rubbed noses with and the events I have attended! What I put highest value on from this experience is the opportunity to do the travel that otherwise might not have been possible for me. I have travelled to LA, New York and Milan for modelling and spent a further two months traveling Italy, Germany, Netherlands and the UK for the Christmas holiday. Other than that it has set me up with some great clients and contacts for when I return next year. I have made good friends that are scattered all over the globe; these are the things, which I value most from my experiences.
What big fashion names have you worked for?
Dolce & Gabbana, Versace, Armani, Calvin Klein, Alexander McQueen and Perry Ellis to name a few.
What will you be doing in the coming year?
Returning to university second semester to polish off the degree, it was hanging over my head while I was away. I felt as if it was holding me back from fully committing to the modelling gig. Also I will return working for Ali McD agency. After working overseas it's great to be back with the agency that got me started, and helped forge my modeling 'career'. Once university is complete I aim to be back in New York, picking up where I left off.
What is the hardest thing about international modelling?
Most of the people you meet are young and a million miles from home for the first time. I missed my girlfriend, family and friends a lot. If you aren't patient then you aren't cut out to be an international model. The lines for castings are super long (waiting three hours often). The competition takes the form of 1000s of the best looking guys you can imagine and the jobs are few. It's a very fickle business, therefore a great feeling to get any jobs. Also it goes without saying that thick skin helps, a lot of models really can't handle the pressure you are put under to look your best the whole time. Your looks being used as a gauge as to how worthy you are.
You've walked at New York Fashion Week. What's unique about iD Fashion Week?
New York Fashion Week is about showcasing each designer's new concepts and defining trends in each season. Everyone is stressed, as there is a huge amount at stake, and they have to deal with all the media, bloggers and bullshit. It's a big deal; it's their business! In contrast to New York Fashion Week, iD is not so much the launch of all the designers' collections but a platform for which they can all come together once a year for a community highlight event. The event is not about money and celebrities but more about community and entertainment. Anyone can attend and the size of Dunedin means that most people who do go have some sort of connection with the show itself, whether they are the models mothers or friends of the designers or even just have a wardrobe stuffed full of Nom*d.
You've lived in some of the world's greatest fashion cities, what do you love about Dunedin?
North Dunedin student life, Hare Krishna $3 lunch, Potpourri vegetarian café, Room 14 Bouldering Wall and the free gym membership at Unipol.
What is the most overlooked thing about Dunedin fashion?
Since I've been involved in the industry people have automatically assumed I'm a fashionista of sorts. The truth is I'm still wearing the same clothes I was three years ago. I get given something to wear and told how to stand and that's the extent of it.
Top image by Marissa Findlay, image below by Jason McQuain.