In Conversation with fashion influencer Lily May Mac
Star of our luxury fashion editorial on page 162, Sydney-based fashion influencer Lily May Mac is more than just a very pretty face. Closing in on 4 million Instagram followers and with some of the biggest brands in the industry flying her around the world for everything from high-end fashion shoots to glittering parties, we catch up with the model, muse and major social media star to talk travel hacks, career highlights and how to achieve balance when work and life blur.
We were so thrilled to shoot with you this issue! Can you tell us a bit about how the day went, any favourite looks or highlights? (That Bulgari jewellery tho!)
I was so happy to be a part of this Remix shoot! It was a lot of fun – I had no idea what to expect. My favourite look was definitely the pink dazzling Miu Miu dress. I love how you can see the very cute Miu Miu undergarment.
We caught you on a whirlwind week back in Sydney, following stints in the US and Europe, and now you're back overseas again? Tell us about your jet-set life – how much of the year do you spend away from home, and what is your main reason for travel?
Since the borders opened in November it has been non-stop. I am so grateful to be able to travel for work and by extension spend time with friends all around the world. I travel almost every month and am back home for 10-14 days at a time. I'm back home now before I fly to New York in a couple of weeks, so really enjoying the calm before the storm.
On the cusp of 4 million IG followers, it's no wonder brands are snapping at your heels. How did this become your life? Was there a turning point or a moment where things went from pretty low-key to low-key surreal?
I've been on social media for a very long time. I started very lowkey in high school, basically just a 16-year-old blogging. Then around 2014 everything started to kick off. I remember my first time being flown out to New York in 2015 and that was a huge turning point in my life. I remain so grateful for and appreciative of what I've been able to experience.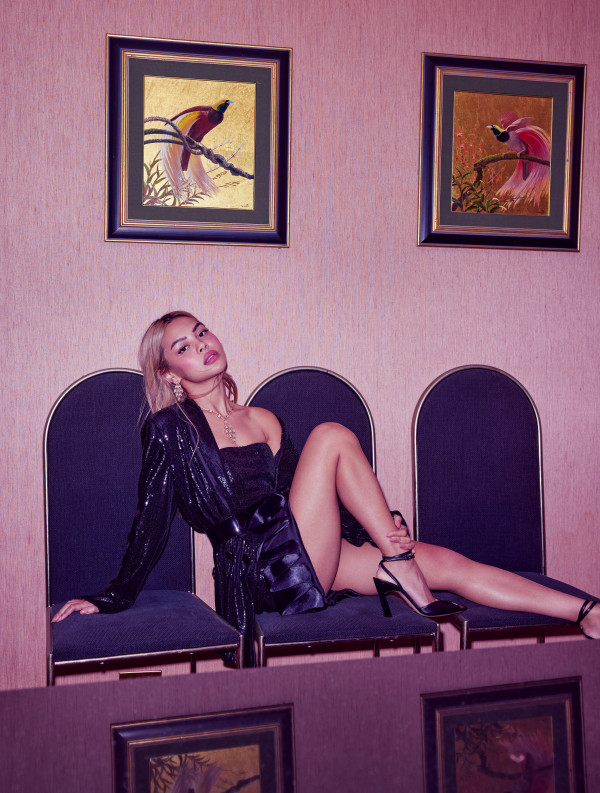 What are your favourite places to visit for work/pleasure and why?
New York and Japan will always be my favourite places to travel to! New York because I have a lot of friends and family there, and Japan because I am just in love with the culture and the food. I can't wait for Japan to fully open its borders again!
Is there such a thing as a non-work trip for you? Say you are on a family vacation or taking a special girls' trip, how do you make sure you enjoy each place and stay present without worrying about the content you could be creating?
There are of course non-work trips, but I really don't mind incorporating a little bit of work into everything. When I'm with my friends or family, whether it's unwinding or having a drink I always make sure to stay clear of my phone and work. But will generally dedicate a time and place for focus and a few productive hours. It's all about balance.
What are your top five travel essentials?
For plane travel, without question, it's always a pillow, phone charger, makeup wipes, toothbrush/toothpaste and a book.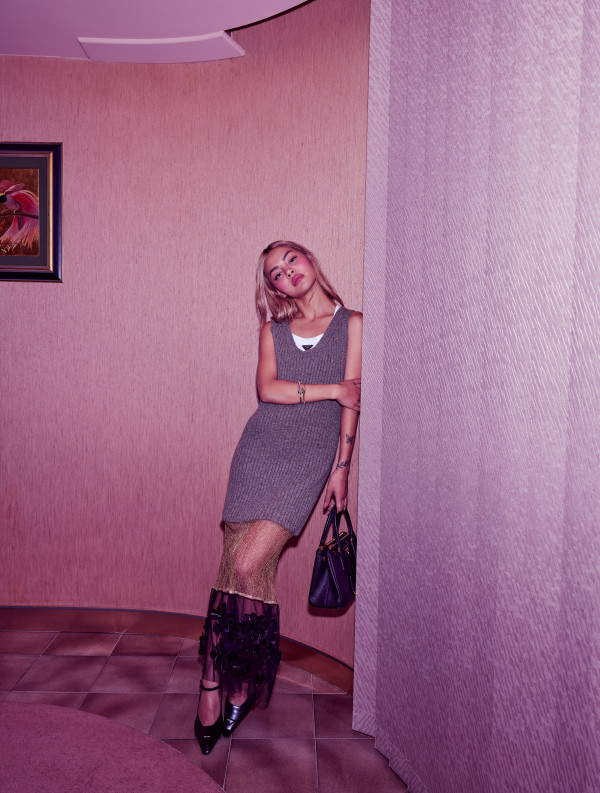 Aisle seat or a window seat?
Window seat always! I love leaning my head against the window to sleep and of course looking at the view of the world.
At the airport five hours early or sprinting to the check in desk with a minute to spare?
Usually always sprinting! But no, I have missed two flights in my life and I've definitely learned my lesson. I am well travelled, so I usually know to overestimate a little bit. Things to always take into account: traffic, and if you are familiar with the airport layout and how efficient it is to get through. If it's a new airport I've never been to I usually try to arrive a bit earlier.
What's on your agenda for the rest of the year? Anything you can share about upcoming projects or partnerships, or personal milestones/celebrations/events?
I can't believe it's already August! I have a trip to Peru planned which has been on my bucket list for a very long time. It's rare for me to go to new countries and I am a little bit anxious but more so excited to see and experience somewhere totally different. I also really want to do a mini Asia tour as I unfortunately haven't been to Asia since pre-pandemic! My followers are wanting me to come to Asia so it's definitely in the works for later this year.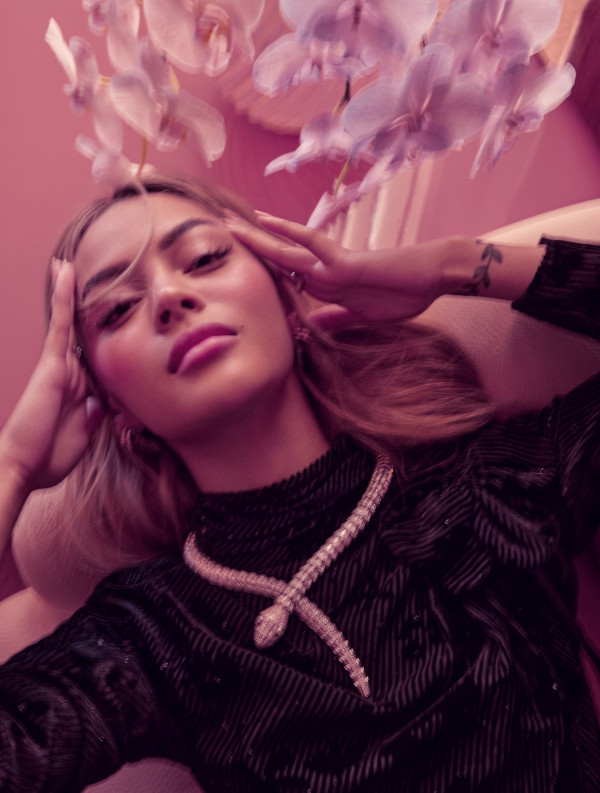 You're a fashion icon to literally 4 million people. What is it that you love about fashion? What's your fashion personality? What are your top trend picks for the season/must-have purchases?
I love how fashion is such a confidence booster and a way to project your personality through your clothes. My own fashion personality is so diverse sometimes I find it hard to describe. I love being feminine, but I also love being comfortable and chic and androgynous. My top pick for this season is a flashy pair of boots!
Do you remember what you bought with your first big paycheck?
A holiday! I went to Europe for the first time in 2016 and that's how I spent my first big photoshoot payment. No regrets at all!
What's something about you that we wouldn't know from your Instafeed?
I'm a party girl. I keep it lowkey on my Instagram because when I'm out with my friends I'm so loud and crazy.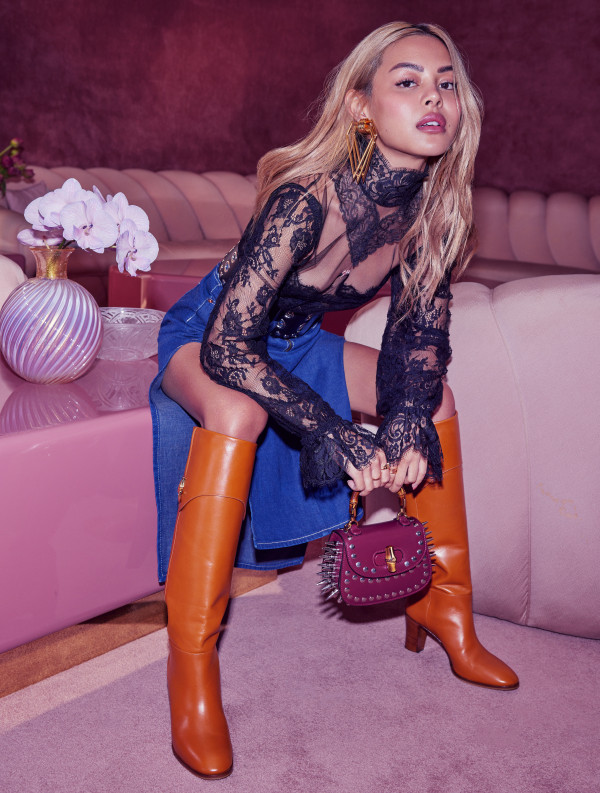 What's something you hope to achieve in the next year?
Clarity in terms of the path I'm going to take next. I have so many plans for my life but I'm not sure which one is best for me right now, or how to get there. I hope next year I have a concrete goal to strive for. For now I'm sort of just enjoying going with the flow and learning and experiencing more new things.