Flip flop king, Havaianas celebrates 20 years in New Zealand
Have you ever considered the first baby steps your trusty flip flops brand took in New Zealand?
Havaianas, those slide-on sidekicks you never spend a summer without were first launched in Aotearoa back in 2000, which means this month Havaianas are celebrating 20 years in New Zealand! The team decided to celebrate 20 kiwi years of the ultimate flip flop by photographing friends of the footwear brand against a jandal-lined wall with all the best selling styles.
Ruby George looking super chic in the Leopard Print Slims. When she's not hanging at the beach you'll find Ruby spreading her positive energy everywhere she turns.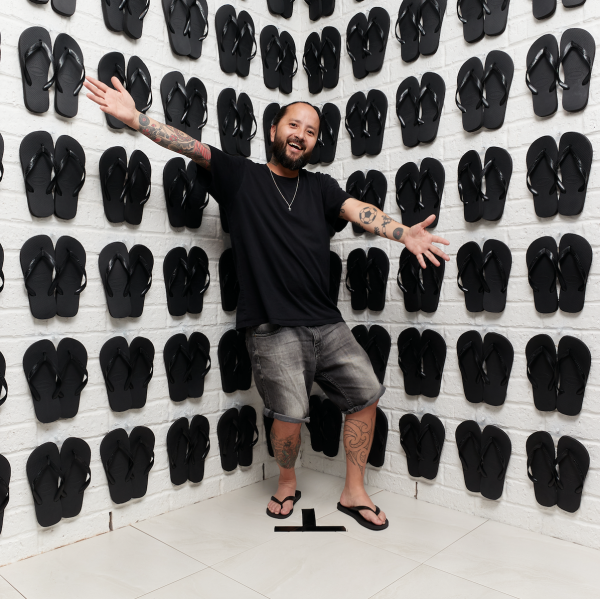 Bobby Brazuka, the unofficial Brazilian ambassador for New Zealand, brought all his passion for Brazil, the motherland of Havaianas, to the Havis shoot. When he's Djing brings the vibe to many dancefloors around Australasia and he certainly brought his upbeat moves to this shoot...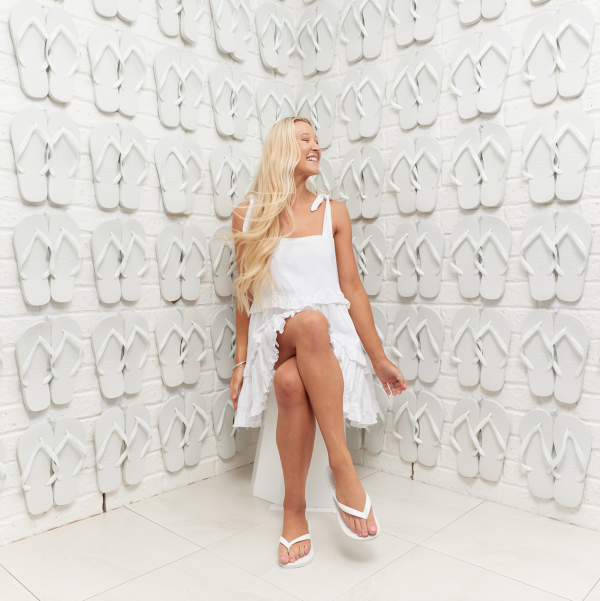 Looking smoking in classic White Tops, Ella Williams has been part of the Havis family for years and Havis love how bubbly and vivacious she is. Junior World Surfing Champ in 2013 and heading to the Olympics in Japan to compete in 2021 the team wish her all the very best of luck!
You can check out all the images on the Havaianas IG page here...
Did you know the beloved Top Classic Havaianas in Black that Bobby wears above is their #1 bestselling style of all time? The other bestsellers include the Slim Floral Dots (the most popular slim design) and the Slim Animal in Leopard (the most fashionable design!). According to local businessman and flip flop lover, Dane Winter (the man who helped bring Havis to our shores) the OG Top Classic Black, along with the Top Classic in Brown and in White were actually the first styles to arrive in NZ when they first launched here!
Dane's family owned a local surf shop in the Mount called Island Style for nearly 20 years, and this is how they became one of the first stockists of Havaianas when the brand launched in NZ in 2000. Since then, Dane has not only partnered with the original distributor of Havaianas in NZ, but also bought the distribution rights in 2013. His legacy with the brand since it's inception into NZ is arguably the longest standing in the country...
Remix caught up with Dane to talk on the iconic summer staple we can't live without...
Dane, Havaianas has been in NZ for 20 years this month! What's your earliest memory of Havis?
I was working in my Dad's surf shop at the time – we were one of the first stockists of Havaianas in New Zealand. I remember it was a super hot day and I was wearing a pair of my skate shoes which was pretty typical for me in those days. The girls in the store working with me were giving me big digs about wearing chunky sneakers when it was so hot, so I thought I should try out my first pair of Havaianas there and then. Obviously I've been a Havis convert ever since and that kicked off a wild but fulfilling ride with brand over the last 20 years.
What were the OG colours when it was first in the country?
The first style back in year 2000 was Top Classic and it first launched here in Black,Brown & White. Top Black has gone on to be our bestselling style of all time in NZ and the Top style is a wardrobe staple for Kiwis. Despite the success of black (we do love black in NZ) the Havaianas brand is all about colour so new colour ways, prints and styles has opened up tomore fashion trends along the way.
Do you remember the reaction from Kiwis as they were introduced?
At the time there were whispers of this new brand coming out that was cool, refined and slim and really pushing back against the chunky and wide footwear trend. We had also seen a real Havaianas following inAustralia due to fashion brand Ksubi (then Tsubi), who were so instrumental in the fashion scene, and they were sending models down their runways wearing ripped denim with Havaianas. The trend crossed the ditch and we saw people going crazy for the look. It was also a time when people were moving away from the label bashing of the 90s –because the Havaianas logo was tonal and subtle we were seeing great uptake from consumers who wanted an understated cool vibe that was clean, fresh, minimalist and anti-fashion.
What's it been like watching the brand become such a huge summer staple in kiwi's wardrobes?
Of course I feel proud to see and be a part of the growth and progression of the Havaianas brand in New Zealand.However, we're humble in the fact that it comes down to the integrity of the brand – people will buy something they trust and lasts and Havis offers this. Havis works into your world, wherever that may be. It is such a great feeling to see that it fits into the product offering of surf, street and fashion stores right across the country.
What has been your fave style of all time?
Brown Tops are my go to. I always go back to those because I love minimalism andearth tones in my wardrobe so they always go.
What is the reasoning behind the faces of the 20 years of Havi's campaign? What do they mean to the brand?
I was reflecting with my wife and business partner Emma and it suddenly dawned on us how long the brand had been in NZ for! So we thought what better way to celebrate than with people who have been on the journey with us whether they have been longtime supporters of the brand or have been part of the business in some way. We invited friends of the brand who exude the Havaianas vibe to join us in a super fun photo shoot against a wall lined with Havaianas in our Britomart store window. Ten of our friends dressed in monochrome colours to match the wall and we couldn't be more happy with the result. We feel so proud that Havis is a brand for everyone and this is represented through the different personalities included in the shoot.
How does it feel to have played such a pivotal role in Havaianas growth in NZ over the last 20 years?
My wife Emma and I are so happy to be part of the building blocks and DNA of the Havis brand here in New Zealand. The brand has always been super strong – we've just connected it with great people along the way from our stockists to our loyal customers. We've made it our mission to ensure we've built the brand to suit our local market including street style collabs with Huffer, Federation, Lower to fashion collaborations with Karen Walker that have injected local relevance into NZ. We are now looking into more local opportunities for summer 21/22 so stay tuned!
Did you know you can win a YEARS SUPPLY of Havis! How so?
Until Christmas Eve, anyone in Auckland can head into the Havaianas Britomart store and take a selfie against the Havis Wall to go in the draw to win a year's supply of Havis plus an iPhone 12 mini! Also, if you're heading in on Sat 19th December, there will be cake in the Havaianas Britomart store in the morning to celebrate 20 years in NZ. Cake and some flip flops, anyone?
Let's Summer together with Havaianas!