First Look: Check out Moochi's new swimwear collection
Stylish, sophisticated, sexy.
Not exactly three words that come to mind when thinking about swimwear, but in Moochi's case, all three are true.
New for 2017, Moochi's latest swimwear offering comprises everything we know and love about the previous ocean-ready collection, highlighting strappy styles, ultra-flattering silhouettes, in everyone's favourite shade (black).
Here, we tapped Moochi founder for her take on the much-loved label's new swim collection, which we can guarantee we'll be living in this summer.
All of all the collections you've designed, does one stand out as the favourite?
I think every time you do a new season you feel you've given it everything and love it. Right now, I feel we are delivering what women want and I love the satisfaction of that!
By label I wear a lot of our 6 and7 label, as I tend to be pretty casual mostly. I am super excited to launch the Collection label in soon as we have re set its direction to achieve a line of luxurious modern designs that will be in your wardrobe for years to come in silk, leather and linen. It's both strong and feminine.
Looking back on your career, what has been your proudest moment to date?
Proud moments come in so many different forms! When a new shoe sample arrives I feel like a kid in a candy store; I say 'it looks like a bought one!', as I still feel so elated when our sketches become a real shoe! On photoshoot and it all comes together I can feel pretty emotional as usually it's not until this moment you realise it's all coming together how I dreamed. When we get an email from a customer (and this happens often!) saying how one of our retail team has given unparalleled retail service and helped them feel amazing, this really is my greatest pride as without all the product steps before and all the brand work and all the teamwork this email would never have been sent!
Moochi is a really unique name, how did you come up with it?
I was trying to describe to Chris, my husband and business partner how the clothes I wanted to design would feel. Clothes to feel great in, clothes to mooch around in.. Moochi just feel off my tongue! We were walking through Venice at the time and I hardly noticed the city for all I could think of was how to spell it!
When designing a new collection, what is your process? Do you work from mood boards or sketches? Or both?
As a team we each approach it differently and combine our creative resources. We look both internally and externally at what's happening, as some of our best work comes from developments from previous designs. We look at what's working and listen to what our customers are asking us for. We use mood boards to create the vibe and colour palette and then get carried away sketching and sampling. So much evolves through this process!
We're eagerly anticipating the launch of your new swimwear collection. What can you tell us about the collection so far? What fabrics, textures and colours are highlighted here?
This year we drew up so many designs before we selected the final edit of eight pieces. We were drawn to two concepts we have been exploring in our mainline designs; firstly, the strength of using logo design to maximise a minimalist shape, then secondly the modernity of draw cords to create ruching and drape detail.
We wanted to build on last summer and add a little more depth. We have used a technical mesh from inside a suit in an outer way to create a sporty vibe, then we have added further texture by ruching the seams to create divine gathers and folds. It's very feminine and sexy at the same time. Each of the fabrics, including the elastic, gets tested at high temperature and chlorine levels to ensure they meet our expectations.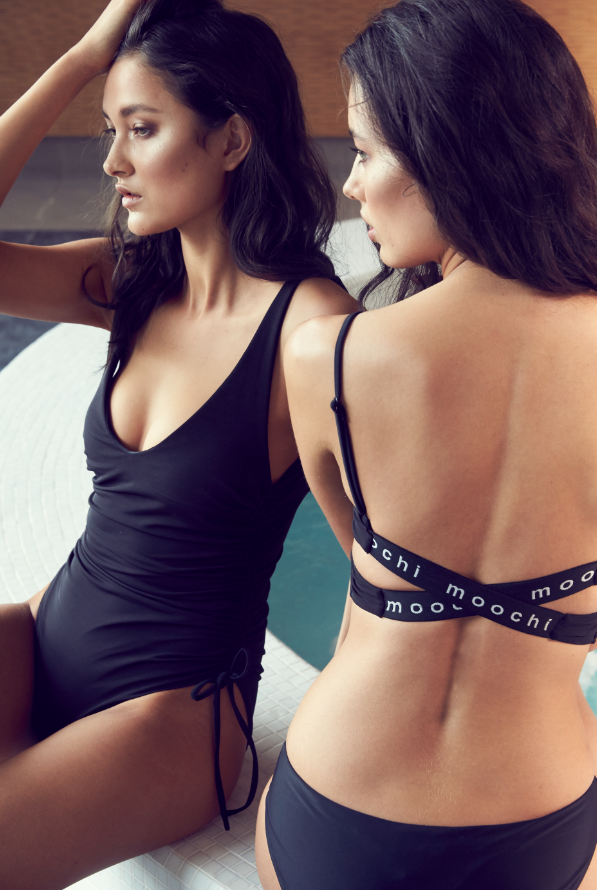 Is there a certain trend you've been wanting to make a comeback that you'd like to incorporate in your own collections?
Not so much, but the day drop crotch pants are not ok, I'm not ok!!!
If you could pick any celebrity to rock a Moochi outfit, who would you choose?
I'm less worried about celebrity and more concerned with real women around us. I feel most rewarded when I'm out and about and see someone wearing their moochi and getting on with life!! Clothes can be such a stress and we are here to take this stress away!
What were your favourite fashion trends growing up?
Denim overalls and puff ball skirts. Tailored linen blazers and mannish cut chiffon shirts.
Is there anything about the fashion world that you would like to change?
The idea you buy something to wear once and throw away. The planet is too small and too precious. We design and make clothes to wear and wear often!
Check out Moochi's full swim collection below, or online, here.