New music from Steve Aoki before he brings his party to Kiwi shores: Neon Future album review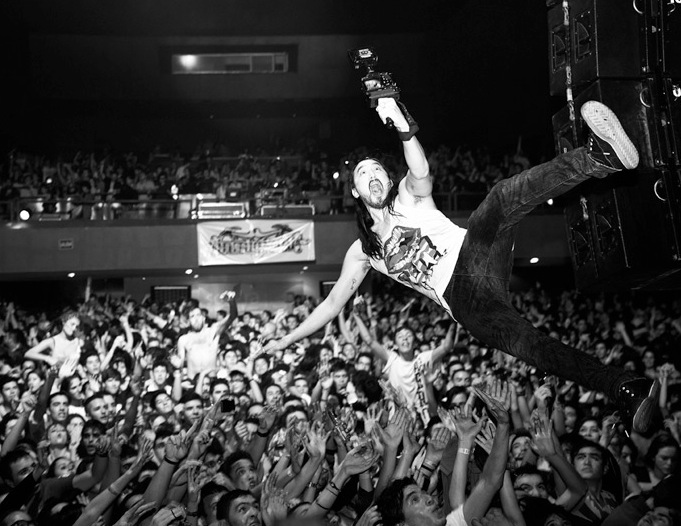 Words by Chelsea McGraith.
Insane electro artist and cake-throwing king
Steve Aoki
has just released the first volume of his two-part album Neon Future and although it's only been on sale for a little over a week,
Neon Future
has already got us pumped for Aoki's New Zealand show this summer!
Neon Future
focuses on themes of futurism, evolving technology and scientific innovation through synth-driven tracks and collaborations with the likes of
will.i.am, Fall Out Boy, Afrojack and Flux Pavilion
. It's a true mash up! The Las Vegas local Aoki has incorporated his sin city party lifestyle into the album and there are plenty of club songs in there for a massive night out. If you're going to throw creamy sponge cake at a crowd of people, then this album is the soundtrack. Steve Aoki was on
Jimmy Kimmel Live
last week to promote
Neon Future
. Watch him do his trademark crowd cake throw on the show below: [video src="https://www.youtube.com/watch?v=37gCQhEWPjA" size="auto"] Back to the album…
'Delirious' with Kid Ink
is one of the standout tracks, having already made the Top 40 charts in the United States. That said, every song on the record is a pulsating dance-floor anthem that will make you want to see Aoki live in Auckland this summer.
Steve Aoki is bringing his insane crowd-surfing cake-throwing party to Our:House Festival alongside Skrillex on Friday 28th November.
Following in the footsteps of Calvin Harris and David Guetta as a headliner for Auckland's biggest dance party, Steve Aoki now has plenty of new music to play, thanks to
Neon Future.
Click
here
to get your ticket to Our:House Festival and see Steve Aoki live, then click
here
to buy
Neon Future
on iTunes.