Don't Miss this Wellington Food Festival!
Visa Wellington on a Plate is a renowned food festival hosted down in windy Wellington on August 10th, with 17 days of 100+ dining establishments presenting over 180 different combinations of burgers, cocktails and canapés. The Chef's Collaboration series is a culinary event you don't want to miss – it is a chance to eat amazing creations brought to you by top chefs around the country and the world. Popular hotel, QT Museum Wellington, partnered with the Festival to sponsor the collaboration series. We have saved you the trouble of scouring through the festival's outline and found the two most-anticipated events: Trust the Chefs and Sensory Illusions.
QT Museum Wellington's Hippopotamus Restaurant is loved for its delicious plates brought to you by Executive Chef, Laurent Loudeac. Laurent is welcoming fellow chefs Vaughan Mabee and Adam Harrison - Executive Chef and Head Chef of Queenstown's Amisfield Bistro – into his kitchen.
Mabee and Harrison are well known for their tasting menu, 'Trust the Chef'. Trust the Chef is coming to the Festival for two nights, and you can trust us when we say it's not one to miss! For these two evenings of high dining and lavish eating, Hippopotamus and Amisfield Bistro have put their best chef's hat forward and created an eight-course journey centred on using fresh and local ingredients. You can't go wrong with the best New Zealand has to offer!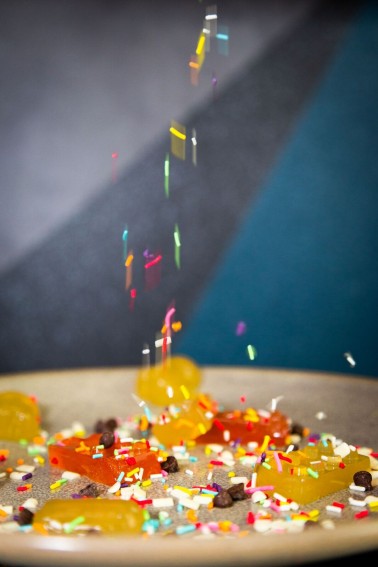 The collaborative effort between leading chefs showcases the creativity and natural knack for flavour of two leading New Zealand establishments that have earned their reputation by serving sophisticated food using classic techniques.
On Wednesday 15th August and Thursday 16th August 2018 head over to Hippopotamus Restaurant, Level 3, QT Museum Wellington, 90 Cable Street, for an evening full of indulgent dining.
Sensory Illusions is the first of its kind featuring a unique menu consisting of all sorts of combinations and creations including:
Riesling Oyster with Gin, Cucumber, Dill & Mint Dressing.
Rose Rabbit cured Salmon, Caper, Dill, Pernod Dust, Shaved Bagel with Quick Brown Fox Espresso
Goats Cheese Spaghetti with Melon Liqueur Dust, Manuka Honey & Prosecco Air
Bloody Mary Tartare, Horseradish & Armagnac Cream & Balsamic Pearls
Mai Tai Gel, Pistachio Falernum Birds Nest
Strawberry Daiquiri Lego Bricks, Edible Paper & Cocktail Paints
The concept behind this dining experience is the brainchild of the team at Reds Bar, spearheaded by mixologist Gethin Curtis from QT Queenstown. Reds is proud to call itself home to the best of the best when it comes to mixing up a tangy cocktail, ranging from classic concoctions to modern marvels. Guests will be introduced to each course with a teaser of the dish or cocktail the Sensory Illusions creation has come from. The teaser has been paired by Laurent Loudeac. Hippopotamus' signature steak tartare, Mon Sashimi, will set the scene for Bloody Mary Tartare and Rose Rabbit cured Salmon.
Find Sensory Illusions on Friday 10th August, Thursday 16th August, and Friday 17th August 2018 and the Billiards Room at QT Museum Wellington, 90 Cable street.