Bondi Yogis Honza And Claudine Lafond Give Us The Lowdown On Acroyoga
In the last five years alone the number of people practising yoga has risen rapidly in New Zealand. It makes sense then that March 2014 will see travelling yoga festival
Wanderlust
make it's first ever stop over in Auckland. Sydney-based yogis and the founders of
YogaBeyond
,
Honza and Claudine LaFond
, will be teaching
AcroYoga
at Wanderlust and opened up to us about this unique variation of the art, their favourite place to meditate and advice for beginners.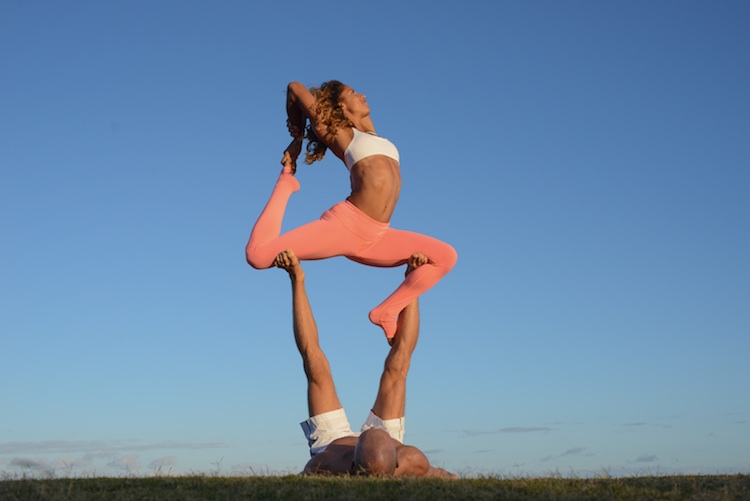 For our readers who don't know, can you explain what AcroYoga is? How is it different from other types of yoga and what are the benefits to AcroYoga? Honza: AcroYoga has been around as a global practice for ten years. It is a unique blend of partner yoga, acrobatics and healing arts. This practice cultivates a deep sense of discipline, awareness, surrender and support. Among all the amazing, dynamic elements of this practice, the sweetest one is the ability to teach adults how to play again and connect more deeply with yourself and your community. How did you two originally cross paths and come to establish YogaBeyond? Claudine: Honza and I technically 'met' when we were about 10,000 miles apart from each other. We were introduced through my godmother, Sherri who had a strong intuitive hit that we were meant to meet. It all started with an email, which spun into photos, phone calls and before we knew it we had fallen in love. Our first physical meeting in New York blew us both away. It felt as if time stood still when we first locked eyes and everything else drifted away from view. We spent three weeks connecting and from there decided that we would call Sydney, Australia home. We are both strong believers in moving in the direction of things that feel good and trusting that more goodness will stem from this. Over the past six years since meeting, we are still deeply invested in tending to our love and life with fierce dedication and fearless communication. Over the past two years, we have chosen to move in the same direction with regards to yoga and our dreams for the future. When Honza returned from his travels in Nepal, it was the perfect time to begin our yoga business together and so YogaBeyond was born in January 2013. We decided to dedicate ourselves to creating a brand that would allow us to share our passions to a large audience base. Our ultimate goal with YogaBeyond and in life is to 'follow our bliss, whilst inspiring others to do the same'. Can you tell us how you both discovered yoga and got into teaching it?
Honza: Claudine discovered yoga over 15 years ago in New York and quickly discovered it to be the missing link to physical strength, power and grace as well as clarity of mind, healing and longevity. She became enchanted with a yoga class in Bali at the age of 16, surrounded by rice terraces, birds, cows, chanting and chai. Claudine gravitated towards the first opportunity to teach a community class in college and from there found a new path at Kripalu Yoga and Meditation Center. Since then, she has passionately sought every opportunity possible to practice and learn from teachers around the world within various lineages. She is also a Certified Fitness Trainer, Pilates Mat Instructor, Holistic Health Counselor, Thai Massage & Cranio-sacral therapist and a Lululemon Ambassador. The impact that teaching has had in her life is priceless. She is continuously inspired by her students and every being who becomes curious about yoga. Although she loves to teach advanced material in her workshops and retreats, she receives the most joy from watching beginners discover more about their limitless potential. Her intention is to create an environment where students can experience the infinite possibilities within themselves, to move freely without pain, to feel good no matter what may come their way, and to simply have fun! As she likes to say, "in every breath, there is opportunity for transformation". Claudine's humble guidance points her students towards the wisdom and strength they already possess. Claudine: Honza is an accomplished artist, visionary, entrepreneur, but above all, a teacher of all things movement, wellness and spirituality. He is known for his inspirational style of teaching that incorporates both spiritual wisdom and strong physical practice. He first came across at a time in his life when he was searching for more fulfillment. He has been practicing for over 10 years and his approach to teaching caters to people from all walks of life and levels of yoga experience. His background in Hatha, Vinyasa, Bikram and AcroYoga, as well as life coaching and fitness training creates a highly transformative and healing environment. He teaches and inspires with raw yet playful and compassionate honesty to help bring your practice off the mat and into daily life. Honza likes to be on his hands, upside down or on his back balancing a flyer on his feet. Expect inversions and arm balances in his classes, workshops and retreats! In Honza's own words, "The challenge that inversions and arm balances offer builds confidence and strength, but more than anything it excites the ever present playful child within all of us. The playful nature of yoga and AcroYoga is just as important as its disciplined aspect. It is the balance between the two that makes yoga practice a life long passion for so many people around the world and beyond. My mission is to inspire others to stay present, playful and to reach for greatness!"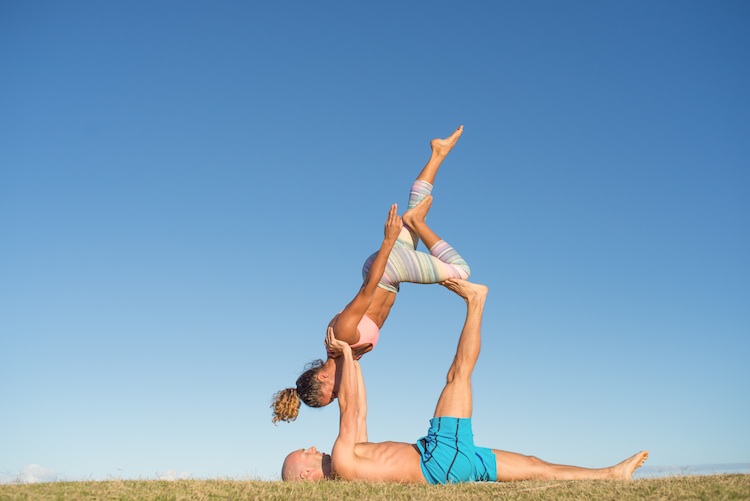 How are your respective teachings similar and how are they different? Claudine: We both are incredibly playful when we teach and love to have a good time with our students. We make an effort to make people laugh, especially when the physical practice gets tough. Our combined strength is bringing out the belief that anything is possible. We are only limited by what we choose to believe. We compliment each other in our ability to bring different qualities out of people. Honza has a tremendous wealth of knowledge on inversions and can offer laser beam perspective on where the perceived limitations may be in a body. I am infinitely patient and willing to find a dozen different ways to explain the same thing until it is understood. I love to explore fluid, dance inspired movements in the body whereas Honza is more structured in approach. I would say that we offer a dynamic balance of yin and yang energy when we co-teach. Honza, you recently returned from Mount Everest Base Camp. I've been there as well and don't meet many others who have Can you tell me a bit about that experience and the Ashtanga Vinyasa & Hatha Yoga teacher training you completed there? Honza: I knew Nepal was a special place but I never expected to find paradise on the roof of the world! My trip to Mt Everest base camp was physically challenging yet spiritually and emotionally up- lifting. The journey of slowly putting one foot in front of the other for hours with no end in sight gives you a real insight into the inner workings of your mind...if you let it. I have a whole new appreciation for walking meditation. My teacher training in Nepal was intense. The teacher training was organized by an Indian yoga school based in Rishikesh. To be completely honest with you, "It kicked my ass" is the first thing that came to mind when asked about my experience. And I loved every second of it! Traditional ashtanga yoga training gave me the opportunity to find my physical, emotional and spiritual limits and in turn tested my ability to break through those limits expending many of my beliefs about the world. I'm so grateful for recognizing that our potential is truly limitless.
What are you expecting at Wanderlust and what are you expecting from Kiwi attendees specifically?
Claudine: We are incredibly excited for Wanderlust to serve as a catalyst for a radical shift in the yoga consciousness in the southern hemisphere. This festival has already made an impact in the US and Canada in just five years and we are certain that this is just the beginning of many more amazing events to come. Kiwis seem to be quite isolated from the rest of the globe which will only add to the sense of gratitude that a festival of this magnitude has made it's way all the way to the beautiful island of New Zealand. We are looking forward to full participation and an uplifting experience for all attendees!
What advice do you have for people who are intrigued by yoga, but perhaps a little apprehensive or nervous to try it?
Honza: To anyone who is apprehensive though intrigued by the yoga practice, we would say the best thing to do is to try it out! One could potentially start with finding a teacher and begin with private lessons to boost confidence. However there is something very powerful that also occurs in a group setting as an entire room moves and breathes together. There is no need to come into yoga with flexibility. It is something that is cultivated as you practice. For anyone who has a spark of interest in trying yoga, let that light of curiosity be the guide into the yoga room. We always say, 'you never know what is possible, until you try.'
What is your favorite place or location in the world to practice yoga?
Honza: Our favorite place in the world to practice is by the ocean. It may sound cliché but there's so much simultaneous power and serenity that is witnessed in the ocean and it's such a grounding force to anchor into when connecting to breath and spirit in a yoga practice. You can see Honza and Claudine at Wanderlust, taking place at
Lakeside Park, Western Springs on 23 March 2014
. Visit the official website
here
for more information.