a chat with JT: our interview with runner, runner star justin timberlake
Justin Timberlake
is one seriously busy dude. When he's not churning out hits like 'Mirrors' and 'Take Back the Night' from his two new albums (in one year!) he's touring the globe, running a fashion label and starring in blockbuster films like
Runner, Runner
. Appearing alongside
Ben Affleck,
Timberlake plays the lead in this crime drama written by Brian Koppelman, directed by Brad Furman and produced by
Leonardo DiCaprio
. Here's an exclusive Remix online interview with the singer slash actor slash fashion designer slash entrepreneur slash golf champ slash all-round legend Justin Timberlake! And at the end make sure you check out the hilarious clip we found of him on Jimmy Fallon taking a stab at hashtagging...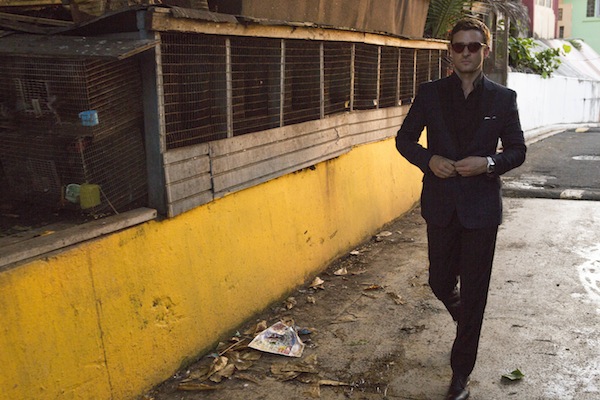 Tell us a bit about your character Richie.
I play Richie Furst, a Princeton undergrad who was probably let go from a nice little cushy job on Wall Street due to the market crash. So he's back at Princeton trying to get a degree living off not a lot of money. And being an affiliate for an online gambling site to try to pay for my tuition. He ends up getting caught, has to shut down the operation, but one night goes on the site and gambles to win back his whole tuition. He ends up losing most of his money but realizes that there is a trap door in this one poker game that he's playing on. He takes it to Ivan Block who is played by Ben Affleck and goes down to Costa Rica, where he is running this site. He finds out there are some really interesting things he's doing down there and he kind of makes [Richie] his apprentice in this world. That's how the movie kind of into 3
rd
and 4
th
gear and starts to take off.
How is this role different to some of your past ones?
I've never been in a movie like this where my character was the eye of the storm and it was a lot of fun playing Richie. He ended up becoming my favorite character obviously, and you know I got to do some things that I haven't quite done on film yet so yeah it was exciting. I really loved working with Brad on the movie. Loved his whole take on the movie. It's got such a, its own visual, its own feel and its own journey.
Did you know exactly how the movie was going to pan out while you were shooting?
Brad and Ben and myself were in the bulk of the movie together and it was always a think-tank everyday. How can we make this scene better, how can we make this scene better, how can we make that scene better? And uh, we obviously had a great script to work off of from Brian and David and so I think the experience of collaborating with everyone did make the movie that much better.
Was it a difficult shoot?
Well it was a physically demanding shoot schedule for me. There were a lot of days to nights. And if you worked on a movie you know how tough that can be every week and than to go back to days. So your clock was kind of always off and the weather was probably the most, the biggest hurdle was the weather. It was hurricane season. It wasn't enough to shoot a movie where you have to run around in the blazing hot weather. We decided we should shoot the movie during hurricane season.
Did you get up close and personal with the crocodiles?
No luckily I was on the good end of the deal in the crocodile scenes. I got to watch from up above on those scenes.
How was it working with Ben Affleck?
Yeah, working with Ben was fantastic, especially at this point in his career to kind of come in and the things he has to say. You know you've seen his work and it speaks for itself and you feel like you're absorbing a lot. I learned a lot watching him work and hearing him work and I'm going to take a lot of it with me.
And what about everyone else on set? What was it like working with them?
Yes, we all had a lot of fun and I think that makes for, even if your characters are opposing characters, the more fun you can have together, the more the shemistry is open and collaborative. Everyone is there just to make the movie better. And everyone's got a great attitude as well.
For more information on the film, check out the official website here. And of course go see Runner, Runner, in cinemas nationwide from October 17th.