Remix chats to Miranda Kerr on baby No 3 & the beauty business
Remix NZ Editor Amber Baker recently caught up with Australian supermodel (and supermum), Miranda Kerr. Not long after welcoming third child Myles into the world, she told Amber how she balances motherhood with her booming skincare business Kora Organics which follows the ethos of 'clean beauty'.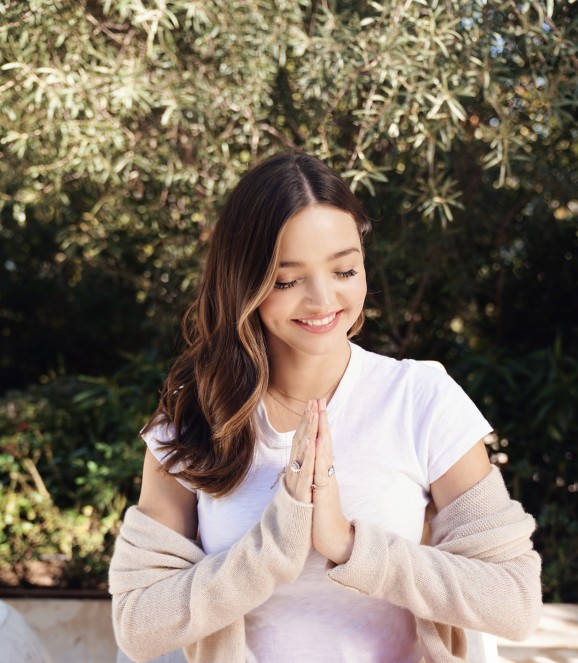 Credit: KORA Organics
Miranda, how are you? You recently gave birth didn't you!
Yes, I'm well thank you! We are doing great and adjusting to life with a new baby. We are so in love and feeling very blessed & grateful!
Yes, congratulations on baby NO.3, how is life now with three little ones?
Thank you! The boys love their baby brother and just want to be near him all the time. He's gorgeous, we're all in love and doing really well. Its busy as you could imagine with a newborn, toddler and an 8 year old, but I wouldn't have it any other way!
What's a typical day like for you now?
At the moment I am home with Myles, and enjoying this special time as a family. Most days though, begin with a morning meditation. We then have breakfast together and get Flynn's bag and lunch packed for school. I try to schedule work meeting and calls whilst Flynn is at school and during Hart and Myles nap times. I'm not working too much at the moment, but when Myles is older, I am fortunate that I can also take him into the office or work from home.
How do you balance being a mum and an entrepreneur?
My family comes first, and I do my best to fit everything in around their needs. It can be a juggle, but I do my best to try and keep to a schedule and navigate through the day. I also feel it's important to take a little time each day for myself. For me personally, I find if I can take 15 minutes to myself, I feel much more balanced and am able to give so much more to my family, work and friends.
When life gets a bit too much, where/what do you escape to?
When things become overwhelming, I like to take time out to do a meditation or step outside to get some fresh air, clear my head and put my feet in the grass – I find it very grounding and healing.
What is one of your favourite holiday escape memories?
We recently went to Tuscany, it was amazing! We had such a lovely time relaxing and holidaying as a family!
Credit: KORA Organics
Besides motherhood, you've been very busy with KORA Organics. It has really taken off but how did it all start?
I initially got into the skincare space because I was looking for products that were certified organic and natural for myself, but I was unable to find anything that really worked, so I decided to create my own range. Creating KORA Organics combined my passion for wellbeing and my desire for healthy yet super powerful skincare.
Using certified organic ingredients is something I feel very passionate about because what you put on your skin soaks into your bloodstream. The ingredients contain higher antioxidant levels; therefore, they produce more potent and powerful results than non-organic skincare, or even "clean" skincare for that matter. Certified organic is also "clean" but even more powerful because of the high-quality ingredients.
People are now so concerned with eating organic and non-processed / non-GMO foods for example, but they don't think about all the chemicals in the everyday products they are using and putting on their skin. It was a long process between conception, launch and then expanding the brand globally because I wanted to be diligent with every decision made; from the formulations to the packaging and working with the right retailers in each market.
We are now stocked globally across 25 countries and I am so proud of how far we have come and everything we have achieved. I'm excited about the future and can't wait for more people around the world to experience KORA Organics.
Such a great concept. Do you remember the exact lightbulb moment of conception of KORA?
I was very fortunate to have grown up in a family that taught me the importance of health, wellness and self-care from a young age. My parents and grandparents played a big part in my life taking that direction – I feel very blessed to have had such a healthy, down-to-earth upbringing. Armed with the knowledge that most skincare products on the market contain toxic and harmful ingredients which ultimately end up in our bloodstream led me to seek out healthier alternatives.
I looked everywhere for products that were certified organic and natural but there was nothing that really worked or gave me the results I needed (especially working in the modelling industry, where your clients expect you to turn up with healthy, glowing skin). So, I guess in some respects that's how I identified a niche in the market of natural and clean products that also were high performance and delivered powerful results.
Initially, I was just passionate about creating the products I wanted to use myself, and it grew from there. It all started from a very authentic place but once I had created KORA Organics and I saw firsthand the results that the products were achieving, I wanted to share them with the world. Back then in 2009, there were very few natural and organic brands readily available and I thought if I'm looking for these products the likelihood is that so are many other people. We started from a very humble place, took baby steps and then only very recently have gone global – consumer demand for safe, natural products is one of the fastest growing categories in beauty and I'm so proud KORA Organics is at the forefront of this movement.
It sounds like 'organic' played a big part in your childhood...
Yes, it's how I was raised, both my mother and grandmother embraced and encouraged a natural and holistic approach to beauty and wellness. My grandparents had an organic vegetable patch and we grew up eating and understanding the benefits or organic from a young age.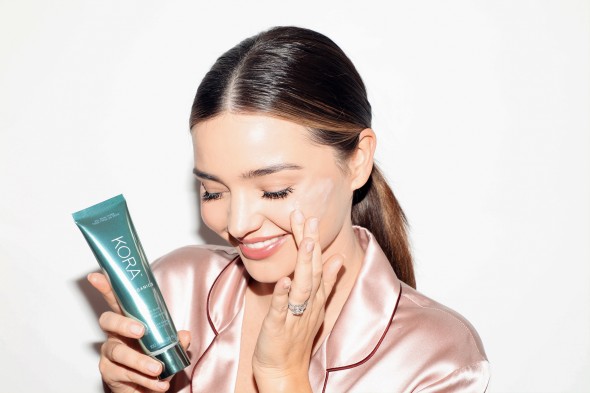 Credit: KORA Organics
KORA has been referred to as 'clean beauty', but what determines if a product is clean or not?
Unfortunately, the beauty industry is still unregulated so a product can market itself to be clean, natural or even organic BUT still contain chemicals or fragrances that can be harmful to you. Each brand/company holds their own clean beauty requirements or criteria that they uphold – there is not one global criteria list that everyone follows. Some ingredients may be promoted as clean or acceptable for one brand yet may not be acceptable for use in other. The Clean Beauty movement is definitely a step in the right direction for the beauty industry, but there is still a lot of greenwashing and no regulations, therefore I feel it's important for everyone to do their research, learn how to read ingredient lists, know what their products contain and what to avoid – and make an educated choice about what they are putting on their skin.
KORA Organics is so much more than 'Clean Beauty' - our products are officially certified by the world's leading international certification body ECOCERT Greenlife (founding member of COSMOS-standard AISBL). Everything from the soil the ingredients are sourced from, to the packaging and manufacturing process must be approved, validated & audited by COSMOS to ensure it meets certified organic standards and regulations. Our products do not contain any sulfates, parabens, synthetic fragrance or any other nasty chemicals & ingredients often found in skincare.
It's a no brainer that you are going to have more effective results because you are using a product that isn't just clean but also contains powerful certified organic ingredients. Our customers have the assurance that they are getting exactly what they are paying for: honest, healthy, non-toxic certified organic products. The quality of the product is what's most important and that's why we've worked so hard to get it where it is today. Our products are giving people the results they need for their skin and in the most natural and safe way possible.
What special & unique ingredients are in the KORA products?
I wanted to create unique products that were more than just skincare, I wanted to create a range that holistically nurtured the mind, body and skin. I believe the health of our skin is connected to our mind and body, so we need to look at all three aspects for the best results. Our philosophy at KORA is to; Feed your MIND with positive affirmations and self-love; Feed your BODY with the nutrients it needs to function at its best and Feed your SKIN with products to help detoxify, nourish and revitalize.
I was inspired by the power of using healing crystals, the use of positive affirmations and the benefits of aromatherapy. Our products are not only healthy to use and of the highest quality, integrity and efficacy – they also aim to inspire and uplift customers. All products also contain Noni Extract, which is a superfruit I have been using since my grandmother introduced it to me when I was about 13 years old. Noni Fruit contains over 100 vitamins and minerals and is revered for its healing and rejuvenating properties. The powerful antioxidant qualities in the Noni Fruit protect skin from environmental damage caused by free radicals, which are constantly stressing our skin and can lead to the signs of premature ageing and skin sensitivity.
Some other unique ingredients are Kahai Oil, which is a form of natural retinol and is used in our Noni Radiant Eye Oil to help minimise fine lines. Kakadu Plum Extract is a very potent source of Vitamin C and is used in our Noni Bright Vitamin C Serum and Sleeping Mask to deliver a more radiant, even-toned complexion and reduce the appearance of wrinkles. Turmeric is another powerful ingredient that is used in our Turmeric Brightening & Exfoliating Mask to reduce inflammation & redness and brighten your skin.
Can you tell me about rose quartz and its importance in the range...
I added the unique vibrations of Rose Quartz to all of the products because I personally believe in the healing and protective powers of crystals. Rose Quartz carries a soothing energy to encourage love and acceptance of ourselves and others. During the compounding process of our skincare products, the entire formula is filtered though by Rose Quartz crystals, so the vibration of self-love flows through the crystals, into the products and onto our customers. Rose quartz is believed to carry a very gentle, soothing energy to encourage self-love, self-esteem and forgiveness. It is also said to have vibrations that can help heal and protect the heart.