Evolu releases dreamy 'Seeds of Love' oil to celebrate their 21st!
Don't they grow up so fast! Evolu has been revolutionising natural skincare for 21 years, right here in New Zealand. We know the big 2-1 always deserves a bigger party, a bigger gift - something extra special, and Evolu is celebrating theirs with their most extra-special release yet!
Evolu's 21st is all about 'Seeds of Love', a new-generation 3-in-1 beauty oil. It's basically an entire natural beauty kit in a bottle, which to be honest we'd buy simply for the gorgeous superflora scent alone. In this world of a thousand different hair oils, face oils and body oils, what a treat it is to find one ultimate superproduct, and with no nasties to boot!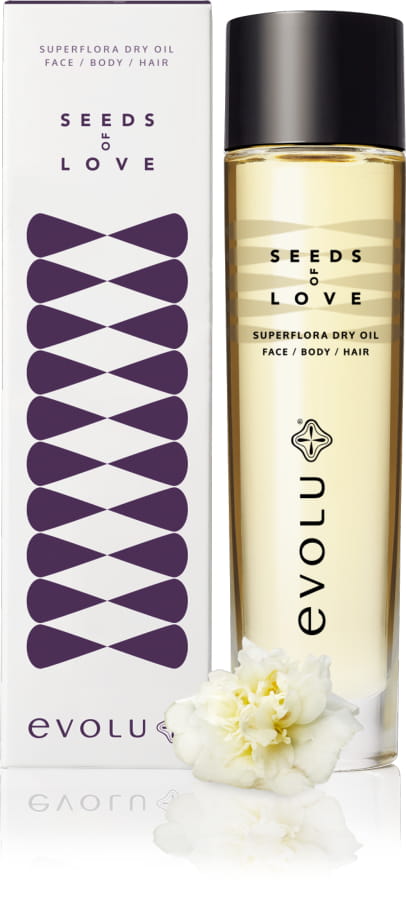 'Seeds of Love' lovingly blends botanical actives which hydrate, smooth, nourish and repair, anywhere. The almost weightless dry oil contains highly restorative anti-oxidant rich Camellia, hydrating and smoothing Argan (loved by haircare experts), and Chia, which is basically a multivitamin for your skin. Regenerative Grapeseed, soothing Kawakawa and the powerful antioxidants of Macadamia also work hard to nourish and protect your skin and hair. As always, Evolu stands out also their scents, and Seeds of Love makes us feel like we're floating through a dreamy meadow like some romantic movie star with perfect skin.
You'd be crazy not to get your hands on 'Seeds of Love', not only to make yourself look radiant and smell amazing, but also to say 'Happy 21st' to Evolu, and their beloved, masterful, natural products.
Find out more about this wonder product here!